John Hoyer Updike 1932 – 2009
January 30, 2009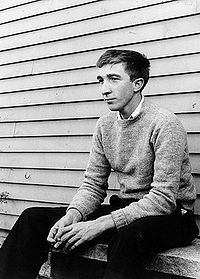 John Hoyer Updike 1932 – 2009 was an American novelist, poet, short story writer, art critic, and literary critic.
John Updike wrote about homeopathy in his Rabbit novels (Rabbit is Rich, Rabbit Angstrom, Rabbit Run), and in The Centaur and Toward the End of Time.
In his On Literary Biography, Updike records that Jerome David Salinger is an advocate of homeopathy.
Updike was born in Reading, Pennsylvania, to author Linda Grace Hoyer Updike and Wesley Russell Updike, a high school mathematics teacher. John Updike was raised at 117 Philadelphia Avenue (now part of Route 724) in Shillington, Pennsylvania, until he was 13, when his family moved to a sandstone farmhouse in Plowville, Berks County, Pennsylvania, where he became interested in reading and writing.
Updike later recalled seeing his mother writing at her desk and feeling inspired. "One of my earliest memories is of seeing her at her desk," her son later said. "I admired the writer's equipment, the typewriter eraser, the boxes of clean paper. And I remember the brown envelopes that stories would go off in - and come back in."
These early years in Berks County would shape the environment of the Rabbit tetralogy, as well as many of his early novels and short stories (The Poorhouse Fair, The Centaur, Of The Farm, A Soft Spring Night in Shillington, The Other Side of the Street, etc.)
Updike later attended Harvard after receiving a full scholarship. At Harvard, he served as president of the Harvard Lampoon, before graduating summa cum laude in 1954 with a degree in English. After graduation, he decided to pursue a career in graphic arts and attended The Ruskin School of Drawing and Fine Art at the University of Oxford.
On returning to the U.S., he became a regular contributor to The New Yorker, but stayed only two years. Later, Updike moved to Ipswich, Massachusetts. It is believed that the towns of East Greenwich and Wickford, Rhode Island, served as the basis for Eastwick in The Witches of Eastwick.
Updike became most famous as a "chronicler of suburban adultery." He once wrote that it was "a subject which, if I have not exhausted, has exhausted me." Yet, on many occasions, Updike slipped away from familiar territory: The Witches of Eastwick (1984) later made into a movie of the same name and then a West End musical, concerned a New England coven of divorcees, and was a bestseller; The Coup (1978) about a fictional Cold War era African dictatorship, was similarly a bestseller, and reflects the author writing at his most Nabokovian; his 2000 postmodern effort Gertrude and Claudius is a carefully researched overture to the story of Hamlet.
Other important novels include The Centaur (National Book Award, 1963), Couples (1968) and Roger's Version (1986). Martin Amis called Roger's Version a "near masterpiece"; Couples both landed the author on the cover of TIME magazine and made his fortune.
Updike enjoyed working in series: In addition to the five Harry "Rabbit" Angstrom novels, a recurrent Updike alter ego is the moderately well known, unprolific Jewish novelist and eventual Nobel laureate Henry Bech, chronicled in three comic short story cycles: Bech: A Book (1970), Bech is Back (1981) and Bech At Bay: A Quasi-Novel (1998).
His stories involving the socially conscious (and socially successful) couple 'The Maples' are widely considered to be autobiographical, and several were the basis for the television movie Too Far To Go starring Michael Moriarty and Blythe Danner which was broadcast on NBC. Updike stated that he chose this surname for the characters because he admired the beauty and resilience of the tree.
Updike stated at the dawn of his career an intention to publish one book a year, and advancing years slowed down neither his production nor inventiveness. In 1994 he rewrote the tale of Tristan and Isolde, Brazil; a multi generational saga about religion and entertainment, In the Beauty of the Lilies (1996); and a science fiction novel, Toward the End of Time (1997).
In Seek My Face (2002) he explored the post-war art scene. In Villages (2004), Updike returned to the familiar territory of infidelities in New England. His twenty second novel, Terrorist, the story of a fervent, eighteen year old extremist Muslim in New Jersey, was published in June 2006; his sixth collection of non-fiction, "Due Considerations," appeared in the fall of 2007. His twenty-third novel, The Widows of Eastwick, was published in late 2008 and returned to the lives, thirty years later, of his three protagonists from the 1984 novel.
A large anthology of short stories from his literary career, titled The Early Stories 1953 – 1975 (2003) won the 2004 PEN/Faulkner Award for Fiction. He wrote in its preface that his career's intention had been to "give the mundane its beautiful due."
Updike worked in a wide array of genres, including fiction, poetry, essay, and memoir. His lone foray into drama, Buchanan Dying: a play, constituted something of a reversal, as in a 1968 interview Updike had claimed: "[t]he unreality of painted people standing on a platform saying things they've said to each other for months is more than I can overlook."
He further said: "From Mark Twain to Henry James and William Faulkner to Saul Bellow, the history of novelists as playwrights is a sad one."
In 2006 Updike was awarded the Rea Award for the Short Story for outstanding achievement. In 2008 the National Endowment for the Humanities selected Updike to present the Jefferson Lecture, the U.S. federal government's highest humanities honor; Updike's lecture was entitled "The Clarity of Things: What Is American about American Art."
At the end of his life, Updike spent time with his four children and lived with his second wife, Martha. In his memoir, Self Consciousness, Updike writes a letter to his two grandsons Anoff and Kwame, about the Updike family history, and asks that they not be ashamed of the color of their skin. (His grandsons are biracial, their father being from West Africa.) He also has grandsons named Wesley (who is also biracial, with a mother from East Africa), Trevor, Sawyer, Kai and Seneca.
The Pulitzer Prize winning writer suffered from psoriasis and had connected it to his abilities as a writer. In Self Consciousness, he links his "skin's embarrassing overproduction" to his creativity.
He lived with his wife in Beverly Farms, Massachusetts. He died at a hospice in Danvers, Massachusetts, on January 27, 2009, at the age of 76.
---