John Galsworthy 1867 - 1933
January 29, 2009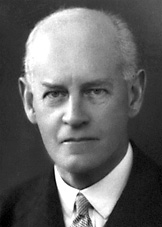 John Galsworthy OM 1867 - 1933 was an English novelist and playwright. John Galsworthy was awarded the Nobel Prize in 1932.
John Galsworthy was an advocate of homeopathy. In his novel Beyond, he claimed that homeopathy was based on 'poetic justice', and he also wrote about homeopathy in his book Tattermedalion.
John Galsworthy was a friend of Arnold Bennett, Joseph Conrad, Arthur Conan Doyle, Thomas Hardy, Rudyard Kipling, Margaret Sanger, George Bernard Shaw, and Herbert George Wells.
John Galsworthy's wife Ada Nemesis Pearson consulted a homeopathy in Torquay, and her brother was a homeopath who treated Edward Brian Seago. John Galsworthy's father's friends were also interested in homeopathy.
John Galsworthy was an Anti Vivisectionist, and he wrote to the Manchester Guardian supporting displaced German homeopaths after World War I.
Galsworthy was born at Kingston Hill in Surrey, England into an established wealthy family, the son of John and Blanche Bailey (nee Bartleet) Galsworthy. His large Kingston upon Thames estate is now the site of three schools: Marymount International, Rokeby Preparatory School and Holy Cross.
He attended Harrow and New College, Oxford, training as a barrister and was called to the bar in 1890. However, he was not keen to begin practising law and instead travelled abroad to look after the family's shipping business interests.
During these travels he met Joseph Conrad, then the first mate of a sailing ship moored in the harbour of Adelaide, Australia, and the two future novelists became close friends.
In 1895 Galsworthy began an affair with Ada Nemesis Pearson, the wife of one of his cousins. After her divorce the pair eventually married on 23 September 1905 and stayed together until his death in 1933. Prior to their marriage, they stayed clandestinely in a farmhouse called Wingstone in the village of Manaton on Dartmoor, Devon. From 1908 he took out a long lease on part of the building and made it their regular second home until 1923.
From the Four Winds was Galsworthy's first published work in 1897, a collection of short stories. These, and several subsequent works, were published under the pen name John Sinjohn and it would not be until The Island Pharisees (1904) that he would begin publishing under his own name, probably owing to the death of his father.
His first play, The Silver Box (1906) became a success, and he followed it up with The Man of Property (1906), the first in the Forsyte trilogy. Although he continued writing both plays and novels it was as a playwright he was mainly appreciated at the time.
Along with those of other writers of the time, such as George Bernard Shaw, his plays addressed the class system and social issues, two of the best known being Strife (1909) and The Skin Game (1920).
He is now far better known for his novels and particularly The Forsyte Saga, the first of three trilogies of novels about the eponymous family and connected lives. These books, as with many of his other works, dealt with class, and in particular upper middle class lives.
Although sympathetic to his characters he highlights their insular, snobbish and acquisitive attitudes and their suffocating moral codes.
He is viewed as one of the first writers of the Edwardian era; challenging in his works some of the ideals of society depicted in the preceding literature of Victorian England. The depiction of a woman in an unhappy marriage furnishes another recurring theme in his work. The character of Irene in The Forsyte Saga is drawn from Ada Pearson even though her previous marriage was not as miserable as Irene's.
His work is often less convincing when it deals with the changing face of wider British society and how it affects people of the lower social classes.
Through his writings he campaigned for a variety of causes including prison reform, women's rights, animal welfare and censorship…
During World War I he worked in a hospital in France as an orderly after being passed over for military service. He was elected as the first president of the International PEN literary club in 1921, was appointed to the Order of Merit in 1929 - after earlier turning down a knighthood - and was awarded the Nobel Prize in 1932. He was too ill to attend the Nobel awards ceremony, and died six weeks later.
John Galsworthy lived for the final seven years of his life at Bury in West Sussex. He died from a brain tumour at his London home, Grove Lodge, Hampstead. In accordance with his will he was cremated at Woking and his ashes scattered over the South Downs from an aeroplane, but there is also a memorial in Highgate 'New' Cemetery. The popularity of his fiction waned quickly after his death but the hugely successful adaptation of The Forsyte Saga in 1967 renewed interest in the writer.
A number of John Galsworthy's letters and papers are held at the University of Birmingham Special Collections.
In 2007, Kingston University, London opened a new building named in recognition of his local birth.
---