Bernhard Hirschel 1815 - 1874
January 25, 2009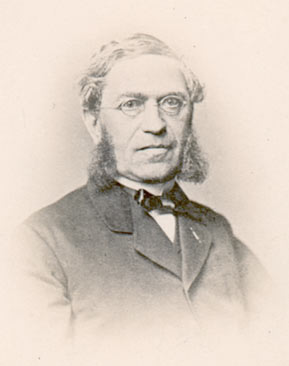 Bernhard Hirschel 1815 - 1874 was was a German Jewish physician and Rabbi who practiced in Dresden,
Hirschel an orthodox physician who converted to homeopathy.
Hirschel studied medicine in Leipsig and Dresden, (Hirschel was the first Jewish boy to be admitted to the Dresden Gymnasia in 1825).
Hirschel became the editor of Zeitschrift für homöopathischen Klinik issued from 1852 to 1874.
Hirschel was a friend of Bolle, Viet Meyer, Clotar Moriz Mueller, and Karl Friedrich Gottfried Trinks.
In 1855, Hirschell was involved in the celebrations which marked the house Samuel Hahnemann had lived in in Meissen, 100 years after Samuel Hahnemann was born in 1755.
In 1865, Hirschell and the homeopaths of Dresden were invited by the Dresden allopaths to assist in the formation of a Local Medical Society, such was the atmosphere of pleasant co-operation existing in that city at this time.
In his description of the homoeopathic practitioners, Rigler alludes several times to the Sanitätsrath Dr. B. Hirschel (p. 33  and 75).
"Dr. Hirschel has played a considerable part in the history of homeopathy. He sought to harmonise homeopathy with university medicine, and he also opposed Samuel Hahnemann's extreme dilution of medicines.
"He founded and edited for twenty years the Zeitsckrift für Homöopathische Klinik; it ceased to appear not long after his death in 1873.
"Anyone who is thoroughly acquainted with the history of homeopathy must be aware of these facts."
Rigler thus addresses Hirschel in the year 1882, i.e., nine years after his death:
"I can assure this esteemed author, with whose literary productions I have unfortunately been forced to occupy myself, that I have with very great self-denial acquired the most thorough knowledge of homeopathy and its historical development.
"In his ignorance and excitement he does not even leave the dead at rest.
"With regard to Hirschel's literary productions, we have already (p.

heard the opinion expressed by an allopath on one of his works. He is, besides, the author of the History of Medicine, Vienna, 1862, two editions, and of the History of Brown's System, which is thus reviewed in Janus, a journal devoted to the history of medicine (1846, I, p. 87 1)
"The author's plan of writing the history of the medical systems of recent times can only be welcomed - especially when it is carried out with such great industry, such careful study of authorities, and, as a rule, with such clear judgment as is here displayed. The author is already known to us by various historical works…
"I repeat that this work is a valuable contribution to the special history of Medical systems… We can only wish for the continuation of this under taking."
Rigler has been "unfortunately obliged to occupy himself with Hirschel's literary productions."
In order to convict all Samuel Hahnemann's adherents of a want of earnest conviction, he mentions the sad case of a " homeopathic" doctor, who recommends medicines in allopathic doses, and adds that Hirschel recommended emetics for croup.
He of course suppresses the fact that Hirschel is speaking of very exceptional cases, and that the great majority of homeopathic practitioners disapprove of this part of Hirschel's practice, as may be seen in all homeopathic works, and in the treatment of homeopathists. Besides, what is proved by such individual cases?
An allopath is now practising in Berlin who draws two pounds of blood from consumptive patients at one sitting, and who in five months deprived some of these wretched creatures of eleven pounds of blood, and brought about their speedy death.
The homeopathic doctor mentioned by Jurgensen, B. Hirschel, in 1840, publicly opposed. the abuses of magnetism.
Pierre Schmidt's Jahrbücher Vol. XXXII, p. 375 contains the following remarks on his work:
"The author is animated by the scientific spirit; he possesses the critical faculty, scientific knowledge, thoughtfulness, and love of truth. He opposes folly. We give him the most friendly welcome."
Bernhard Hirschel wrote Rules & Examples for the Study of Pharmacodynamics, Hydratics: A Manuel of the Water Cure of Priessnitz, Der Homapopathische Arzneischatz in Seiner Anwendung Am Krankenbette, Grundriss Der Homöopathie Nach Ihrem Neuesten Standpunkte, und Anleitung, Compendium of Homeopathy, Geschichte des Brown'schen Systems,
---