Robert William Gardiner 1781 – 1864
January 24, 2009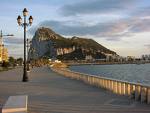 Sir Robert William Gardiner 1781 – 1864 was the Governor of Gibralter.
Robert Gardiner was second son of Captain John Gardiner, and he entered the Royal Artillery and became General Colonel in command of the Royal Horse Artillery. Robert Gardiner fought with Arthur Wellesley 1st Duke of Wellington at Waterloo.
Robert Gardiner was a friend of Frederick Hervey Foster Quin.
General Sir Robert William Gardiner served under Arthur Wellesley 1st Duke of Wellington in Portugal in 1808, worked on the Walcheren expedition, and thereafter fought through the Peninsular Campaign. He was made K.C.B. in 1814 and fought at Waterloo.
He worked as an artist throughout his military career, working generally in light washes.
Sir Robert William Gardiner (1781–1864)' army officer and writer. He accompanied Arthur Wellesley 1st Duke of Wellington to Portugal and was present at Rolica and Vimeiro. He was Brigade Major of the artillery in the Corunna retreat.
In the Walcheren expedition he was present at the siege of Middelburg and Flushing' and was invalided with fever. On his recovery he went to Cadiz' and his battery took a prominent part in the battle of Barossa.
Gardiner joined Arthur Wellesley 1st Duke of Wellington's army in February 1812' and received a brevet majority for his services at the siege and capture of Badajoz. He commanded a field battery at the battle of Salamanca' the capture of Madrid' the siege of Burgos (where he volunteered to serve in the siege batteries)' and in the Burgos retreat.
Early in 1813 he was appointed to the command of E troop Royal Horse Artillery' then attached to the 7th division' with which he fought at Vitoria in the Pyrenees' at Orthez' Tarbes' and Toulouse. He commanded his troop through the Waterloo campaign and entered Paris. He was Governor and Commander in Chief at Gibraltar from 1848 to 1855.
Robert Gardiner wrote Observations on the Prospective Benefits Derivable from the Incorporation of the Artillery with the Cavalry and Infantry of the Army, Report on the military defences, government, and trade of Gibraltar, How to Capture and Govern Gibraltar, Report on Gibraltar Considered as a Fortress and a Colony, Notes on the organization and armament of the artillery of the British army, Political and legislative considerations on national defence, Is England a Military Nation Or Not?, Memoir of Admiral Sir Graham Moore,
---