Maria Malibran 1808 – 1836
January 23, 2009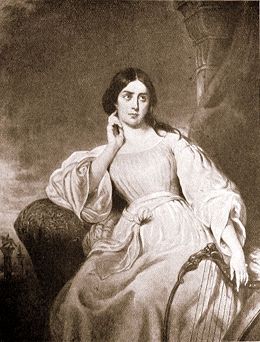 Maria Malibran 1808 – 1836 was one of the most famous opera singers of the 19th century.
Malibran was the sister of Pauline Viardot García, and a friend of Felix Mendelssohn and Niccolo Paganini.
Maria Malibran was a patient of Guiseppe Belluomini, she had known him from childhood.
Maria Malibran died aged 28 causing a storm of protest against homeopathy
One report claims she died after a terrible fall from her horse. Guiseppe Belluomini administered to her but she could not be saved, but as he was a homeopath, Guiseppe Belluomini was viciously attacked, as was her husband who had called him in to see his wife.
The attacks ignored the injuries Malibran received and did not mention the fall from the horse, one such said she was simply over exhausted from her travels, and opting not to mention that Guiseppe Belluomini was a well qualified doctor and physician to Charles II Duke of Parma (then Duke of Lucca).
Another report claims that Malibran was hysterical on stage with a mysterious illness before continuing on to report that Guiseppe Belluomini and Malibran's husband had to flee for their very lives as the allopathic physicians described the cause of death as a nervous fever.
Such erroneous reports were widely circulated, and it was widely reported that allopathic physicians bled her after her last stage performance, which is why her husband sent for her old friend Guiseppe Belluomini.
Another reported rumours that Malibran drank too much and that reports of an illness were a 'sham' or cover up for this, and that she had fallen downstairs and refused any doctors. Another report claimed that she was in the early stages of pregnancy.
Eventually it emerged that Malibran was a celebrated horse rider, who loved to gallop away from her attendants. This report mentioned that she had over exerted herself by perfoming and been bled by allopathic physicians, and when Guiseppe Belluomini arrived, he was so alarmed he called for a surgeon. William Lewis arrived immediately and pronounced her in extreme danger and she died the following night.
Such attacks simply rested on defaming Guiseppe Belluomini without any reference to the facts, and so Guiseppe Belluomini wrote an acount of her death for the newspapers.
Again Guiseppe Belluomini was attacked in the London Medical Gazette for saying 'weak and silly things' as Guiseppe Belluomini described how he had treated a fever and cough. The _London Medical Gazette_ 'assumed Malibran had an inflammation of the lungs' and that Guiseppe Belluomini simply allowed her to die.
Malibran was born in Paris as María Felicia García Sitches into a famous Spanish musical family.
Her father, Manuel García, was a celebrated tenor much admired by Rossini, having created the role of Count Almaviva in his The Barber of Seville. Manuel García was also a composer and an influential vocal instructor, and he was her first voice teacher. He was described as inflexible and tyrannical; the lessons he gave his daughter became constant quarrels between two powerful egos.
Malibran first ascended the opera stage when she was 17, as a singer in the choir of the King's Theatre in London. When prima donna Giuditta Pasta became indisposed, Manuel García suggested that his daughter take over in the role of Rosina in The Barber of Seville. The audience loved the young mezzo, and she continued to sing this role until the end of the season.
When the season closed, Manuel García immediately took his operatic troupe to New York. The troupe consisted primarily of the members of his family: Maria, her brother, Manuel, and her younger sister, Pauline Viardot García, who would later become a famous singer in her own right.
This was the first time that Italian opera was performed in New York. Over a period of nine months, Maria sang the lead roles in eight operas, two of which were written by her father. In New York, she met and hastily married a banker, Francois Eugene Malibran, who was 28 years her senior.
It is thought that her father forced Maria to marry him in return for the banker's promise to give Manuel García 100,000 francs. However, according to other accounts, she married simply to escape her tyrannical father. A few months after the wedding, her husband declared bankruptcy, and Maria was forced to support him through her performances. After a year, she left Malibran and returned to Europe.
In Europe, Malibran sang the title role at the premiere of Donizetti's Maria Stuarda The opera, based on Johann Christoph Friedrich von Schiller's play Mary Stuart, aroused the fury of the censors, who demanded textual amendments, which Malibran typically ignored.
Malibran became romantically involved with the Belgian violinist, Charles de Beriot. The pair lived together as a common-law couple for six years and a child was born to them in 1833, before Maria obtained an annulment of her marriage to Malibran.
Felix Mendelssohn wrote an aria accompanied by a solo violin especially for the couple. Malibran sang at the Paris Opera among other major opera houses. In Paris, she met and performed with Michael Balfe.
In 1834, Malibran moved to England and began to perform in London. In late May 1836, she starred in The Maid of Artois, written for her by Balfe. In July 1836, Malibran fell from her horse and suffered injuries from which she never recovered. She refused to see a physician and continued to perform. She died over two months after the accident in Manchester. (Note how Wikipedia again refuses to mention homeopathy!)
---