Goulds Homeopathic Pharmacy
January 22, 2009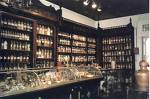 Goulds Pharmacy was established in London, though the date it was established is uncertain. This could have been as early as 1849, but our first confirmed mention of this business was in 1861. Goulds became a homeopathic Chemist by Appointment to the London Homeopathic Hospital.
Goulds Pharmacy still flourishes today, at 24-26 Arcadia Ave. London N3 2JU
https://www.gouldshomoeopathic.com/
Edward Gould (?-?) was a porter who became a homeopathic pharmacist. Was he a porter at the London Homeopathic Hospital who would have been encouraged to train himself as a homeopathic pharmacist, possibly via contact with James or John Epps? His eldest son Edward Gardiner Gould (1842-?1921) emigrated to Australia in 1860 and opened a chain of homeopathic pharmacies there, before returning to Britain. His youngest son James Emery Gould (1849-1883), **a homeopathic doctor, remained in Australia. **
Gould Pharmacies spread to Australia and set up homeopathic Pharmacies throughout these new territories. A Gould Pharmacy opened in Victoria Australia in 1860. Martin and Pleasance opened in 1860 when Kidner opened his homeopathic pharmacy at 90 Collins Street East.
Thanks to research by Barbara Armstrong in Australia, we can now confirm that Edward Gardiner Gould (1842-?1921) and James Emery Gould (1849-1883) were sons of the Edward Gould who was a homeopathic chemist in London:
There is some confusion about the previously published date for the establishment of Gould & Sons pharmacy (1849).
In the 1851 Census, Edward senior is listed as a 'porter'. In the 1861 Census he is listed as a 'homeopathic chemist' at 100 Pentonville Rd, with another of his sons, Joseph, being a 'chemist's apprentice'. (By this time Edward Gardiner had moved to Melbourne to set up business with Samuel Kidner.)
So it would appear that Gould & Sons was established some time between 1851 and 1861 - unless it was established by someone else in 1849 and Edward senior took over the business at a later date.
Edward Gardiner eventually returned to the UK (in the 1870s), where he studied medicine in Ireland (qualified 1876) and then practised in various locations around England. The last one I tracked was in Tunbridge Wells.
In 1860 Edward G Gould joined forces with Mr. Kidner and the pharmacy was renamed Kidner and Gould.
In 1860 Edward G Gould became the sole owner of the homeopathic pharmacy at 90 Collins Street East, renaming it Gould and Son.
In 1864 R J H Martin joined Gould and Son; the business was renamed Gould and Martin. Not long after Edward G Gould returned to England leaving Mr. Martin as the sole proprietor. He retained the name of Gould and Martin.
In 1869 Homeopathic physicians would meet at the rooms of Gould and Martin to discuss the opening of a homeopathic dispensary in Melbourne. In 1878 Charles Pleasance became partners with R J H Martin at which time they renamed the pharmacy Martin and Pleasance.
Charles Pleasance studied medicine and was articled to Martin and Gould before becoming one of the owners. He was born in England and came to Australia in 1855 and was elected the first Lord Mayor of Melbourne.
In 1886 Charles Pleasance became the sole owner of Martin and Pleasance. Up until the closure of the Melbourne Homeopathic Hospital in 1924, Martin and Pleasance supplied the hospital with its remedies.  The son of Charles Pleasance, Frederick, continued to run the family business after Charles.
Succeeding Frederick were the brothers Charles and Phillip Pleasance…
Queen's Gardens are set in the shade of The Glades Shopping Centre that opened in 1991 in the centre of Bromley, with Kentish Way a major thoroughfare to the east. By the C19th the site was known as The White Hart Field and shown as such on the 1st edition OS map of 1871; it was used for public recreation and sports, and was named after the Inn of that name that stood to the side of the site. County cricket was played here until 1847.
In 1865 the ground floor of the White Hart Inn was opened as a homeopathic dispensary by Edward Gould, providing medical care to Bromley residents. The popularity of homeopathy led Dr Robert Phillips to open another practice in 1874 in 19 Widmore Road; he soon began collecting funds for building a much-needed hospital and in 1889 Bromley's first homeopathic hospital opened. When it was decided to expand or build a new hospital, Coles Child, Lord of the Manor, presented Bromley with The White Hart Field in 1897, a section of which was given for the new hospital. The rest of the field remained in use for public recreation and was laid out with paths and planting, renamed Victoria Gardens in celebration of Queen Victoria's Diamond Jubilee. The gardens have since become known as the Queen's Garden or Queen's Gardens.
The original main entrance to the gardens in the north west corner was at the apex of a triangle adjacent to Market Square where there were fine ornamental iron gates, donated by Lord Kinnaird (George William Fox Kinnaird 9th Lord Kinnaird 1807 – 1878), a close friend of Coles Child. The gates, which Kinnaird had purchased at auction, date from the 1850s and had stood in front of his residence, Plaistow Lodge, on London Lane. In 1990, when The Glades Shopping Centre was constructed, the gates were moved to their present position in the southern part of the gardens.
Phillips Homeopathic Hospital had opened in 1900, was enlarged further in 1907, but it was bombed in WWII by a direct hit and although it temporarily became a home for homeless people, escalating costs meant that it was eventually demolished in 1951. From the outset patients had used the adjacent recreation ground during convalescence. When The Glades Shopping Centre was built, the site was reduced somewhat in size. The naming of The Glades, chosen through a competition in which local residents participated, reflected the leafy, green image of the borough in which Queen's Gardens plays a part. Today the gardens have formal beds of annual bedding plants, tarmac paths, seats and a number of mature and semi-mature ornamental trees. The copper beech are especially fine.
Edward Gardiner Gould (1842-?1921) '…*Born about 1842 at Charing Cross, Middlesex to Edward and Rebecca Gould. In the 1851 English Census, Edward senior was a porter. By the time of the1861 Census, however, Edward senior was listed as a homœopathic chemist, and one of his sons, Joseph (born in 1844) was listed as a chemist's apprentice. This was the London business known as Gould and Son. Another son was James Emery Gould (born about 1849/1850). Previously dispenser of the London Homœopathic Hospital, Edward G. Gould arrived in Melbourne during May 1860, on the "Orwell". Shipping records state that he was 19 years of age. He immediately went into business with Samuel Kidner, to create the homœopathic pharmacy Kidner & Gould. Later, he also established a homœopathic pharmacy in Geelong, and the Geelong Homœopathic Dispensary. He returned to the UK in 1873, on board the "Lord Walden", with his wife, infant, and two servants. He then obtained his medical qualifications in Ireland (Lic K. Q. Coll. Phys Ireland 1876). He then worked as a medical practitioner in various locations around England. In 1919 he had a practice in Tunbridge Wells, but he did not appear in the Medical Directory for 1923…' _**James Emery Gould (1849-1883) *_Born about 1849/1850 at Charing Cross, Middlesex to Edward and Rebecca Gould. By 1861 Edward was in business as a homœopathic chemist. James was younger brother of Edward Gardiner Gould. James graduated from Edinburgh University in 1872 as a qualified allopathic physician (Licentiate of the Royal College of Physicians). He was Obstetric Assistant at Middlesex Hospital, London, and Senior House Surgeon at the Liverpool Homœopathic Dispensary in England. On 20 February, 1873 he arrived in Melbourne aboard the "Lincolnshire". The saloon passengers were so happy with him and his services that they took him out to dinner and presented him with a silver claret jug, suitably inscribed. From 1873 to 1875 his practice was listed as being at 93 Collins Street East, where he shared premises with Dr Günst. In 1875 he was also listed at Powlett Street, East Melbourne, on the corner of Powlett and Gipps Streets. From 1876 to 1880 his home and practice was listed at 126 Collins Street East. In 1874 he married Irish immigrant, Louie Adelaide Jane O'Shaughnessy, who was born in Dublin. Louie had arrived in Melbourne in 1871, along with two other female family members. He was appointed honorary physician at the Melbourne Homœopathic Dispensary. Dr Gould wrote Homœopathy and its Professors in 1873. This was a 14 page summary of its principles, practice, and results. "The object of this pamphlet is to how what Homœopathy is and is not; who its professors are; to give an idea of how wide-spread is this so-called heresy; and lastly, to show the shallowness of some of the objections made to the principles of the system." In 1876 and 1877 he gave several lectures on food, and in 1877 provided lectures on alcohol to the Kew Mutual Improvement Society. Dr Gould finally settled at Wollongong, where he died in 1883…'
E Gould and Son Ltd of London, publishers of homeopathic literature in the 1870s and 1880s, and also homeopathic pharmacists at 59, Moorgate Street, London (previously 32 Moorgate Street). Chemists by Appointment to the London Homeopathic Hospital. E Gould and Son Ltd purchased the Homeopathic Pharmacy formerly owned by T Casely and succeeded to the business.
Edward G Gould urged for the formation of British Society of Homeopaths, and he was a colleague of William Vallancy Drury, Thomas Engall, John Epps, Edward M Madden, Henry R Madden, Alfred Crosby Pope, and many others.
Edward Gould was a Chemist at the Bromley Homeopathic Dispensary,
Edward G Gould LRCP also practiced at 1 Streatham High Road, and his Obituary is in the American Observer Medical Monthly in 1874.
**Edward Gardiner Gould **(possibly Edward G Gould's son?) was a Homeopath in America 1887.
In 1876 Whilst the homeopathic hospital was being built, the Melbourne Homeopathic Hospital operated from a three story terrace house at 17 Spring Street.
It had an outpatient department and 14 beds. It was the first homeopathic hospital in Australia.
The hospital did not have sufficient funds to employ a dispenser, and so purchased their remedies from Gould and Martin (Martin and Pleasance) and Poulton's pharmacy.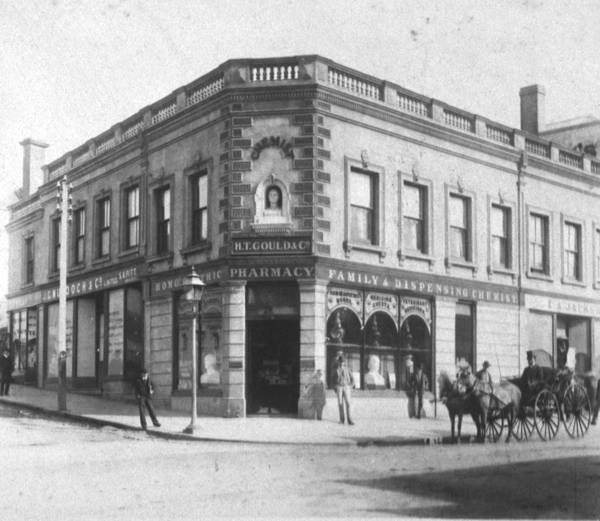 The Gould Pharmacy at 73 Liverpool Street Hobart Australia operated from 1881 until *1999 and was run by Henry Thomas Gould from England.
Henry Thomas Gould was an English homeopath in Hobart Australia in 1891. (*now operating as Gould's Naturopathica).
Henry Thomas Gould was a colleague and fellow college student of Frank Styant Browne.
Better contact with the other colonies helped to improve standards and stimulated the formation of the Pharmaceutical Society of Tasmania in 1891.
A major proponent of the Society was Henry Thomas Gould, who had established the H T Gould & Co. Homeopathic Pharmacy in Hobart in 1881.
The Powerhouse Museum in Sydney holds a curiously titled booklet published by Gould's pharmacy in 1899…
After Frank Styant Brown moved his business to Launceston, the Hobart Homeopathic Pharmacy was taken over by Henry Thomas Gould, who later moved premises from Elizabeth Street to Liverpool Street. As pharmacists and homeopaths, Henry Thomas Gould and Frank Styant Browne were instrumental in the formation of the homeopathic hospitals in both Launceston and Hobart.
Henry Thomas Gould is also credited with instigating of the formation of the Pharmaceutical Society of Tasmania. In the State Library of Tasmania there is a wonderful photograph of the Homeopathic Pharmacy in Hobart taken in about 1890 with a horse drawn carriage parked outside. Now known as Gould's Pharmacy, the chemist shop *still exists and still sells homeopathic remedies amongst the usual array of pharmaceutical products.
The little booklet curiously named the The Medical Telephone is like a tiny first aid handbook or home medical encyclopaedia, with its advice on baby care and the treatment of illness and injury.
Published by Hobart's Homeopathic Pharmacy in the year that it was established, it provides first hand evidence of the homeopathic remedies that were dispensed at the pharmacy and the host of other products - such as 'Neave's Farinaceous Food for Infants and Invalids'
Of interest:
Sir Albert John Gould 1847 - 1936 MP for New South Wales was a staunch advocate of homeopathy.
Clarence B Gould homeopath conscripted during WWI.
Francis Carruthers Gould was an artist who sketched William Gladstone.
George Milbury Gould was a publisher in Philadelphia in 1901, and editor of the Philadelphia Medical Journal (he was forcibly removed from his editorship) and Gould's Medical Dictionary who was critical of homeopathy, but who nevertheless took homeopathic remedies and wrote articles in praise of homeopathy and nasty attacks upon homeopathy!
Herbert D Gould homeopath in America in 1897.
James A Gould homeopath conscripted during WWI.
Jeremy Gould (or J Emery Gould) In 1873 Jeremy Gould from Edinburgh University was appointed honorary physician at the Melbourne Homeopathic Dispensary.
Nat Gould In the Wellcombe Library The Homovet Company, Bedfont, manufacturers of embrocation for human and animal use: letter (incomplete) from Nat Gould, head of the company, Middlesex: letter to Charles Wright setting out its state, with letterhead giving testimonials and a picture of the product, 1913
Rosa Gould homeopath in America in 1900.
Rupert Thomas Gould Thomas Skinner was the maternal grandfather of Rupert Thomas Gould.
---