Elizabeth Duchess of Devonshire 1759 - 1824
January 16, 2009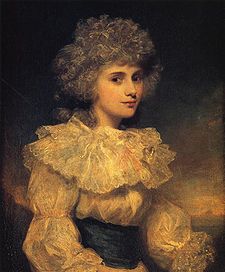 Elizabeth Cavendish, Duchess of Devonshire (formerly Elizabeth Christiana Hervey, later Lady Elizabeth Foster) 1759 - 1824 is best known as the close friend of Georgiana, Duchess of Devonshire.
There is some evidence that Valentine Richard Quin, 1st Earl of Dunraven fathered an illegitimate son by her, who became the noted homeopath Frederick Hervey Foster Quin.
Frederick Hervey Foster Quin became the personal physician to the Elizabeth Duchess of Devonshire, attending her in her final illness in 1824.
Elizabeth was a close friend of William Francis Cowper Temple 1st Baron Mount Temple (1811-1888), who was a favourite of her husband.
Frederick Hervey Foster Quin had the money, the qualifications and the numerous contacts within the aristocracy to establish homeopathy in Britain with relative ease…
The benefit of Frederick Hervey Foster Quin being aristocratic very quickly became apparent. Frederick Hervey Foster Quin was allegedly the illegitimate son of the Duchess of Devonshire, Lady Elizabeth Hervey Foster Cavendish:
Frederick Hervey Foster Quin and his colleagues William Leaf, Paul Francois Curie and Thomas Roupell Everest established practices in the UK and later free dispensaries for the poor and also several hospitals…
"Frederick Hervey Foster Quin is a mystery man. His names Hervey and Foster suggest a relationship to the Duchess of Devonshire. Indeed, he is often depicted as her illegitimate son. The Duchess of Devonshire was born Lady Elizabeth Hervey and her first marriage was to John Foster.
However, there is absolutely no evidence that the Duchess of Devonshire was Frederick Hervey Foster Quin's mother although obviously with those names there must have been some sort of relationship, possibly that of godson".
Homeopathy soon attracted many followers amongst the upper classes including Royalty, and many of these turned into stoutly loyal rich patrons of the emerging homeopathic hospitals and dispensaries….
This loyal devotion to homeopathy has been passed down through all these titled families and continues to this day.
Lady Elizabeth was the daughter of Frederick Hervey, 4th Earl of Bristol, and was familiarly known as "Bess".
She was born in a small house in Horringer, St Edmundsbury, Suffolk, England. In 1776, she married Irishman John Thomas Foster (born 1747). He was a first cousin of the brothers John Foster, last Speaker of the (united) Irish House of Commons, and Bishop (William) Foster.
When her father acceded to the earldom of Bristol until 1779, she became Lady Elizabeth Foster. The Fosters had three children; two sons, Frederick (3 October 1777 - 1853) and Augustus (December 1780 - 1848), and a daughter Elizabeth, who was born premature on 17 November 1778 and lived only 8 days.
The couple lived (after 1779) with her parents at Ickworth House, the ancestral Bristol home. The marriage was not a success, and the couple separated within five years, plausibly after Foster had a relationship with a servant. Foster retained custody of their sons, and did not allow the boys to see Bess for 14 years.
In May 1782, Bess met William Duke of Devonshire and Georgiana Duchess of Devonshire in Bath, and quickly became Georgiana's closest friend.
From this time, she lived in a ménage à trois with Georgiana and William for about twenty five years. She bore two children by the Duke: a son, Augustus (later Augustus Clifford, 1st Baronet), and a daughter, Caroline St. Jules, who were raised at Devonshire House with the Duke's legitimate children by Georgiana. Lady Elizabeth finally married William in 1809, three years after the death of Georgiana, during which time she had continued to live in his household.
Bess is also said to have had affairs with several other men, including Ercole Cardinal Consalvi, John Sackville, 3rd Duke of Dorset, Count Axel von Fersen, Charles Lennox, 3rd Duke of Richmond, and Valentine Richard Quin, 1st Earl of Dunraven. There is some evidence that Valentine Richard Quin fathered an illegitimate son by her, who became the noted physician, Frederick Hervey Foster Quin.
Bess also had literary pretensions, and was a friend of the French author Madame de Staël, with whom she corresponded from about 1804.
Of interest:
Frederick Hervey Foster Quin was born in 1799.
Valentine Richard Quin, 1st Earl of Dunraven and Mount-Earl, 1st Baronet 1752 – 1824 was an Irish Peer. Thady Quin was succeeded by Valentine Quin of Adare, who in 1707 had married Mary, daughter and co- heir of Henry Widenham of The Court, Adare.
Valentine died in 1754 and was succeeded by his son Valentine Richard Quin, MP for Killmallock 1799 - 1800, who was created a Baronet of Great Britain in 1781 and was raised to the peerage in 1800 as Baron Adare of Adare.
He was advanced to a Viscountcy in 1816 as Viscount Mount Earl and became Viscount Adare and the first Earl of Dunraven and Mountearl on 5 February, 1822. He had presumably chosen the title of 'Dunraven' in honour of his daughter in law, Caroline Wyndham, who had married his eldest son in 1810.
His earldom lasted only two years and in 1824 his son, Wyndham Henry Quin, became the 2nd Earl of Dunraven and Mountearl. The family name had officially become Wyndham Quin in 1815.
Prior to 1803 Dunraven House was a rather nondescript low built structure with nothing of beauty to commend it, as we can see in an engraving of 1776 by Samuel Hooper. Mrs. Thomas Wyndham, having come to the old house in 1801, had a good idea of the house she wished to have and set about the project with her husband's full approval.
She employed no professional architect and designed and drew the plans herself while her husband arranged for the work to be carried out by a Mr. Willis of Bridgend, using as much materials from within the extensive Dunraven estate as possible. This, then, was the re-built 'Dunraven Castle' acquired by the 2nd Earl and his wife Caroline in 1824.
A note here concerning that remarkable lady is worthy of attention. She was a great benefactress of the town and people of Bridgend. Shocked by the Report to the General Board of Health by G.T. Clark in 1849 on the Sanitation and Water Supply of Bridgend, Caroline eventually provided the town's first piped water supply in 1857 – paying for it herself as the Local Board were unable to do so.
In honour of this tremendous boon, she was presented with an illuminated address and Eastgate was renamed Caroline Street. She later preferred to live in Clearwell Court of which she was very fond and died there in 1870.
In the village of Clearwell she had a new church built, near to the Castle entrance, and appointed a young curate from St. Brides Major to take charge. About the same time, in the 1860s, she built a new village school opposite the church and brought a William Draper (the writer's great-grandfather) from Halstead, Essex as the Master.
The 3rd Earl, Edwin Richard Windham Wyndham Quin, Knight of St. Patrick, MP for Glamorgan, 1836-1850, and Lieutenant and Custos Rotulorum for County Limerick (born 1812), married in 1836 Augusta, granddaughter of Valentine Quin of Rosbrien.
Their son, Windham Thomas Wyndham Quin, became the 4th Earl of Dunraven and Mountearl in 1871. He had a distinguished military and political career and was Under Secretary of State for the Colonies 1885-1887. He was a K.P., P.C., C.M.G., O.B.E., Lieutenant of County Limerick, J.P. of Glamorgan, Hon. Colonel of the 5th Battalion, Royal Munster Fusiliers, of the 23rd Armoured Car Company, T.A. and served in Abyssinia and South Africa.
He was a leading figure in ocean yacht racing – his yacht 'Valkyrie' was a well known rival to such as the Prince of Wales, later Edward VII. In 1869 he married Florence Elizabeth, daughter of Lord Charles Lennox Kerr but died in 1926 leaving two daughters and no heir.
Thus the title passed to his cousin, Windham Henry Wyndham-Quin, 5th Earl of Dunraven and Mountearl, C.B., D.S.O., D.L. County of Glamorgan, Military Secretary to the Governor of Madras 1886-89, MP for south Glamorgan 1895-1906 (including the 'Khaki Election' of 1901 while he was serving in South Africa), and High Sheriff of County Kilkenny, 1914.
In 1885 he married Lady Eva Bourke, daughter of the 6th Earl of Mayo, and they had two sons and three daughters. The 5th Earl, still remembered with considerable affection by several now elderly people in the area for his active involvement in village affairs…
The son of Windham Quin, he was created a Baronet of Great Britain in 1781, 1st Baron Adare on 31 July 1800, 1st Viscount Mount Earl on 3 February 1816, and 1st Earl of Dunraven and Mount-Earl on 5 February 1822.
He married (1) Lady Frances Muriel Fox-Strangways, daughter of Stephen Fox Strangways, 1st Earl of Ilchester, on 24 August 1777. They had the following children:
He married (2) Margaret Mary Coghlan
He is buried at St. Nicholas' Church of Ireland in Adare, County Limerick, Ireland.
---