Ernest Legouve 1807 - 1903
January 15, 2009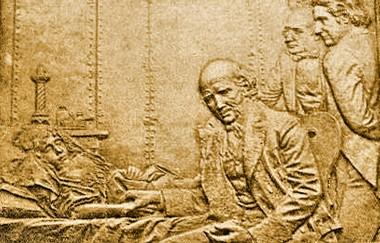 Gabriel Jean Baptiste Ernest Wilfrid Legouve 1807 - 1903 was a French dramatist.
Ernest Legouve was a friend of Samuel Hahnemann and Melanie Hahnemann, and a supporter of feminists and female doctors.
It often tells the story of Ernest Legouve, who had a daughter aged four years that all the most eminent physicians of the capital had declared incurable.
Victor Schoelcher, a friend of Ernest Legouve, having heard of the doctor out of the ordinary from Amaury Duval (a pupil of Jean Auguste Dominique Ingres), took Samuel Hahnemann, who lived at rue de Parme, and Victor Schoelcher decided to come to the consultation as well. Ernest Legouve lived then at 14 rue de la Victoire. Eight days later, Adrienne Lecouvre recovered and this miracle "was known immediately and brought extraordinary excitement" to the streets of Paris…
Ernest Legouve reported the events as follows:
My little daughter, then about four years old, lay dying; our family physician, who was attached to the Hotel Dieu, Dr R , had told one of our friends in the morning that her condition was hopeless. Her mother and I were watching perhaps for the last time by her bedside: Schoelcher and Goubaux were with us, and in the room was also a young man in evening dress, who three hours before was a stranger to us.
His name was Amaury Duval and he was one of the most promising pupils of Jean Auguste Dominique Ingres. We had wished to preserve at least a visible remembrance of the dear, little creature we were already bewailing as lost, and Amaury Duval, at the urgent request of Schoelcher had left a reception in order to paint that sad portrait.
When the dear and charming fellow, who was only twenty nine then, entered the room, deeply moved by our despair, neither we nor he suspected that a few hours later he should render us the greatest service anyone could render us, and that we should be indebted to him for more than the image of our daughter, namely, for her life.
He took up his position at the foot of the cot, the light of a lamp which had been placed on a high piece of furniture fell on the face of the child. Her eyes were already closed, the dishevelled hair was falling on her temples, the small face and hands were almost as white as the pillow on which her head reclined, but childhood itself is invested with such charms, that her approaching death seemed to shed an additional grace on her features.
Amaury Duval spent the greater part of the night in making his sketch, the poor fellow furtively wiping his eyes now and then, lest his tears should drop on the paper. Towards morning his drawing was finished, and influenced by his own emotion, he had simply drawn a masterpiece.
He just going, accompanied by our affectionate and heartfelt thanks when all of a sudden he stopped. 'Look here,' he said, 'seeing that your doctor has declared the case to be hopeless, why not call to your aid that new system of medicine which is beginning to make so much noise in Paris, why not send for Samuel Hahnemann?'
'He is right,' exclaimed Goubaux, 'Samuel Hahnemann is my neighbour, he lives in the Rue de Milan, opposite i! I do not know him, but that will make no din. I am going to him and will bring him back with me.'
When Goubaux got to Samuel Hahnemann's there were at many people in the waiting room. The servant explained that he must wait for his turn.
'Don't talk about waiting,' shouts Goubaux. 'My friend's daughter is dying; the doctor must go back with me immediately.'
'But, monsieur,' protests the servant.
'Yes, I understand, I understand,' says Goubaux, 'I came in last! What  does that matter? The last shall be the first," says  the Gospel.
'Then turning to those around him, he  adds, 'Is it not so, mesdames? Am I not right in  supposing that you will give me your turn,' and without waiting for an answer, he makes straight for the  doctor's consulting room, opens the door and  interrupts a consultation.
'Doctor,' he says to  Samuel Hahnemann, 'I know I am acting in defiance of all regulations and conventionality, but you must put aside everything and come with me. I want to take you to a little girl of four who will surely die if you do not go to her; you cannot let her die, can you?'
And his irresistible fascination produces its usual effect; an hour afterwards Samuel Hahnemann and his wife enter the sickroom accompanied by Goubaux.
In spite of all my trouble and grief, in spite of my brain racking with pain for want of sleep, I could not help comparing the man who entered the room to one of the characters from the weird tales of Hoffmann (Ernst Theodor Wilhelm Hoffmann). Short, but well knitted and walking with a firm step, wrapt in a furcoat from nape to heel and leaning on a thick cane with golden knob, he walked at once to the bedside.
He was close upon eighty then, with an admirable head of long and silky hair combed back wards and carefully arranged into a roll round the neck; eyes, of a dark blue in the centre with an almost white ring round the pupil, a proud, commanding mouth with protruding lower lip and aquiline nose.
After having cast a first look at the child, he asked for particulars of her illness without taking his eyes off her for an instant. Then his cheeks flushed, the veins in his forehead stood out like whipcord and in an angry voice, he exclaimed, 'Fling all those drugs out of the window; every vial and bottle that's there. Take the cot from this room, change the sheets and the pillows and give her as much water as she will drink. They have lighted a furnace in the poor child's body. We must first of all extinguish the fire. After that we'll see.'
We timidly objected that this change of temperature and linen might prove very dangerous to her.
'What will prove fatal to her,' was the answer, 'is this atmosphere and the drugs. Carry her into the drawing room, I'll come back tonight. And above all, give her water, as much water as possible.'
He came back that night, he came back next morning, and began to give her medicines of his own. He expressed no opinion as to the final issue, but merely said each time, 'We have gained another day.'
On the tenth day the danger grew all at once imminent.  My child's knees had almost become rigid with the chill of death. At eight o'clock at night he came again, and remained lor a quarter of an hour. Apparently he was in a state of intense anxiety, and after having consulted with his wife, who always accompanied him, he handed us some medicine saying, 'Give her this, and be careful to note whether between now and one o'clock her pulse becomes stronger.'
At eleven o'clock I was holding my  daughter's arm, when I fancied I felt a slight modification in the pulsation. I called my wife, I called Goubaux and Schoelcher.
Let the reader picture to himself the four of us, looking at the watch, counting the beats of the pulse, not daring to affirm anything, fearing to rejoice until a few minutes had elapsed, when we absolutely flung ourselves into one another's arms, the pulse had 'gone up.'
Towards midnight Chretien Urban entered the room. After looking at the child, he drew to my side, saying with an air of profound conviction, 'My dear M. Legouve, your daughter is safe.'
'She is a trifle better,' I answered, scarcely knowing what I said, ' but as for her being out of danger, let alone on the way to recovery …'
'I tell you she is safe,' he insisted, then bending over the cot by which I was sitting alone, he kissed her on her forehead and went away.
A week later, the patient was, in fact, on the road to recovery. This cure assumed the importance of an event in Paris, I might almost say that it created a scandal. I was not altogether unknown and people freely used the words 'miracle and resurrection.'
The whole of the medical faculty showed itself intensely annoyed, poor Dr. R was taken to task by all his colleagues; very animated discussions took place both  in society and at the Faculty. One physician was not ashamed to say aloud in M. de Jouy's drawing room: "I am very sorry this little girl did not die". The majority of the doctors confined themselves to repeating the parrot cry: 'It's not the quack who has cured her, but nature; he simply benefited by the allopathic treatment left to him by his predecessors".
When my daughter was cured, I showed Samuel Hahnemann Amaury Duval's delicious drawing. He gazed long and admiringly at this portrait, which represented the resuscitated girl as she was when be first saw her, when she seemed so near death. He then asked me to give him a pen, and he wrote beneath it: "Dieu I'a bénie et l'a sauvée". (God blessed her and saved her).
Son of the poet Gabriel Marie Legouve , Ernest Legouve was born in Paris. His mother died in 1810, and almost immediately afterwards his father was removed to a lunatic asylum.
The child, however, inherited a considerable fortune, and was carefully educated. Jean Nicolas Bouilly was his tutor, and early instilled into the young Legouvé a passion for literature, to which the example of his father and of his grandfather, J B Legouve (1729-1783), predisposed him.
As early as 1829 he carried away a prize of the Académie française for a poem on the discovery of printing; and in 1832 he published a curious little volume of verses, entitled Les Morts Bizarres.
In those early days Legouvé brought out a succession of novels, of which Édith de Falsen enjoyed a considerable success.
In 1847 he began the work by which he is best remembered, his contributions to the development and education of the female mind, by lecturing at the College of France on the moral history of women: these discourses were collected into a volume in 1848, and enjoyed a great success.
Legouvé wrote considerably for the stage, and in 1849 he collaborated with Augustin Eugene Scribe in Adrienne Lecouvreur. In 1855 he brought out his tragedy of Médée, the success of which had much to do with his election to the Académie française.
He succeeded to the fauteuil of Jacques Francois Ancelot, and was received by Flourens, who dwelt on the plays of Legouve as his principal claim to consideration.
As time passed on, however, he became less prominent as a playwright, and more so as a lecturer and propagandist on womans rights and the advanced education of children, in both of which directions he was a pioneer in French society.
His La Femme en France au XIXe siècle (1864), reissued, much enlarged, in 1878; his Messieurs les enfants (1868), his Conférences Parisiennes (1872), his Nos filles et nos fils (1877), and his Une Éducation de jeune fille (1884) were works of wide reaching influence in the moral order.
In 1886-1887 he published, in two volumes, his Soixante ans de souvenirs, an excellent specimen of autobiography. He was raised in 1887 to the highest grade of the Legion of Honor, and held for many years the post of inspector general of female education in the national schools.
Legouve was always an advocate of physical training. He was long accounted one of the best shots in France, and although, from a conscientious objection, he never fought a duel, he made the art of fencing his lifelong hobby.
After the death of Désiré Nisard in 1888, Legouvé became the father of the French Academy. He died in 1903.
Ernest Legouve wrote L'Homéopathie Française, The Moral History of Women,
---