Mary Augusta Fox Holland 1812 - 1889
January 11, 2009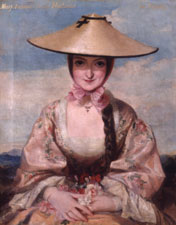 Mary Augusta Fox, Lady Holland, 1812 - 1889 was the wife of Henry Edward Fox, 4th Baron Holland of Holland and 4th Baron Holland of Foxley 1802 – 1859,  a British Whig politician and later an ambassador.
The Hollands lived in Italy for most of their lives, and they were friends of the Countess of Blessington, Frederick Hervey Foster Quin, Mary Shelley and many others. In England, she was a close friend of William Francis Cowper Temple 1st Baron Mount Temple (1811-1888) (James Gregory, Reformers, Patrons and Philanthropists, (Taurus Academic Studies, 2010). Multiple pages),
Lord Holland's son was a patient of Frederick Hervey Foster Quin.
Henry Edward Fox, fourth Lord Holland, was the son of the third baron and his clever, eccentric, tiresome wife, who had gathered round her at Holland House an internationally famous circle of statesmen, wits and men of letters.
Henry Edward Fox, now just turned forty, had been appointed British Minister in Florence in 1838, and shortly afterwards succeeded to the barony. In 1833, after not a few unsuccessful pursuits and broken engagements, he had married Lady Mary Augusta Coventry, who in moments of intimacy called her husband Buz; she was ten years his junior, only five years older than George Frederick Watts, and had the tiniest feet in Europe.
In a letter written to his mother at the time of his engagement, Henry had described Augusta (as she was always called) as very "petite", her face very beautiful - especially her eyes, but her figure bad and her way of dressing worse than Cinderella.
"She doesn't possess a single gown or chiffon of any sort that I do not look forward to burning with great complacency".
She was intelligent and well educated, good natured and cheerful, and (though one would hardly guess it from her portraits) free from any shadow of affectation. Henry had soon helped her to acquire the necessary sartorial polish, and she now presided successfully over a salon very different from her mother in law's, but one to which all visitors to Florence were eager to be invited.
One thing only was lacking at the Casa Feroni: some special, some extraordinary attraction for the entertainment of her guests; and now a kind Fate had brought this charming and (she was assured) exceptionally talented young artist into her life. He came; she saw; she was conquered. George Frederick Watts had been invited to stay for several days; she held him a willing captive for several years…'
'In October, even before George Frederick Watts had moved into the Casa Feroni, Lord Holland had written to his aunt, Caroline Fox, giving her his first impression of George Frederick Watts:
"Mr Watts seems to me full of genius and favourable ambition, without any of the jealous, niggling, detracting vanity of his brother artists. I have seen a good deal of him, as he has made a beautiful sketch of Augusta in oil. I wish you would mention and recommend him to Henry Charles Keith Petty Fitzmaurice 5th Marquess of Lansdowne. I think he will be a great painter in his day… He returns very soon to England to prepare for the next exhibition".
But George Frederick Watts stayed on and on, and five months later Lord Holland gave his mother his more considered opinion of his now permanent guest:
"I am very much interested about Mr Watts. I think he has not only great talent, but real genius. The artists here, who are all good judges and very parsimonious of praise, are wild about him, tho' very angry at having to acknowledge foreign merit.
"He is, however, terribly dilatory and indolent, and will not buckle to to study fresco painting as he ought. I have worried him into painting portraits, and he has two splendid ones of Jerome Bonaparte and his daughter, Pss Demidoff, besides a full length one of Mrs Fitzpatrick, which is extremely like, and yet will hand her down to posterity as very beautiful!!!
"He would not paint portraits at first, as he aims at being more than a mere portrait painter, and indeed he has talent for really fine poetical pictures - but who in this age will order them and pay for them, among the few who have sense to hang them up!!?
"I like him very much… He is very clever, well read, and wonderfully quick and intelligent; but I fear he has not the energy and qualities to ensure his prosperity in the world".
Henry Edward Fox was born at Holland House, London, the eldest legitimate child of the 3rd Baron Holland and his wife, Elizabeth Vassal, and was educated at Christ Church, Oxford.
He briefly held the seat of Horsham from 1826-27 before joining the Diplomatic Service in 1831, after which he was Secretary to the Legation at Turin from 1832-35, Attaché at St Petersburg, Secretary at the Embassy in Vienna from 1835-38, to the German Confederation in 1838 and to Florence from 1839-46.
On 9 May 1833, he had married Lady Mary Augusta Coventry (a daughter of the 8th Earl of Coventry).
Although the marriage produced no children, they did have an adopted daughter, Marie "Mary" Henriette Adelaide Fox, (who was said to be and most likely was his illegitimate child by an unknown presumably French mother), who married in London on 27 June 1872 Aloys Franz de Paula Maria Prinz von un zu Liechtenstein (son of Prince Franz de Paula of Liechtenstein and wife Countess Julia Potocka, and later remarried in Vienna on 20 May 1890 without issue to Johanna Elisabeth Maria von Klinkosch, daughter of Joseph Ritter von Klinkosch and Elise Swoboda), by whom she had four daughters, the middle two of which died unmarried and the first one married without any issue.
As Lord Holland died without male issue, in Naples, his titles became extinct.
Mary Augusta returned to England after her husband's death:
Mary Augusta Lady Holland came to live on St Ann's Hill at Ruxbury House. It is said that she bought a large number of Italian servants with her and which formed the bedrock of the Italian community in Chertsey today.
Of interest:
Caroline Fox 1819 – 1871 was an English diarist. She was the daughter of Robert Were Fox FRS of the influential Fox family of Falmouth, and was the younger sister of both Barclay Fox, also a diarist, and Anna Maria Fox.
Caroline was well known as the authoress of a diary, recording memories of many distinguished people, such as John Stuart Mill, John Sterling and Thomas Carlyle.
Selections from her diary and correspondence (1835–1871) were published under the title of Memories of Old Friends: Caroline Fox of Penjerrick, Cornwall (edited by Horace N Pym, 1881; 2nd edition, 1882). A selection from the Victorian edition was published in 1972.
She died on 12 January 1871 and was buried in the Quaker Burial Ground at Budock.
Elizabeth Vassal 1770 – 1845 mother of Henry Edward Fox **was a figure of considerable scandal. **
---