Charles Augustus Tulk 1786 - 1849
January 09, 2009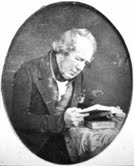 Charles Augustus Tulk (1786-1849) was MP for Sudbury 1820–6 and for Poole 1835–7.
Charles Augustus Tulk was a friend of Robert and Elizabeth Browning, Thomas Carlyle, Henry Crabb Robinson, Samuel Taylor** **Coleridge, Charles Dickens and James John Garth Wilkinson, and the patron of William Blake's Swedenborgian membership.
Tulk was from a wealthy family which owned most of Leicester Square and surrounding areas of London:
Shortly after his eldest son, Charles Augustus Tulk, had attained the age of twenty one, father and son entered into an agreement for a resettlement of the estate. By a deed of 25 October 1807 it was declared that the ground on the south side of the square to the west of St. Martin's Street (plot H), the ground on the west side of the square (plot 1), and the ground to the north bounded by Princes (now Wardour), Lisle and Leicester Streets (plot K) should enure to such uses as John Augustus Tulk (I) should appoint; and the ground on the south side of the square east of St. Martin's Street (plot G), that on the east side of the square (plot F) and, subject to certain conditions (see page 433), the garden of the square (plot L) should enure to the use of Charles Augustus Tulk and his heirs.
In 1817, at about the time of the death of his first wife, Betty, John Augustus Tulk  settled the greater part of plot K on his son, Henry Tulk of St. Pancras, esquire,  and at about the same time he also appears to have made provision out of part of the remainder of his Leicester Square estate for one of his daughters, Maria Augusta, on the occasion of her marriage.
John Augustus Tulk's second wife, Lydia, bore him three sons and one daughter. In 1827 he was living at Park Square, Regent's Park, but at his death on 23 January 1845, aged eighty nine, he was residing in Brussels.
After provision for two unmarried daughters by his first marriage the bulk of his property then passed to his widow, who died on 9 June

Her estate in Leicester Square consisted of plot H, plot I, less some land already sold to the Crown for the formation of New Coventry Street, and about one fifth of plot K.
By her will she divided this equally between her three sons, John Augustus (II), James Stuart (III) and Emilius Augustus, and her daughter, Lydia Augusta. (ref. 85)
Corresponding fragmentation had meanwhile taken place on Charles Augustus Tulk's portion of the estate, which in 1807 had consisted of plots F, G and the garden, L, whose history is described on page 431.
Like his father, Charles Augustus Tulk was a man of heterodox religious opinions and a student of Emanuel Swedenborg. He was MP for Sudbury 1820–6 and for Poole 1835–7, and included Samuel Taylor** **Coleridge and Joseph Hume among his friends.
He lived for some years at Marble Hill House, Twickenham, and later at Totteridge Park, Hertfordshire.  In 1807 he married Susannah Hart, the only child of a London merchant, who, before her death in 1824, bore him twelve children, seven of whom survived him. Like his father, Charles Augustus Tulk treated his children with great generosity, mortgaging his Leicester Square estate for nearly £22,000 to set up three of his sons - Augustus Henry, Edward Hart and John Augustus (III)—on the occasion of their 'entering into Business', to purchase a commission in the Ceylon Rifle Regiment for the fourth son - James Stuart (IV) - and to provide for his daughters when they married.
But Augustus Henry and Edward Hart, to whom he had advanced a total of £13,000, were both bankrupt within four years and James Stuart (IV) resigned his commission after about the same period. For the rest of his life their father then paid each of them a personal allowance of £200 a year.
Charles Augustus Tulk died on 16 January 1849, after preparing an elaborate will the object of which was 'to demonstrate the equal Love I bear to all those of my children who have to depend on me'.
The premises in plots F and G were divided into seven scattered portions not forming self contained holdings, and one portion or schedule each was allocated to seven of the eight children still living when the will was being drawn. The rents arising from the premises in schedules 1, 2, 3, 6 and 7 each yielded a little more or less than £600 per annum.
Schedule 4 was allocated to James Stuart Tulk (IV), who had served briefly in the army, but as it included vacant ground on the east side of Leicester Square (now part of the site of the Odeon Cinema) for which no rent had been paid for some years, the will provided that, until the ground was let, the income from this schedule should be levelled up to that of the others from Charles Augustus Tulk's personal estate. The income of the fifth schedule, which was allocated to a married daughter, Carolina Augusta Gordon, only yielded £133, because at the time of her marriage her father had already provided her with an income of £455… continue reading:
Tulk was a leading early English Swedenborgian and a founder member and chairman for many years of the Swedenborg Society
He was a friend and patron of John Flaxman, another founder member of the Society and also of William Blake, whose Songs of Innocence and Experience he was the first to introduce to Samuel Taylor** **Coleridge. His essay on William Blake in the London University Magazine (1830) is one of the earliest appreciations of William Blake's genius.
A close friend of Samuel Taylor** **Coleridge, he was deeply read in Spinoza, Berkeley, Kant and Schelling and developed an Idealist interpretation of Emanuel Swedenborg which found little favour with some of his fellow Swedenborgians.
In later life he became acquainted with Robert and Elizabeth Browning and introduced them to Emanuel Swedenborg's The Delights of Wisdom Concerning Conjugal Love. He was a Member of Parliament and a reforming magistrate. Reference: Richard Lines, Charles Augustus Tulk: Swedenborgian Extraordinary in Arcana, Vol.III. No.4 (1997)
Of interest:

This is Charles Augustus Tulk's son Augustus Henry Tulk (?-?).
Charles Augustus Tulk (?-?) -  librarian, was born at Richmond, Surrey, England, son of Charles Augustus Tulk (1786-1849), and his wife Susannah, née Hart.
His father was a Swedenborgian who owned property in Leicester Square and represented Sudbury and later Poole in the House of Commons.
Augustus attended Winchester School and received a good classical education. Later he studied at Heidelberg and elsewhere on the Continent, and gained fluency in German, French, Russian and Italian. Like many other young Englishmen of his class and time, he was brought up as a 'gentleman' with no particular calling or profession. In 1838 at Newcastle upon Tyne he married Jane Augusta Browne.
For health reasons Tulk was advised to live in a warm, dry climate. At the suggestion of J. J. E. von Guerard, his son's former tutor then in Australia, Tulk decided to migrate. He bought the schooner Guyon and, with his wife and family, sailed from London in March 1854, reaching Melbourne on 13 July.
Optimistically, he had loaded his vessel with mining machinery and goods likely to be in demand on the goldfields; a few months experience proved that he lacked business aptitude and, after heavy losses, he sought a more congenial occupation.
Learning of the establishment of a public library in Melbourne, he applied for the position of librarian and was selected from forty eight applicants; he took up his post on 5 May 1856 at a salary of £600.
Tulk was soon on excellent terms with the library's president (Sir) Redmond Barry with whom he had much in common. Both worked indefatigably in gathering a notable collection of 80,000 volumes, Tulk contributing his first hand knowledge of most of the great book shops of Europe.
In 1863 he was appointed a member of the commission of inquiry into the promotion of the fine arts in Victoria, and he worked assiduously for the establishment of an art gallery.
Next year he was given leave of absence to visit England and to collect the donations that Barry's representations abroad had produced. While there Tulk proposed a novel, but unsuccessful scheme by which a copy of every book published in England would be sent to Victoria in exchange for local copyright protection.
Back in the colony, he introduced an unusually advanced system of book classification according to subjects.
Tulk's success in building up the Melbourne library led to offers of appointments from Sydney and overseas, but he could not bring himself to leave his 'own' library.
Grave, courteous and dignified, he had a high reputation both as bookman and linguist. His knowledge of literature both ancient and modern was extensive and he loved books. In Victoria he added a study of Fijian and Australian native dialects to his repertoire of languages. In later life he suffered from diabetes. Aged 63, he died in his home in St Kilda on 1 September 1873 and after a Church of England service was buried in the general cemetery at Carlton. Survived by his wife, three of his four sons and his two daughters, he left debts amounting to some £600. His portrait by Philip Lindo is held in the State Library of Victoria.
---