Ernst Ferdinand Sauerbruch 1875 – 1951
January 07, 2009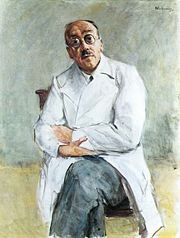 Ernst Ferdinand Sauerbruch 1875 – 1951 was a German surgeon.
Sauerbruch was the son in law of Hugo Paul Friedrich Schulz, the 'Griefswald homeopath'.
Sauerbruch's name may appear in histories of iatrogenesis, or adverse effects resulting from orthodox medical treatments.
Ferdinand Sauerbruch was very close to the Nazi regime, and he did criticise 'totalitarianism' in medical thinking. However, during the war he was anti Nazi. His influence on Fritz Kolbe caused the man to become a spy for the Allies - reputedly the most important spy of the war.
August Karl Gustav Bier was so versatile as a doctor that he did not dwell solely on surgical problems and he became extremely interested in homeopathy and he demanded that regular medicine became more open to it, in which view he was supported by Erwin Liek, Ferdinand Sauerbruch, Kapferer and Mummert, and also Edward Hitschmann, whose grandfather was a homeopath, and Heinrich Meng who became the Chief Physician of the Robert Bosch Hospital in Stuttgart, which was itself founded by a homeopath and now houses a Homeopathic Archive.
Sauerbruch and Erwin Liek argued for holistic treatment, claiming that 'modern scientific medicine was harmful to the sick', and he attempted to integrate natural therapies into his practice. The results of his research was widely reported in homeopathic publications.
In 1926 Sauerbruch articulated this philosophy at the largest hygeinic fair in Germany which over 7 million people attended.
Amongst German physicians there was especially during the interwar period much talk about a crisis of medicine and of the medical profession as such.
Different factors were said to have caused the crisis, such as the one-sided focus on natural science at the expense of the healing art, doctors' inadequate therapeutic skills as well as widespread quackery.
Among those engaged in the debate were the renowned surgeons August Karl Gustav Bier, Erwin Liek and Ferdinand Sauerbruch.
The "crisis of medicine" was a widely debated issue from the mid 1920s. Physicians from all medical specialities, including surgeons like Erwin Liek and Ferdinand Sauerbruch, professors of internal medicine like Theodor Brugsch and Wilhelm His, gynaecologists like Bernhard Aschner, and bacteriologists like Hans Much joined in this discussion.
They claimed that a materialist or even mechanistic view of the patient predominated, with consequent loss of a "holistic" perspective integrating the biological with the psychological dimension of the sick person's suffering…
This diagnosis of contemporary medicine led, however, to diverging conclusions: one tradition aimed at the reconstitution of "organic", or "biological" unities, the search for hidden or forgotten healing forces in nature, and consequently turned away from scientific medicine to look for alternatives, for example, in naturopathy or homeopathy…
Sauerbruch was already advising those patients of his who had been operated on for cancer not to return to their original sleeping place for fear of environmental radiation, and he was a colleague of Max Gerson:
A prominent pulmonary surgeon Ferdinand Sauerbruch, heard about Max Gerson's success with lupus and invited him to conduct a clinical trial of his therapy at Sauerbruch's Munich tuberculosis ward.
Four hundred and fifty end stage tuberculosis patients were chosen, and Max Gerson's dietary regime was applied. In the first clinical trial of his therapy for a disease then considered "incurable," it was reported that 446 patients completely recovered.
Sauerbruch was born in Barmen (now a district of Wuppertal), Germany. He studied medicine at the Philipps University of Marburg, the University of Greifswald, the Friedrich Schiller University of Jena, and the University of Leipzig, from the last of which he graduated in 1902.
He went to Breslau in 1903, where he developed the Sauerbruch chamber, a pressure chamber for operating on the open thorax, which he demonstrated in 1904.
As a battlefield surgeon during World War I, he developed several new types of limb prostheses, which enabled simple movements.
Sauerbruch worked at the Ludwig Maximilians University of Munich from 1918 to 1927 on surgical techniques and diets for treating tuberculosis. From 1928 to 1949, he worked at the Charité in Berlin, attaining international fame for his risky (but mostly successful) operations.
Before World War II, Adolf Hitler awarded him the German National Prize for Art and Science. (He was one of only nine recipients.) During the war he was anti Nazi. His influence on Fritz Kolbe caused the man to become a spy for the Allies - reputedly the most important spy of the war.
Sauerbruch's name may appear in histories of iatrogenesis, or adverse effects resulting from medical treatment. Late in life, he became demented and continued to perform absurd operations on many patients, with fatal results. His colleagues detected the errors but were unable to stop him because of his fame and power (for an account, see Youngson, 1997).
Sauerbruch died in Berlin at the age of seventy five. His life was portrayed in the German 1954 film Sauerbruch – Das war mein Leben, which is based on his memoirs Das war mein Leben.
---