Joseph Benedikt Buchner 1813 - 1879
January 02, 2009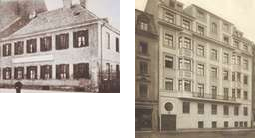 Joseph Benedikt Buchner 1813
In 1851, Joseph Benedict Buchner was even granted an honourary professorship in homeopathy. A government survey in 1833 already listed 18 homeopathic practitioners in Munich…
Buchner, in Munchen, retorted to an unbeliever in homeopathic potencies: "The ox does not believe either, and yet he is cured."
1859: A homeopathic clinic in Wiesenstrasse (Buchner's clinic is still operating today): The history of the Hospital for Natural Healing dates back to the middle of the 19th century. The history of the hospital for Natural Healing reaches into the middle of the 19th Century. In 1851 formed the "Munich Homeopathic Hospital Association," to build a hospital to be treated in the sick according to homeopathic principles. Intellectual center was the then highly respected professor Dr. Joseph Buchner, homeopathic physician at the court of King Maximilian II of Bavaria, who also lectured on homeopathy at the University of Munich. In the city archives (from "Medical Topography of the royal capital and residence city of Munich") is the first documented hospital: "The pract. Dr. Joseph Buchner, Professor honor. at the University of Munich, Munich own homeopathic hospital, including the approval 4/11/59 conferred under the royal government was established. For this purpose, he admitted to him angehöriges house on Meadow Street 6 (now Queen Street) of the institution. Purpose of the hospital is the gratuitous treatment of poor servants, family members and workers, but are also paying patients included. The sick are completely food, medicines and maintenance supplies." See http://typo3.p146235.mittwaldserver.info/index.php?id=68
__In 1851, the Munich Homeopathic Clinic Association was formed in order to build a hospital in which sick people would be treated according to homeopathic principles. The intellectual center of this project was the then highly respected Professor Dr. Joseph Buchner, the resident homeopathic doctor at the Court of King Maximillian II of Bavaria, who also gave lectures on homeopathy at Munich University.
The first hospital is documented in the City Archive (from Medical Topography of the Royal Capital and Residence City of Munich). The practicing physician Dr. Joseph Buchner, honorary professor at the University of Munich, established in Munich a homeopathic hospital of his own, for which, on 11.4.1859, the approval of the Royal Government was granted.
For this purpose, he also gave the institution a house belonging to himself at Wiesenstrasse 6 (today Königinstrasse). The purpose of the hospital is the treatment, free of charge, of poor domestic servants, family members and workers, although sick persons who pay will also be admitted. The patients will be provided completely with food, medications and care.
After the death of Professor Buchner in 1879, the building in Wiesenstrasse passed to his widow and the clinic was closed. With the help of an extremely generous donation from Princess Julie zu Ottingen Wallerstein amounting to 51,000 gold marks, a new hospital with 16 beds was opened in Heustrasse (now Paul Heyse Strasse) in 1883. In order to secure the existence of the hospital on a permanent basis, it was removed from the sponsorship of the Association and turned into a charitable foundation under the legal supervision of the Government of Upper Bavaria.
Joseph Benedikt Buchner proved the remedy Aloe in 1821. He also proved Asparagus, Mercurius Corrosivus and Fel Tauri. Buchner observed the transformation of innocent into poisonous bacilli in the hay and splenic fever bacilli, and in spite of the denial of Robert Koch this is confirmed by other observers. Buchner also obtained a purified extract of aspirin in 1828 at the University of Munich.
Joseph Benedikt Buchner wrote Morbus Brighti, Homöopathische Arznei-Bereitungslehre, New Homeopathic Pharmacopoeia and Posology: Or the Mode of Preparing Homeopathic Medicines, and the Administration of Doses, Vade mecum für Wasser-Freunde und Kurgäste in Heilanstalten, and he submitted cases for homeopathic publications. Buchner contributed cases on scarlett fever to Samuel Hahnemann's Lesser Writings.
---