Hans Wapler 1866 - 1951
December 29, 2008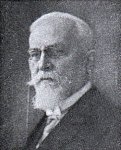 Hans Wapler 1866 - 1951 was a German orthodox physician who converted to homeopathy, to become the Director of the Leipziger Homöopathische Poliklinik (1890) and Editor of the Allgemeine Homöopathische Zeitung.
Wapler was a pupil of Theodor von Bakody.
Wapler was part of the European 'scientific critical direction' alongside Alfons Stiegele, which attempted to reconcile science and homeopathy, and he has been criticised for this, though Wapler was not alone in his critical reception to the high potencies so favoured in America under James Tyler Kent, and in England under Elizabeth Wright Hubbard, Thomas Skinner and John Weir, and in Europe under Pierre Schmidt and many others. Robert Ellis Dudgeon, Richard Hughes and many others were equally skeptical of high potencies and the debate still has enough power to cause arguments today.
Wapler has equally been criticised for appearing to appease Adolf Hitler. Unfortunately, Wapler has not been given any chance to explain his views and subsequently has been roundly condemned by people after the event, people who can have no knowledge of what the actual conditions prevalent in Nazi Germany were at this time, nor what the prevailing atmosphere did to people living underneath it.
Also, not everyone was aware of how nasty the situation would become in 1936. Hans Wapler was aged 70 at this time, having spent his whole professional life at the Leipsig Clinic, but he was very closely connected to the homeopathic community who did know this very well.
Hans Wapler and Fritz Donner, were only too aware that many Jewish homeopaths had already fled, having been subject to the most vicious persecution. Their colleagues Norbert Galatzer, MartIn Gumpert, William Gutman, Karl Koenig, Otto Leeser, Hanns Rabe, Oswald Schlegel and his father Emil Schlegel and many others had already fled. Edward Christopher Whitmont had also fled to America, along with many other European homeopaths.
Homeopaths had been tracking this particular bunch of Nazi occult loonies for years already! (see Edward William Berridge, J Ellis Barker, Oswald Schlegel, Walter Johannes Stein, Rudolf Steiner
When Rudolph Hess took the XII International Congress of Homeopathy in Berlin 'under his protection', no homeopath could have been in any doubt about the seriousness of the situation.
After their seizure of power companies, the National Socialists attempted health care reform in Germany. Homeopathy came under the description of folk medicine, and if necessary, "the laity may be exercised and to ensure that the public health should contribute…" In 1936 starts the kingdom of Health (RGA) with a scientific review of homeopathy under the direction of Fritz Donner…
Allgemeine Homöopathische Zeitung, Hans Wapler MD, emphatically concludes: "There can be no national socialist physician who – if made aware of it – would not recognize the crucial importance that Hitler's political evaluation of the Similia similibus has had for Germany"…
When the Allgemeine Homöopathische Zeitung came out again in 1948, the editorial referred to the "unfortunate political circumstances of the past". At the same time, it points out that the journal would continue on its course "unperturbed by any political currents, entirely neutral in the service of a pure and applied science".
In Leipzig a homeopathic clinic has stood for nearly a hundred years. It is now under the direction of Dr Wapler. Here also numerous guests come every year to study for a shorter or a longer time.
Hans Wapler wrote Ber Versuche durch strychnine bei Tieren Immunität gegen Tetanus herbeizuführen, Hufeland's Schriften über die Homöopathie und die Achtzehn Thesen von_ Paul Wolf__. _Herausgegeben und besprochen, darf als Führer der naturwissen schaftlichen Richtung der Homöopathie bezeichnet werden, and many other articles in German about Hahnemann and the Leipsig Clinic, and he assisted Richard Haehl with the biography of Samuel Hahnemann.
---