Edward Christopher Whitmont 1912 - 1998
December 28, 2008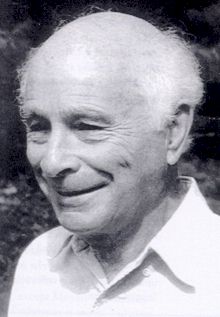 **Edward Christopher Whitmont **1912 - 1998 was a homeopath, MD and psychotherapist, who integrated the practice of homeopathy and Jungian psychology for over 50 years.
Whitmont was forced to flee from Nazi Germany in 1938 to find refuge in America. He returned once to his native Vienna in 1994.
Whitmont taught homeopathy at the postgraduate medical school of the American Foundation for Homeopathy, and he was one of the founding members of the Carl Gustav Jung Institute in New York City.
Whitmont studied homeopathy with Elizabeth Wright Hubbard and he knew Carl Gustav Jung, Karl Koenig, Guy Beckley Stearns and Dana Ullman.
See Edward Whitmont in perspective by Peter Morrell September 2012 http://www.interhomeopathy.org/edward-whitmont-in-perspective '… This essay explores the thinking and mindset of Whitmont, how he was influenced by and used homeopathy and also what influence he has had on homeopathy. Whitmont shows that homeopathy has been very willing to learn from Jung and Alchemy, but Jungian analysts seem not to have shown so great a willingness to learn very much from homeopathy… continue reading:
Edward Christopher Whitmont graduated from the Vienna University Medical School in 1936 and had early training in Adlerian psychology.
In 1937 he studied Rudolf Steiner's work with Karl Koenig, later founder of the Camphill Movement.
An initial interest in psychosomatics and holistic approaches led him into research in the area of naturopathy, chiropractic, nutrition, yoga and astrology beginning in 1940. During this time he studied Homeopathy with Elizabeth Wright Hubbard and medical dowsing with Guy Beckley Stearns.
A concurrent interest in Analytical Psychology led to correspondence and meeting with Carl Gustav Jung and training in Jungian therapy with various teachers including Mary Esther Harding.
Whitmont was in private practice of Analytical Psychology in New York while teaching at the Carl Gustav Jung Training Center, of which he is a founding member and chairman.
There are many Obituaries for Edward Whitmont. This one is from the New York Times.
Whitmont was a prolific author, contributing to many books on homeopathy and on psychotherapy. He also wrote The Alchemy of Healing, Psyche and Substance, The Symbolic Quest, Collected Articles by Edward Whitmont with Dana Ullman, Dreams, a Portal to the Source, Return of the Goddess, Essays on Homeopathy, The Practice of Homeopathy,
---