Hanns Rabe 1890 - 1959
December 23, 2008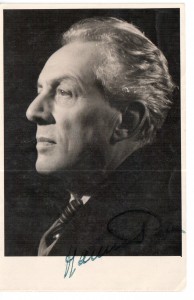 Hanns Rabe 1890 - 1959 (photo donated by Hanns Rabe's family June 2011) Professor of Homeopathy, President of the German Homeopathic Society, and President of the International Homeopathic Medical League 1953 - 55.
Hanns Rabe and his colleagues were involved in homeopathic research in Germany before World War II, but this work was interrupted and all records lost in the war.
Rabe subsequently returned to Berlin and continued working as a homeopath until his death.
Between 1936 and 1939 drug provings were carried out on behalf of the Reich health authorities in various homeopathic hospitals.
Their "main purpose was to research the reliability of former provings and the validity of the drug pictures that were based on them".
The research team consisted of homeopath Professor Dr Hanns Rabe, internist Professor Werner Siebert and the professors of pharmacology Gustav Kuschinsky and Richard Bonsmann (life dates not known). Fritz Donner, who practised at the time in the homeopathy department of the Rudolf Virchow Hospital in Berlin, was also involved in the programme.
Hanns Rabe Prof. Dr. med physician; born Braunschweig, Jan. 1890; son of Johann R. (merchant) and Marie Luther.
Of interest:
F E Rabe is listed as a homeopath in New York in 1905.
Rudolph Frederick Rabe 1872 - 1952 was Dean and Professor at the New York Homeopathic Hospital, and International Hahnemannian Association President in 1923.
---