Ardeshir Kavasji Boman Behram 1909 - 2000
December 22, 2008

Ardeshir Kavasji Boman Behram 1909 - 2000 was a Parsi (Zoroastrian) Indian doctor and homeopath.
In 1948, prompted by the assassination of Mohandas Karamchand Gandhi, the family moved to England, settling first in Parliament Hill Fields before moving to Oval Road in Primrose Hill.
Boman Behram worked at the Royal London Homeopathic Hospital until 1951, where he was a colleague of Edward Bach, Douglas Morris Borland, John Henry Clarke, Clarence Granville Hey, Donald MacDonald Foubister, James Douglas Kenyon, Thomas Maughan, Percival George Quinton, William Wilson Rorke, Margaret Lucy Tyler, John Weir, Charles Edwin Wheeler, Kathleen Gordon Priestman, Harold Fergie Woods and many others.
Former homeopathic doctor India and London (b Bombay 1909; q Bombay 1933), d 10 February 2000. Inspired by his son, who was born with Down's syndrome and was not expected to live, he developed a homeopathic vaccine…
His later research was into the treatment of cancer using peptides from a simple non-toxic substance, which could be administered orally and was found to shrink malignant tumours in mice. About 25 years ago he began to work with Michael Tisdale at Aston University to isolate the active ingredient, but it was not possible to proceed to the clinical evaluation of a single antitumour agent because of the lack of funding.
Ari Boman Behram married Hilde Holger in 1940 and they had one son, Darius, and a daughter Primavera. Their marriage came to an end in 1963.
In 1940 Hilde Holger met Ari K Boman Behram, a prominent Bombay homeopath and art-lover, who would shortly become her husband.
The marriage made Hilde Holger a part of an aristocratic Parsee family who had provided Bombay with many of its most important officials and politicians.
In 1946 their first child, Primavera, was born. Two years later, Holger was once again uprooted by war as the subcontinent was wracked by sectarian violence between Hindus and Muslims. In 1948 Holger, Adi and their young daughter left for England.
Obituary Ardeshir Kavasji Boman Behram homeopath Guardian 8.3.2000:
In the mid 1970s Michael Tisdale, then at St Thomas's Hospital medical school in London, was contacted by a pharmacist friend.
The friend had been providing chemicals for the extraction of an active component from yeast to an Indian scientist living in a Welsh village. The scientist was Adi Boman Behram, who has died aged 90, and was then working on an anti cancer agent.
The pharmacist suggested that Michael Tisdale might be able to test the agent for evidence of anti tumour properties.
Michael Tisdale was skeptical; proposed cures for cancer are commonplace, successful ones are not. But preliminary testing went ahead. The results were promising; the agent appeared to inhibit cancer growth in mice.
A central problem that Ari Boman Behram and Michael Tisdale faced was lack of funding. To get money for controlled testing, data was needed; this meant prior, controlled testing, and itself required money. Yet funds were raised from Ari Boman Behram's fellow villagers in Wales and testing went ahead.
Ari Boman Behram's quest had begun in the late 1940s, when his son, Darius, was born with Down's syndrome and had not been given long to live. The doctor developed a homeopathic vaccine, which he administered, and, whether due to the vaccine or not, the boy survived…
The doctor's research was published in the Homeopathic Journal. Later, Ari Boman Behram developed it towards finding a cancer cure. He concluded that an extract of baker's yeast, which he called "canyeast", appeared to display anti tumour activity with no toxic effects. It was, however, distinctly pungent. Ari Boman Behram prepared it in a caravan, some distance from his house.
Research continued. Funds were raised, and there seemed to be positive clinical responses in private patients, although these findings were not controlled. They could not be measured - which was when Michael Tisdale, now professor of Cancer Biochemistry at Aston University, Birmingham, came in.
Ari Boman Behram was born in Bombay to a distinguished Parsee family. In 1934, he graduated from the city's medical school. Arriving in London in 1948, he worked at the Royal London Homeopathic Hospital until 1951. From the 1960s until the late 1990s he practised in Harley Street and Camden Town.
Michael Tisdale's support for Ari Boman Behram back in the 1970s took place with the knowledge that, in the l940s, it was shown that extracts of yeast produced tumour growth inhibition in animal experiments.
But there was not be a happy ending to their research. The Aston Professor believes that, in the mid 1980s, they were about three quarters of the way towards identifying the key element within the yeast when funding finally ran out. The research, he suspects, has probably died with Ari Boman Behram, a man whose mind, he observed, remained as active as ever to his final days…
Ardeshir Kavasji Boman Behram wrote many articles on homeopathy and submitted cases to homeopathic books and journals.  He wrote Effect of steroidal urinary extract British Homeopathic Journal 1959 48:69  and Lachesis British Homeopathic Journal 1958 47:153.

Darius Boman Behram 1948 - 2008:
Hilde Holger was especially proud of her work with the mentally disabled. Her motives were deeply personal. In 1949, she gave birth to a son, Darius, who had Down syndrome in addition to a severe heart defect and wet lungs.
With the same resolve and perseverance that characterized all endeavors she undertook, Hilde Holger methodically set about the healing and rehabilitation of her son. She created a form of dance therapy which children like Darius could benefit from.
Obituary by Primavera Boman Behram  The Guardian, Friday 12 September 2008:
"When my younger brother, Darius Boman Behram, who has died aged 59, was born, doctors gave him two weeks to live.
"He had heart failure, and would have died had our doctor father not given him a homeopathic dose of Mexican snake venom.
"I shared a bedroom with Darius for the first 20 years, in our family's house near Regent's Park, central London. Darius was different. He was double jointed, always suffered from chest infections, and holes in his heart meant that whatever he was doing, he had to take it easy. He had Down's syndrome.
"When he was about 12, with our father's treatments, Darius's health stabilised, and so our parents got him a tutor. She felt he could have learned to read and write had she seen him at an earlier age.
"Darius sat around a lot. For hours he would scrutinise and contemplate my sculptures and paintings when I brought them back from Saint Martins school of art. He participated in our mother Hilde Holger's children's dance classes, and watched her rehearse contemporary dance.
"Once, when the professional dancers could not perform the right movement, Darius, out of the blue, threw himself into a dramatic twirl and then on to the floor. This was just what she had asked of those professionals!
"In 1967 and 1968, as a result of seeing Darius benefit from this activity, Hilde produced two ballets with Down's syndrome boys at Sadler's Wells. Darius danced in Towards the Light.
"Music was his first love. The work of the Beatles initiated a euphoric smile. Once, at home when Darius was improvising on the piano, a visiting Viennese pianist and composer asked who the genius was. Darius had impeccable rhythm.
"With his death, only now do I understand what he brought to us all. Despite all his suffering, he communicated compassion, love and laughter. He brought people together and invariably made them feel better.
"And he demonstrated that the unexpected is always possible. After all, his life was a miracle."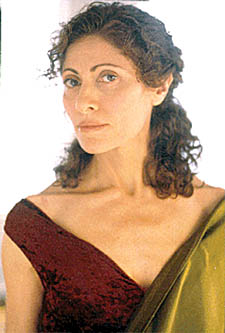 Primavera Boman Behram 1946 - :
In the centenary year of her birth, her daughter Primavera Boman Behram, 59, is nearing the end of a remarkable project archiving her mother's life.
Primavera's aim is to donate her mother's papers to a theatre museum or similar arts' project so that Hilde Holger's life can be recorded for posterity. But the project has also enabled Primavera – a petite, youthful figure who fled to New York in the 1960s partly to distance herself from Hilde Holger – the chance to finally come to terms with her mother's legacy.
"I had to keep her at a distance because she was just too powerful," she says. "My mother was great with all the people that she had around her but I don't think she could show true intimacy with the people who were really close to her.
"When I was a child she told me that it was no good saying anything positive – that she had to be critical because life was even harder. Because she came from a very hard time and now that I've gone through her papers, I can see that." …
In 1938, Hilde Holger, of Jewish extraction, was forced by the Nazis to close her school and was forbidden to perform or work. Many of her family were to perish in Auschwitz.
In 1939, she emigrated to Bombay where she met her husband, a Parsi (Zoroastrian) doctor and homeopath, Arde Bohman Behram.
Primavera was born in 1946. In 1948, prompted by the assassination of Mohandas Karamchand Gandhi, the family moved to England, settling first in Parliament Hill Fields before moving to Oval Road in Primrose Hill where Hilde Holger was to run the Hilde Holger School of Contemporary Dance almost up to her death.
Her son Darius, who came along a few years later, was born with Down's Syndrome. For the young Primavera, the house was a chaotic place – and getting her mother's attention almost impossible.
"I didn't know she was so famous," she says. "Now going through the papers I can see why she didn't have the time. I'd say: mum, read me a story and she'd say: I'm too busy, too busy and I'd go to my science books and play piano. I was a very ivory tower type of child.
"I didn't get any attention because any attention went immediately on my brother. I didn't think I resented it but looking back now, knowing something about psychiatry, I think I had a lot of repressed anger which I didn't know how to vent."
Primavera grew up a painfully shy child, alternately craving and resisting her mother's attentions. In 1969, she left for New York on a Winston Churchill fellowship in 1969 where she eventually made her home. Over the years, she has experimented with jewellery design, multimedia, interior design, choreography and work as an alignment teacher.
Hilde Holger meanwhile continued to teach and look after son Darius. In her later years, she was beset with chronic arthritis, although, remarkably, that did not stop her choreographing five new pieces in the year before her death.
The two became closer as Hilde Holger's health declined and she turned to her daughter for support. They also took regular holidays together. In death, now the entirety of Hilde Holger's life – in the form of posters, films, personal effects, letters and other papers – has become available, Primavera is discovering new facets to her extraordinary mother,
Primavera says. "Before she died, like so many people, I had a very strong figure of a mother who people admired, who was renowned in certain circles around the world. "But there's a whole other dimension that I don't even now fully understand. Here was a strong woman who stood for womanhood and humanitarian causes, who against so many odds, was always pure to her heart. "That's what made her a great person."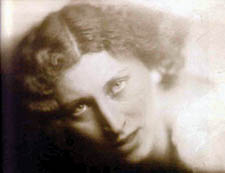 Hilde Holger 1905 - 2001:
In 1938, Hilde Holger, of Jewish extraction, was forced by the Nazis to close her school and was forbidden to perform or work. Many of her family were to perish in Auschwitz.
In 1939, she emigrated to Bombay where she met her husband, a Parsi (Zoroastrian) doctor and homeopath, Arde Bohman Behram.
Obituary from the Independant 9.10.01:
"Hilde Holger, dancer, choreographer and dance therapist: born Vienna 18 October 1905; married 1940, 1989 Adi Boman Behram (died 2000; one son, one daughter; marriage dissolved 1963); died London 22 September 2001.
Hilde Holger lived her life for dance and its teaching. At the age of 95 she was still holding classes in her basement studio in Camden Town, north London, where for 50 years she had taught modern dance in the Central European Expressionist tradition.
Holger made her debut as solo performer in 1923 at the Secession building in Vienna, performing her own choreographed pieces to Franz Schubert's The Trout and Debussy's Le Martyre de Saint Sébastien.
Her beauty as a dancer attracted attention and she was feted by many photographers. Outstanding even by today's photographic standards are the portraits by Antios (Anton Josef Trcka, 1893-1940), who also captured her contemporary and acquaintance Egon Schiele.
Born in 1905 in Vienna, Holger began dancing as a small child. She joined the Gertrude Bodenwieser School at the Vienna State Academy for Music and Performing Arts in 1919. After her first year Bodenwieser called her mother to ask that her single minded daughter be removed from the school.
But Holger's perseverance and determination ensured that by the following year she had become assistant to Bodenwieser and played an essential role in building the Bodenwieser dance group. Bodenwieser's distinct choreographic style, tutelage and frequent touring performances influenced much of Holger's later works.
Le Journal des Théâtres observed in 1927: With Holger, more than with any other artist, dance is really a prayer. It is also an escape from the ordinary world of the intellect. With her, there can be no compromise with opportunism – such is the profound significance of her activity as a creative artist and teacher.
Holger left the Bodenwieser group in 1926 to form her own school of dance in Vienna. She was attracted not so much by the bright lights but by the opportunity to teach. It was teaching that would become her life's work.
In 1938 Holger was forced by the Nazis to close her school and as a child of Jewish parents was forbidden to perform or work. In 1939, she was able to emigrate to Bombay, where she lived for nine years.
She worked first as a masseuse (having trained at the Jewish Vienna Rothschild Hospital), later as solo dancer and, after 1945, as the director of a dance studio. In 1946 her daughter, Primavera, was born.
Two years later, finding the religious war between the Muslims and Hindus intolerable, she fled her home once again with her Parsee husband  Adi Boman Behram. After a gruelling journey to the UK, her son, Darius, was born with a severe mental handicap.
The family lived first in Hampstead, north London, before moving to Camden, where Holger established the Hilde Holger School of Contemporary Dance.
Her London breakthrough came in 1951 with Under the Sea, to music by Saint Saëns, which premiered at St Martin in the Fields. Holger's production incorporated the altar steps into the stage area and provoked public discussion about the use of the church as theatre space.
In later years Darius's "rehabilitation" became the focus of both her dance work and teaching methods. With a strong belief that mind and body work together, Holger developed a dance therapy for children with learning difficulties. Her groundbreaking work Towards the Light was performed at Sadler's Wells in 1969.
Holger's pioneering approach to disability and dance has been carried forward and developed to this day by her former pupil Wolfgang Stange and his Amici Dance Theatre Company, which integrates able bodied and disabled performers.
Wolfgang Stange paid tribute to his teacher for her 90th birthday with a dance drama documenting her life from childhood. Combining dance, music, text and Holger's own choreography, Hilde was performed by Amici Dance Theatre Company at the Riverside Studios, London, in 1996, and two years later in Vienna, with Holger herself performing in a wheelchair.
"I do not want you to function as a machine", she would tell her dancers: I expect from you heart, brain, imagination and expression in your movements. And humanity – human feelings as expressed in the art of Van Gogh, Pablo Picasso and Goya…"
Of interest:
Burjor Boman Behram was an M.B.B.S., who was practising homoeopathy. He died very recently. (2008)
---