John Hudson Storer 1861 - 1927
December 18, 2008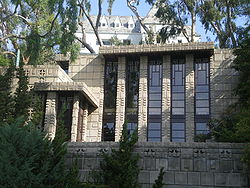 John Hudson Storer **1861 - 1927 **was a homeopathic ENT Physician and Professor of Ophthalmology, Otology, Laryngology and Rhinology, and Dean of The Hahnemann Medical College of Chicago.
John Hudson Storer was a colleague of Henry Detweiller, John Eberhard Freitag, Constantine Hering, Temple S Hoyne, James Tyler Kent, Joseph Hyppolyte Pulte, John Romig, Alphonse Taft, William Wesselhoeft, and many others.
John Hudson Storer practiced in Chicago, Illinois. He was born in Portland, Maine, December 5, 1861, son of George Lord and Mary (Johnson) Storer.
He completed his literary education by graduation from the high school of Madison, Wisconsin, in 1878, and is a graduate in medicine of Hahnemann Medical College and Hospital of Chicago, of the class of 1889.
He was engaged in general practice at Jamaica Plain, Boston, Massachusetts, from 1889 to 1898 and since that time as a specialist on diseases of the eye, ear, nose and throat in Chicago. He has taken post graduate work in New York Polyclinic and at various eye, ear, nose and throat clinics in Boston, New York, Paris, and also in the Royal London Ophthalmic Hospital in London, England.
He was formerly registrar and treasurer in Dunham Medical College, Chicago, also Professor of Ophthalmology, Otology, Laryngology and Rhinology in Dunham Medical College and Hospital and Hering Medical College and Hospital of Chicago, and Director and Clinical Professor in those institutions.
He is a member of the Country Club of Evanston and the Evanston Golf Club. He married, January 14, 1886, Myra Coffin. Their children are Horace Porter, Natalie (deceased) and John Storer, Jr.
On May 27, 1835 the cornerstone was laid for the main building of the Allentown Homeopathic Academy in a festive ceremony featuring an inaugural address by Constantine Hering himself.
Two three story wings of the main building were erected south of Hamilton Street and east of Fourth Street in Allentown; a second building somewhat remote from these was planned to house the chemical laboratory and anatomical and dissecting rooms.
The Pennsylvania State Legislature granted the institution a charter of incorporation on June 16, 1836. Instruction commenced immediately thereafter.
The faculty consisted of Drs. Constantine Hering, William Wesselhoeft, Henry Detweiller, John Eberhard Freitag, John Romig and Joseph Hyppolyte Pulte.
Joseph Hyppolyte Pulte was one of the students at the informal school in Bath. He would go on later to found the Pulte Medical College in Cincinnati, Ohio, and to be named United States ambassador to Austria (and endorsed by Hons, Bellamy, John Hudson Storer, Alphonse Taft, A. F. Herr, Carl Shurz, B. Eggleston, W. S. Groesbech and other prominent statesmen)…
In 1923, John Hudson Storer commissioned a new house from Frank Lloyd Wright to be built at 8161 Hollywood Boulevard, Los Angeles, California. The costs were so enormous that John Hudson Storer became bankrupt as a result.
The house was subsequently owned by Joel Silver, producer of the Lethal Weapon films and such other movies as The Matrix and Thir13en Ghosts.
Joel Silver, who has owned the house since 1984, completed a painstaking restoration with the help of Wright's grandson, architect Eric Wright. Joel Silver not only worked on the house, but also reinstated the original landscaping and built a pool that had been planned but never completed.
Joel Silver has had the house on and off the market since 1998, and it is valued around $3.5 million.
John H Storer wrote articles on paediatric pyelonephritis for The North American Journal of Homeopathy, on corneal ulcers for The Medical Visitor, and on secale cornutum (ergot) in the treatment of gangrene in The Journal of the British Homeopathic Society.
Of interest:
Henry Storer wrote Mesmerism in Disease in 1843.
John Storer ?the son of John Hudson Storer was a homeopathic physician in Chicago in 1902.
John Storer 1921 -  ?not related to homeopath John Storer as his father was an engineer, graduated in homeopathy in 1945 from the Hahnemann Medical College.
---