Frank Lloyd Wright 1867 – 1959
December 17, 2008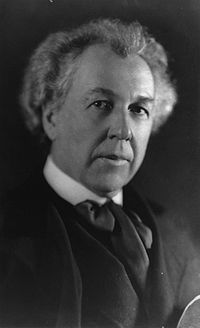 Frank Lloyd Wright (born Frank Lincoln Wright) 1867 – 1959 was an American (of Welsh descent) architect, interior designer, writer and educator, who designed more than 1,000 projects, which resulted in more than 500 completed works.
Frank Lloyd Wright was attended by homeopath Scott Burnam at birth.
Frank Lloyd Wright was a friend of Anthony Quinn, and he built a house for homeopath John Hudson Storer in 1923, and also a house for homeopath Howard W Bassett in 1896, and a house for the son of homeopath Richard Walter Heurtley, Arthur Heurtley House, in 1902.
Frank Lloyd Wright was born in the farming town of Richland Center, Wisconsin, United States, in 1867. Originally named Frank Lincoln Wright, he changed his name after his parents' divorce to honor his mother's Welsh family, the Lloyd Joneses.
His father, William Carey Wright 1825 – 1904 was a locally admired orator, music teacher, occasional lawyer and itinerant minister. William Wright had met and married Anna Lloyd Jones 1838/39 – 1923, a county school teacher, the previous year when he was employed as the superintendent of schools for Richland County.
Originally from Massachusetts, William Wright had been a Baptist minister but he later joined his wife's family in the Unitarian faith. Anna was a member of the large, prosperous and well known Lloyd Jones family of Unitarians, who had emigrated from Wales to southwestern Wisconsin.
Both of Wright's parents were strong willed individuals with idiosyncratic interests that they passed on to Frank. In his biography his mother declared, when she was expecting her first child, that he would grow up to build beautiful buildings. She decorated his nursery with engravings of English cathedrals torn from a periodical to encourage the infant's ambition. The family moved to Weymouth, Massachusetts in 1870 for William to minister a small congregation.
In 1876, Anna visited the Centennial Exhibition in Philadelphia and saw an exhibit of educational blocks created by Friedrich Wilhelm August Fröbel. The blocks, known as Froebel Gifts, were the foundation of his innovative kindergarten curriculum. A trained teacher, Anna was excited by the program and bought a set of blocks for her family.
Young Frank spent much time playing with the blocks. These were geometrically shaped and could be assembled in various combinations to form three dimensional compositions. Wright's autobiography talks about the influence of these exercises on his approach to design. Many of his buildings are notable for the geometrical clarity they exhibit.
The Wright family struggled financially in Weymouth and returned to Spring Green, Wisconsin, where the supportive Lloyd Jones clan could help William find employment. They settled in Madison, where William taught music lessons and served as the secretary to the newly formed Unitarian society. Although William was a distant parent, he shared his love of music, especially the works of Johann Sebastian Bach, with his children.
Soon after Frank turned 14 in 188, his parents separated. Anna had been unhappy for some time with William's inability to provide for his family and asked him to leave. The divorce was finalized in 1885 after William sued Anna for lack of physical affection. William left Wisconsin after the divorce and Wright claimed he never saw his father again. At this time Frank's middle name was changed from Lincoln to Lloyd. As the only male left in the family, Frank assumed financial responsibility for his mother and two sisters.
Wright attended a Madison high school but there is no evidence he ever graduated. He was admitted to the University of Wisconsin as a special student in 1886. There he joined Phi Delta Theta fraternity, took classes part-time for two semesters, and worked with a professor of civil engineering, Allan D. Conover.
In 1887, Wright left the school without taking a degree (although he was granted an honorary Doctorate of Fine Arts from the University in 1955). He moved to Chicago which was still rebuilding from the Great Chicago Fire of 1871, and he joined the architectural firm of Joseph Lyman Silsbee. Within a year, he left Silsbee to work for the firm of Adler & Sullivan as an apprentice to Louis Sullivan.
In 1889, he married his first wife, Catherine Lee "Kitty" Tobin (1871-1959), purchased land in Oak Park, Illinois, and built his first home, and eventually his studio there. His mother, Anna, soon followed Wright to the city, where he purchased a home adjacent to his newly built residence for her. His marriage to Kitty Tobin, the daughter of a wealthy businessman, raised his social status, and he became more well known.
Beginning in 1890, he was assigned all residential design work for the firm. In 1893, Louis Sullivan discovered that Wright had been accepting private commissions. Sullivan felt betrayed that his favored employee had designed houses "behind his back," and he asked Wright to leave the firm.
Constantly in need of funds to support his growing family, Wright designed the homes to supplement his meager income. Wright referred to these houses as his "bootleg" designs and the homes are located near the Frank Lloyd Wright Home and Studio, on Chicago Avenue in Oak Park. After leaving Sullivan, Wright established his own practice at his home.
This practice was a remarkable collection of creative architectural designers. By 1901, Wright had completed about 50 projects, including many houses in Oak Park. As his son John Lloyd Wright wrote,
"William Eugene Drummond, Francis Barry Byrne, Walter Burley Griffin, Albert Chase McArthur, Marion Mahony, Isabel Roberts and George Willis were the draftsmen. Five men, two women. They wore flowing ties, and smocks suitable to the realm. The men wore their hair like Papa, all except Albert, he didn't have enough hair. They worshiped Papa! Papa liked them! I know that each one of them was then making valuable contributions to the pioneering of the modern American architecture for which my father gets the full glory, headaches and recognition today" Between 1900 and 1917, his residential designs were "Prairie Houses", so called because the design is considered to complement the land around Chicago. These houses featured extended low buildings with shallow, sloping roofs, clean sky lines, suppressed chimneys, overhangs and terraces, using unfinished materials. The houses are credited with being the first examples of the "open plan."
The manipulation of interior space in residential and public buildings are hallmarks of his style. One such building is Unity Temple, the home of the Unitarian Universalist congregation in Oak Park. As a lifelong Unitarian and member of Unity Temple, Wright offered his services to the congregation after their church burned down in 1904. The community agreed to hire him and he worked on the building from 1905 to 1908. He believed that humanity should be central to all design.
Many examples of this work are in Buffalo, New York as a result of friendship between Wright and Darwin D. Martin, an executive from the Larkin Soap Company. In 1902, the Larkin Company decided to build a new administration building. Wright came to Buffalo and designed not only the first sketches for the Larkin Administration Building (completed in 1904, demolished in 1950), but also homes for three of the company's executives…
The Westcott House was built in Springfield, Ohio, sometime between 1907 and 1908…
It is not known exactly when Wright designed The Westcott House; it may have been several months before or more than a year after Wright returned from his first trip to Japan in 1905. Wright created two separate designs for the Westcott House; both are included in Studies and Executed Buildings of Frank Lloyd Wright, published by the distinguished Ernst Wasmuth (Germany, 1910-1911). This two-volume work contains more than 100 lithographs of Wright's designs and is commonly known as the Wasmuth Portfolio… Wright's work was not known to European architects until the publication of the Wasmuth Portfolio.
Local gossips noticed Wright's flirtations, and he developed a reputation in Oak Park as a man about town. His family had grown to six children, and the brood required most of Catherine's attention. In 1903, Wright designed a house for Edwin Cheney, a neighbor in Oak Park, and immediately took a liking to Cheney's wife, Mamah Borthwick Cheney.
Mamah Cheney was a modern woman with interests outside the home. She was an early feminist and Wright viewed her as his intellectual equal. The two fell in love, even though Wright had been married for almost 20 years. Often the two could be seen taking rides in Wright's automobile through Oak Park, and they became the talk of the town. Wright's wife, Kitty, sure that this attachment would fade as the others had, refused to grant him a divorce. Neither would Edwin Cheney grant one to Mamah.
In 1909, even before the Robie House was completed, Wright and Mamah Cheney eloped to Europe; leaving their own spouses and children behind. The scandal that erupted virtually destroyed Wright's ability to practice architecture in the United States.
Scholars argue that he felt by 1907 that he had done everything he could do with the Prairie Style, particularly from the standpoint of the single family house. Wright was not getting larger commissions for commercial or public buildings, which frustrated him.
What drew Wright to Europe was the chance to publish a portfolio of his work with Ernst Wasmuth, who had agreed in 1909 to publish his work there. This chance also allowed Wright to deepen his relationship with Mamah Cheney. Wright and Cheney left the United States separately in 1910, meeting in Berlin, where the offices of Wasmuth were located…
Wright remained in Europe for one year (though Mamah Cheney returned to the United States a few times) and set up home in Fiesole, Italy. During this time, Edwin Cheney granted her a divorce, though Kitty still refused to grant one to her husband.
After Wright's return to the United States in late 1910, Wright persuaded his mother to buy land for him in Spring Green, Wisconsin. The land, bought on April 10, 1911, was adjacent to land held by his mother's family, the Lloyd Joneses. Wright began to build himself a new home, which he called Taliesin, by May 1911.
The recurring theme of Taliesin also came from his mother's side: Taliesin in Welsh mythology was a poet, magician and super-hero. The family motto was Y Gwir yn Erbyn y Byd which means "The Truth Against the World"; it was created by Iolo Morgannwg who interestingly enough also had a son called Taliesin, and the motto is still used today as the cry of the druids and chief bard of the Eisteddfod in Wales.
On August 15, 1914, while Wright was in Chicago completing a large project (Midway Gardens), Julian Carlton, a male servant whom he had hired several months earlier, set fire to the living quarters of Taliesin and murdered seven people with an axe as the fire burned. The dead included Mamah; her two children, John and Martha; a gardener; a draftsman; a workman; and the workman's son. Two people survived the mayhem, one of whom helped to put out the fire that almost completely consumed the residential wing of the house.
In 1922, Wright's first wife, Kitty, granted him a divorce, and Wright was required to wait one year until he married his then-partner, Maude "Miriam" Noel. In 1923, Wright's mother, Anna  died. Wright wed Miriam Noel in November 1923, but her addiction to morphine led to the failure of the marriage in less than one year.
In 1924, after the separation, but while still married, Wright met Olga (Olgivanna) Lazovich Hinzenburg, at a Petrograd Ballet performance in Chicago. They moved in together at Taliesin in 1925, and soon Olgivanna's was pregnant with their daughter, Iovanna. (Iovanna was born December 2, 1925 and years later married and divorced Wright associate Arthur Pieper.)
On April 22, 1925, another fire destroyed the living quarters of Taliesin. This appears to have been the result of a faulty electrical system. Wright rebuilt the living quarters again, naming the home "Taliesin III".
In 1926, Olga's ex-husband, Vlademar Hinzenburg, sought custody of his daughter, Svetlana. In Minnetonka, Minnesota, Wright and Olgivanna were accused of violating the Mann Act and arrested in October 1926 (the charges were later dropped).
Wright and Miriam Noel's divorce was finalized in 1927, and once again, Wright was required to wait for one year until marrying again. Wright and Olgivanna married in 1928.
During the turbulent 1920s, Wright designed Graycliff, one of his most innovative residences of the period, and a precursor to Fallingwater. The Graycliff estate was constructed from 1926 to 1929 for Isabelle and Darwin Martin on a bluff overlooking Lake Erie, just south of Buffalo, New York. Wright designed a complex of three buildings and extensive grounds and incorporates cantilevered balconies and terraces, "ribbons" of windows, and a transparent "screen" of windows allowing views of the lake through the largest building, the Isabelle R. Martin House.
Graycliff's light-filled buildings were designed in Wright's "organic" style and were built of limestone from the beach below, warm ochre colored stucco and striking red-stained roofs. Wright's designs for Graycliff's grounds incorporate water features that echo the lake beyond: a pond, a fountain, sunken gardens and stone walls in a "waterfall" pattern that surround the property. On the summer solstice, Graycliff aligns with the setting sun on Lake Erie, as Wright intended.
One of Wright's most famous private residences was built from 1935 to 1939—Fallingwater—for Mr. and Mrs. Edgar J. Kaufmann Sr. at Bear Run, Pennsylvania, near Pittsburgh. It was designed according to Wright's desire to place the occupants close to the natural surroundings, with a stream and waterfall running under part of the building.
The construction is a series of cantilevered balconies and terraces, using limestone for all verticals and concrete for the horizontals. The house cost $155,000, including the architect's fee of $8,000. Kaufmann's own engineers argued that the design was not sound. They were overruled by Wright, but the contractor secretly added extra steel to the horizontal concrete elements. In 1994, Robert Silman and Associates examined the building and developed a plan to restore the structure. In the late 1990s, steel supports were added under the lowest cantilever until a detailed structural analysis could be done. In March 2002, post tensioning of the lowest terrace was completed.
Also in the 1930s, Wright first designed Usonian houses. Intended to be highly practical houses for middle class clients, the designs were based on a simple but elegant geometry. He would later use similar elementary forms in his First Unitarian Meeting House built in Madison, Wisconsin, between 1946 and 1951.
Wright is responsible for a series of extremely original concepts of suburban development united under the term Broadacre City. He proposed the idea in his book The Disappearing City in 1932, and unveiled a 12-foot (3.7 m) square model of this community of the future, showing it in several venues in the following years. He went on developing the idea until his death.
His Usonian homes set a new style for suburban design that was a feature of countless developers. Many features of modern American homes date back to Wright; open plans, slab on grade foundations, and simplified construction techniques that allowed more mechanization or at least efficiency in building.
The Solomon R. Guggenheim Museum in New York City occupied Wright for 16 years (1943–1959) and is probably his most recognized masterpiece.
The building rises as a warm beige spiral from its site on Fifth Avenue; its interior is similar to the inside of a seashell. Its unique central geometry was meant to allow visitors to easily experience Guggenheim's collection of nonobjective geometric paintings by taking an elevator to the top level and then viewing artworks by walking down the slowly descending, central spiral ramp, which features a floor embedded with circular shapes and triangular light fixtures to complement the geometric nature of the structure.
Unfortunately, when the museum was completed, a number of important details of Wright's design were ignored, including his desire for the interior to be painted off white. Furthermore, the Museum currently designs exhibits to be viewed by walking up the curved walkway rather than walking down from the top level.
The only realized skyscraper designed by Wright is the Price Tower, a 19-story, 221-foot (67 m)-high tower in Bartlesville, Oklahoma. It is also one of the two existing vertically oriented Wright structures (the other is the S.C. Johnson Wax Research Tower in Racine, Wisconsin). The Price Tower was commissioned by Harold C. Price of the H. C. Price Company, a local oil pipeline and chemical firm. It opened to the public in February 1956. On March 29, 2007, Price Tower was designated a National Historic Landmark by the United States Department of the Interior, one of only 20 such properties in the state of Oklahoma…
Wright designed over 400 built structures of which about 300 survive as of 2005… continue reading:
---