David Dyce Brown 1840 - 1910
December 14, 2008

David Dyce Brown 1840 - 1910 MC 1863 MA MD Aberdeen 1863 was a British orthodox physician who converted to homeopathy, a Candidate for the Chair of Midwifery in the University of Aberdeen in 1875, Assistant Professor in Aberdeen University, Physician at the Phillips Memorial Homeopathic Hospital Bromley, Consulting Physician at the London Homeopathic Hospital, member of the Obstetrical Society, member of The British Homeopathic Society.
David Dyce Brown is listed in Debrett's and Burke's Peerage, and he worked at the Homeopathic Dispensary in Aberdeen and he practiced at 22 Union Place, Aberdeen, and at 29 Seymour Street, Portman Square, London.
David Dyce Brown was a colleague of William Bayes, Charles Harrison Blackley, John Galley Blackley, George Henry Burford, James Compton Burnett, John Moorhead Byres Moir, John Henry Clarke, H A Clifton Harris, Paul Francois Curie, Robert Ellis Dudgeon, John Epps, Washington Epps, Giles Forward Goldsbrough, Clarence Granville Hey, James Johnstone, Richard Hughes, Thomas Robinson Leadam, Octavia Margaret Sophia Lewin,Edwin Awdas Neatby, Alfred Crosby Pope, Mathias Roth, C T Knox Shaw, Edward Wynne Thomas, Charles Edwin Wheeler, David Wilson, James Craven Wood Stephen Yeldham and many others.
From Some Abiding Themes Hewn from British Homeopathic History by Peter Morrell. '… In contrast to devotees of high potency, for doctors like '… John James Drysdale… low dilutions did best and he found no advantage above the 3rd decimal…' _(Frank Bodman, _Richard Hughes Memorial Lecture, British Homeopathic Journal 59, (1970). Page184). Thus the 3x became the officially approved and standard tool of UK homeopathic practice from 1830 to 1900. The early UK homeopaths therefore comprised '… a remarkably able cohort of 3x men –  Stephen Yeldham, John Galley Blackley, John Moorhead Byres Moir, Washington Epps, C T Knox Shaw, etc…' _to which we can also add the names of '… John Epps, Paul Francois Curie, David Wilson as well as Alfred Crosby Pope, Richard Hughes, David Dyce Brown,… William Bayes, Thomas Robinson Leadam and Robert Ellis Dudgeon…'' (A Taylor Smith, _letter re Dr Borland's Obituary, British Homeopathic Journal 50.2, (July 1961). Page 119 and page 123).
David Dyce Brown was the son of David Brown, a staunch Christian man:
A robust and active man, David Brown was a father who could lead his children in exciting activities in Arran, on fishing trips and boating. He saw family outings as a means of binding the faily together, and they became almost sacrosanct, an institution kept up as long as possible. They went to Switzerland with him, but for the most part the holidays were confined to Scotland. When he supplied for six weeks at Braemar, the family came too, visits were made to Skye and the Outer Hebrides.
In later years the village of Stonehaven, just down the coast from Aberdeen, made a pleasant summer retreat. There David Brown enjoyed walking down to the pier and speaking to the fishermen of the fishermen of Galilee. But in 1879, on 30th July, David Brown suffered a terrible loss in the death of his beloved wife after a long illness of more than five years. Her last conscious words were "Jesus paid it all." THERE is a basis for hope!
Mrs. Brown had been a support to her husband through all the trials of his life since the marriage. David Brown spoke of his married life as "forty three years of cloudless sunshine." A happy marriage indeed, and a picture of the love of Christ to the Church.
Six of David Brown's seven children were born during his pastorate at the Ord, and no doubt benefited from the less hurried pace of Highland life. One of these children died in infancy, a great grief to the family.
We have already referred to Alexander, David Brown's eldest son. His eldest daughter, Margaret Dyce Brown, was married in 1860 to David Stewart, a wealthy and prominent Aberdeen factory-owner who was twice Lord Provost of Aberdeen, and would have been three times Provost if he had so wished. In 1895 Stewart ran for parliament, but was unsuccessful. He was knighted and lived at Banchory House, a secluded mansion on Royal Deeside.
The estate gave David Brown a secluded retreat in his later years. It is our privilege to possess a copy of William Garden Blaikie's biography of David Brown inscribed "To dear Mabel from her affectionate father and mother Sir David and Lady Stewart, Banchory House, 16 May 1898".
The Brown's third daughter, Jane Charlotte, married James S. Fyfe, a merchant who traded from the Philippines. She died in 1882.
David Dyce Brown, the only other son, became a London doctor.
The remaining daughters, Hannah and Meredith, did not marry, but devoted themselves to looking after their father in what Charles Wesley calls 'age and feebleness extreme'. Meredith Brown eventually became involved in the Shaftesbury Institute in London, and Hannah Brown devoted herself to the care of her father, by this time practically blind and almost completely deaf.
David Dyce Brown married Eliza Seton in 1873 and they had one son, William David Seton.
David Dyce Brown attended (Anon, The Homeopathic World, Volume 43, (1908). Page 236) the 2nd International Homeopathic Congress held in London (Anon, The Medical Counselor, Volume 7, (The Michigan State Homeopathic Society, 1883). Page 347) in on 11th-18th July 1881 (Anon, The Homeopathic World, (August 1,1881)) at Aberdeen House, Argyll Street, Regent Street.
David Dyce Brown's Obituary is in The British Homeopathic Journal in 1911.
David Dyce Brown wrote The Reign of Law in Medicine, The Permeation of Present Day Medicine by Homeopathy, Homeopathy in the light of common sense and modern science,and he was a member of staff at the Monthly Homeopathic Review in 1876, and he submitted papers to the Hahnemannian Monthly and the Homeopathic World.
Of interest:
David Dyce Brown was a relative of William Dyce who painted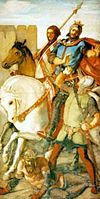 King Arthur in the Queen's Robing Room of the newly completed Palace of Westminster in 1847.
---