Jenny Lind 1820 – 1887
December 11, 2008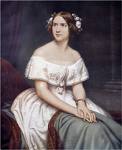 Johanna Maria Lind 1820 – 1887 better known as Jenny Lind, was a Swedish opera singer, often known as the "Swedish Nightingale".
Jenny Lind was an advocate of homeopathy, and she also attended the Yellow Springs Health Spa and the Round Hill Water Cures in America. Jenny Lind also attended a spa in Leamington, Cheltenham, The Royal Wells Spa in Malvern, where she met James Manby Gully. Jenny Lind retired to live near The Royal Wells Spa in Malvern and she is buried in the Great Malvern Cemetery.
Jenny Lind was a friend of Hans Christian Andersen, P T Barnum, William Cullen Bryant, Lewis Carroll, Pauline Viardot García, Giacomo Meyerbeer, Felix Mendelssohn, Adelina Patti, Robert Alexander Schumann and Mark Twain,
Jenny Lind was the illegitimate daughter of a schoolteacher named Anne Marie Fellborg (1793–1856), who married her father, Niclas Jonas Lind (1798–1858), a bookkeeper, when Lind was 14 years old. Her October 6, 1820 recorded birthdate in Stockholm, Sweden, is not conclusive, however, because when Lind arrived in New York City from Liverpool, England on the ship S. S. Atlantic on September 1, 1850, she listed her age as 39. If true, then Lind would have been born around 1810 and been a child resulting from her mother's earlier relationships.
It is recorded that Lind's mother gave birth to a girl about 1810. Lind married Otto Goldschmidt (1829–1907) in February 5, 1852. She had children in 1853 in Germany, in 1857 and 1861 in England, which makes the birthdate of 1820 more likely.
Lind's mother, Anne Marie, ran a day school for girls out of her home. Lind was noted for her singing voice from a very young age. When she was about nine years old, her singing was overheard by the maid of Mademoiselle Lundberg, the principal dancer at the Royal Swedish Opera.
The maid, astounded by Lind's extraordinary voice, returned the next day with the ballet dancer, who arranged an audition and who helped her get accepted at the Royal Theater School, where she studied with Karl Magnus Craelius, the singing master at the Royal Theater. She also studied drama at Dramatens elevskola under Karolina Bock, though her dramatic career was never to be as great as her singing career.
Lind began to sing on stage when she was ten, and by the age of 17 she was a favorite in the Royal Swedish Opera. At age 20 she was a member of the Swedish Royal Academy and court singer to the King of Sweden and Norway. Her first great role was Agathe, in Carl Maria von Weber's Der Freischütz in 1838 at the Swedish Royal Opera.
Thereafter, she was received throughout Europe with tremendous acclaim, but she suffered from stage fright throughout her career. She studied French and Italian opera in 1841–42 with Manuel del Pópulo Vicente García in Paris, extending her talents, but her time was lonely there.
Lind had many male suitors for her romantic or musical affections before marrying Otto Goldschmidt in 1852. Some of these romantic affections were not mutual on the part of Lind. She was 31 at the time of her first and only known marriage. Among Lind's earlier known suitors of any nature beside Goldschmidt were: Von Schneidau, Andersen, Felix Mendelssohn and Frederic Chopin. Von Schneidau was a Swedish friend of Lind and later become known as the first American photographer of Lind in 1850.
Lind toured Denmark where, in 1843, Hans Christian Andersen met and fell in love with the singer, but while the two became good friends, she had no romantic feelings for him. Three of his fairy tales were inspired by her: "The Ugly Duckling," "The Angel," and "The Nightingale", the latter making her known as The Swedish Nightingale.
She then performed widely in Germany, especially with Felix Mendelssohn in Leipzig. Lind developed feelings for the composer, but he was married. She then performed in Vienna. She remained a good friend of the Mendelssohn and Schumann families.
Lind traveled to London in 1847, where her first performance, in the presence of Queen Victoria at Her Majesty's Theatre on 4 May, was in the role of Alice in Giacomo Meyerbeer's opera Robert le diable. In July the same year, she took part in the world première of Giuseppe Verdi's opera I masnadieri at the theatre. Her successes extended to her regional tour of Britain and Ireland as well as to her performances at the Continent, and she became extremely popular and wealthy.
Lind was devastated by the premature death of Felix Mendelssohn in November 1847. She did not feel able to sing the soprano part in his oratorio, Elijah, which he had written for her, for a year afterwards. The performance in London's Exeter Hall in late 1848 raised £1,000 to fund a "Mendelssohn Scholarship". The first recipient of the scholarship was composer Arthur Sullivan, whom she encouraged in his career.
Lind became also known for her philanthropy of cultural and humanitarian causes, which continued for many years. In January 1849, she performed in a concert in Norwich, organised by the Norwich Choral Society. She stayed with the Bishop of Norwich whom she credited with developing her charitable purpose. She liked the city so much that she gave two free concerts a month later; which raised £1,253 for charitable purposes. The money raised was used to buy a house in Pottergate, Norwich (which was converted and opened as the 20 bed Jenny Lind Infirmary for Sick Children, on 3 April 1854).
Having left Paris, Lind became in the winter of 1849–1850 a member of the student fraternity Burschenschaft Hannovera in Goettingen, Germany. She was the only female member in a classical German fraternity. Her membership in the fraternity earned her the name "Little Lady Jenny" among the appreciative male members of the organization.
As a result of her triumphal tour of the United States, Cuba and Canada in 1850–1852, Lind earned a considerable fortune due to her association with the U.S. showman P.T. Barnum. Following a new tour of Europe after her return from America, Lind paid tribute in many different ways to Frederic Chopin's music and his musical legacy.
By 1849, Lind was in the midst of her third triumphant London season, and P. T. Barnum had become aware of Lind's success and the large audiences she attracted. Earlier in 1845 and 1846 Barnum had toured Europe with his first great attraction, General Tom Thumb. Although he had never heard Lind sing, Barnum knew that concert halls sold out wherever she sang and that she was known for her virtue and charity as well as for her voice. In October 1849, Barnum hired an Englishman, John Wilton, to locate Lind and make her an offer.
Lind wanted to fund new schools in Sweden, and Barnum's offer would allow her to earn a great deal of money. After checking Barnum's credit with a London bank, on January 9, 1850, Lind accepted Barnum's offer of $1,000 a night (plus expenses) for up to 150 concerts in the United States.
Lind insisted on the services of Julius Benedict, a German conductor, composer and pianist with whom she had worked in England, and of Italian baritone Giovanni Belletti as assisting artist, since solo recitals were still unknown to American audiences. Benedict's fee was $25,000 and Belletti's $12,500. All told, Barnum had committed to $187,500 (plus expenses) to bring Lind and her musical troupe to America.
Lind's contract called for the total fee to be deposited in advance with the London banking house of Baring Brothers. Barnum had not anticipated front end payments for Lind, since he always had paid performers as performances were completed. To raise the money, Barnum sought loans from New York bankers, who refused to make the loans based on a percentage of the Lind tour, so Barnum mortgaged all his commercial and residential properties.
Still a bit short, Barnum finally persuaded a Philadelphia minister, who thought that Lind would be a good influence on American morals, to lend him the final $5,000. Barnum sent the $187,500 to London.
Few Americans had ever heard of Lind, and Barnum's first press release set the tone of the promotion. "A visit from such a woman who regards her artistic powers as a gift from Heaven and who helps the afflicted and distressed will be a blessing to America." Her biographical pamphlet and photograph proclaimed: "It is her intrinsic worth of heart and delicacy of mind that produces Jenny's vocal potency."
Barnum heavily promoted her record of giving frequent benefit concerts for hospitals and orphanages. Before Lind had even left England, Barnum had made her a household name in America.
In August 1850, before Lind left England, Barnum arranged for her to give two farewell concerts in Liverpool. A critic engaged by Barnum to cover the concert wrote of the enthusiasm of the Liverpool audience and its grief at Lind's imminent departure. This review was widely circulated in English, European and American newspapers a week before Lind arrived in New York on September 1, 1850. Over 40,000 people greeted her arrival, trying to get a glimpse of the star.
Barnum and Lind renegotiated their contract on September 3, 1850, giving Lind the original $1,000 per concert agreed to, plus the remainder of each concert's profits after Barnum's $5,500 concert management fee was paid. Lind was represented by her lawyer John Jay. Lind gave 93 concerts in America for Barnum, earning over $250,000, while Barnum netted at least $500,000. Lind gave the majority of her U.S. concert earnings to charities, including $1,000 to help build a church in Chicago.
Lind's first two American performances were given as charity concerts in New York City on September 11 and 13, 1850 at the Castle Garden Theater, now better known as Castle Clinton, with thousands attending and collecting an astonishing $10,141 and $14,200. The first "Regular Concert" was given on September 17, 1850.
In September 1850, Lind gave $5,000 to her Swedish friend, Poly Von Schneidau, to purchase a new camera for his Chicago studio – a camera later used to create one of the earliest images of Abraham Lincoln. On September 14, 1850, Von Schneidau took the first American daguerrotype of Lind at the New York Mathew Brady Studio. His photo of Lind is in the Library of Congress Collection (Call Number DAG 509X).
In Washington, DC during the 1850 tour, Lind was the first performer in the newly renovated National Theater. The "New National Hall" was enlarged to seat 3,400 people for her arrival. The entire police force was called out to keep order in the crowd clamoring for tickets. Congress was adjourned, and the Supreme Court justices attended.
She left to return to Europe on May 29, 1852. While in the United States, on February 5, 1852, Lind married pianist Otto Goldschmidt, at 20 Louisburg Square, Beacon Hill, Boston, Massachusetts. Afterwards, she signed her name "Jenny Lind Goldschmidt".
The couple returned to Europe together in May 1852 on the same ship she came to America on, the S.S. Atlantic. They had three children: Walter Otto Goldschmidt, born September 1853 in Germany, Jenny Maria Katherine Goldschmidt, born March 1857 in England, and Ernest Svend David Goldschmidt, born January 1861 in England.
Although she ceased her professional singing career with her return to Europe, Lind continued to perform in a number of oratorios, concerts, and choruses, with a particular interest in Bach. She lived first in Dresden, Germany, and then in England for the remainder of her life, where she became a philanthropist, and for some years, a professor of singing at the Royal College of Music.
Her last public performance was at Düsseldorf on January 20, 1870, where she sang in "Ruth", an oratorio composed by her husband.
Lind died on November 2, 1887 in Malvern, Worcestershire from cancer. She lived her last years at Wynd's Point, behind the Little Malvern Priory, and was buried in the Great Malvern Cemetery to the music of Frederic Chopin's Funeral March. She bequeathed a considerable part of her wealth to help poor Protestant students in Sweden receive an education.
---