George Percy Grainger 1882 – 1961
December 05, 2008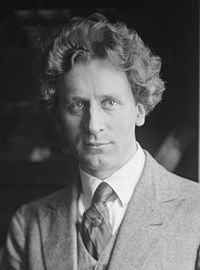 George Percy Grainger 1882 – 1961 was an Australian born composer, pianist and champion of the saxophone and the concert band, who worked under the stage name of Percy Aldridge Grainger.
Percy Grainger was an advocate of homeopathy, and a strict vegetarian, and he was a keen runner and had a fanatical fitness regime.
Grainger often wore no hat and no coat:
"I do not eat meat, I do not smoke, and I do not drink, and therefore, I do not feel the cold."
Grainger was a friend of Frederick Albert Theodore Delius and Cyril Meir Scott.
Grainger was born in Brighton, a suburb of Melbourne, Victoria, Australia. His father was a successful architect who emigrated from London, England, and his mother, Rose, was the daughter of hoteliers from Adelaide, South Australia, also of English immigrant stock.
His father was an alcoholic. When Grainger was age 11, his parents separated after his mother contracted syphilis from his father, who then returned to London.
The Grainger family once lived at 36 Oxley Road, Hawthorn, Victoria. Grainger's mother was domineering and possessive, although cultured. While pregnant, she allocated time each day to stare at a statue of a Greek god in the belief it would pass some of its qualities to her child. Percy became a striking individual with blue eyes and brilliant orange hair who gave his first public performance at the age of 12, and critics hailed him as a new prodigy.
Due to taunts about his appearance Grainger spent less than three months in school and after refusing to return was home schooled by his mother. A strict disciplinarian, Rose used a whip as punishment which may have contributed to his later sado masochistic sexuality—ironically, her tombstone reads "Wise, wonderful, devoted, angelic mother."
Grainger excelled in languages and his correspondence shows he was fluent in 11 foreign languages including Icelandic and Russian.
His mother took him to Europe in 1895 to study at Dr. Hoch's Conservatory in Frankfurt. There he displayed his talents as a musical experimenter, using irregular and unusual meters. He belonged to the Frankfurt Group, a circle of composers who studied at the Hoch Conservatory in the late 1890s. Fellow students included Cyril Meir Scott, Henry Balfour Gardiner, Norman O'Neill and Roger Quilter.
Grainger himself did not believe in such a concept as musical talent and attributed his career to his mother's influence. During his time in Frankfurt, he lost the tip of an index finger while working on a bicycle chain. Although Grainger himself hoped he would have to give up concerts and be able to concentrate on composing, his performance ability was not affected by this handicap.
Grainger was an innovative musician who anticipated many forms of twentieth century music well before they became established by other composers. As early as 1899 he was working with "beatless music", using metric successions (including such sequences as 2/4, 2½/4, 3/4, 2 ½ /4). His use of chance music in 1912 predated John Cage by forty years, and he wrote "unplayable" music for player piano rolls twenty years before Conlon Nancarrow.
From 1901 to 1914, Grainger lived in London, where he befriended and was influenced by composer Edvard Hagerup Grieg. Edvard Hagerup Grieg had a longstanding interest in the folk songs of his native Norway, and Grainger developed a particular interest in the folk songs of rural England. The interest moved to active collecting after he heard Lucy Broadwood's lecture on folksong collecting in 1905.
In 1906, Grainger hiked around Britain making field recordings of these folk songs on Edison wax cylinders, the first to make such recordings in Britain.
During this period, Grainger also wrote and performed piano compositions that presaged the forthcoming popularization of the tone cluster by Leo Ornstein and Henry Cowell.
Grainger's energy was legendary. In London, he was known as "the jogging pianist" for his habit of racing through the streets to a concert, where he would bound on stage at the last minute because he preferred to be in a state of utter exhaustion when playing. After finishing a concert while touring in South Africa, he then walked 105 km to the next, arriving just in time to perform. When travelling by ship on tour, he spent his free time shoveling coal in the boiler room.
He gave well over 3,000 concerts as a pianist or conductor.
In 1910 Grainger began designing and making his own clothing, ranging from jackets, to shorts, togas, muumuus and leggings, all made from towels and also intricate grass and beaded skirts. The clothing was not just for private use but were often worn in public by Grainger. He also designed a crude forerunner of the modern sports bra for his Danish sweetheart.
Grainger moved to the United States at the outbreak of World War I in 1914. His 1916 piano composition In a Nutshell is the first by a classical music professional in the Western tradition to require direct, non-keyed sounding of the strings—in this case, with a mallet—which would come to be known as a "string piano" technique.
When the United States entered the war in 1917, he enlisted into a United States Army band playing the oboe and soprano saxophone, and spent the duration of the war giving dozens of concerts in aid of War Bonds and Liberty Loans.
Also during the year 1917, he was elected an honorary member of Phi Mu Alpha Sinfonia music fraternity. In 1918, he became a naturalized citizen of the United States.
Grainger's piano solo Country Gardens became a smash hit, securing his reputation as a remarkable composer, although Grainger grew to detest the piece. With his newfound wealth, Grainger and his mother settled in the suburb of White Plains, New York after the war.
Rose Grainger's mental and physical health, however, was in decline. She committed suicide in 1922 by jumping from the building where her son's manager, Antonia Sawyer, had an office.
This ended an intimate relationship, which many had incorrectly assumed to be incestuous. After his mother's death, he found a letter that she had written to him the day before she took her life, explaining her state of mind, which she explained was caused by accusations of incest. Grainger kept it in a cylinder he wore around his neck for many years. He later compiled an album containing photos of his mother (including several of her in her coffin), and had thousands of copies made and distributed to friends.
In the same year, he traveled to Denmark, his first folk music collecting trip to Scandinavia (although he had visited Edvard Hagerup Grieg there in 1906). The orchestration of the region's music would shape much of his finest output.
By 1925 Grainger was financially secure. He was now earning $5,000 a week for performances and charging up to $200 an hour for private lessons.
In November 1926, Grainger met the Swedish artist and poet Ella Viola Ström, and fell in love at first sight. Their wedding took place on 9 August 1928 on the stage of the Hollywood Bowl, following a concert before an audience of 20,000, with an orchestra of 126 musicians and an a cappella choir, which sang his new composition, To a Nordic Princess, dedicated to Ella.
In December 1929, Grainger developed a style of orchestration that he called "Elastic Scoring". He outlined this concept in an essay that he called, "To Conductors, and those forming, or in charge of, Amateur Orchestras, High School, College and Music School Orchestras and Chamber Music Bodies".
In 1932, he became Dean of Music at New York University, and underscored his reputation as an experimenter by putting jazz on the syllabus and inviting Duke Ellington as a guest lecturer. Twice he was offered honorary doctorates of music, but turned them down, explaining, "I feel that my music must be regarded as a product of non education".
In 1940, the Graingers moved to Springfield, Missouri, from which base Grainger again toured to give a series of army concerts during the Second World War. However, the gradual decline in popularity of his music after the war hit his spirits hard. To get his music heard, he offered to play for little or no fee, which resulted in his income from concerts drying up. He last appeared in public at Dartmouth College in Hanover, New Hampshire in 1960.
In his last years, working in collaboration with physicist Burnett Cross, Grainger invented the "Free Music Machine", which was the forerunner of the electric synthesizer.
Although still physically fit into his 60s, he spent his last years suffering pain from abdominal cancer which had spread, despite a number of operations, from prostate cancer diagnosed in 1953.
Grainger died in White Plains, New York in 1961 and he was buried in West Terrace Cemetery, Adelaide, South Australia. His personal files and records have been preserved at The Grainger Museum in the grounds of the University of Melbourne, the design and construction of which he oversaw. Many of his instruments and scores are located at the Grainger house in White Plains, New York, now the headquarters of the International Percy Grainger Society…
[Percy Grainger was a man of vast contradictions and bizarre behaviour
---