Pauline Viardot Garcia 1821 – 1910
December 03, 2008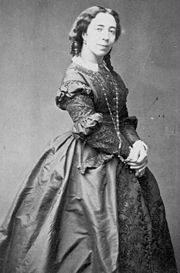 Pauline Viardot **García ** 1821 –  1910 was a nineteenth century Spanish mezzo soprano and composer.
Pauline Viardot Garcia wrote to her friend Julius Rietz, advising him to take the homeopathic remedy Oleum, 'which was wonderful for everything' (Barbara Kendall Davies, The Life and Work of Pauline Viardot Garcia: The years of fame, 1836-1863, (Cambridge Scholars Press, 1 Jan 2003). Page 403).
Pauline was a friend of Louis Hector Berlioz, Frederic Chopin, Charles Francois Gounod, Adelaide Kemble, Jenny Lind, Giacomo Meyerbeer and Clara Schumann (who was a personal friend of Samuel Hahnemann and his wife Melanie).
Pauline had a life long affair with Ivan Turgenev, who wrote about homeopathy in his novel Fathers and Sons in 1861.
Pauline García was born in Paris to a glamorous Spanish opera family, the great Garcias. As a young woman, she was overshadowed by her beautiful older sister, Maria Malibran, the "Enchantress of Nations" but her father, Manuel del Pópulo Vicente García, made Pauline his favorite and trained her on the piano and also gave her singing lessons.
After his death in 1832, her mother took over her lessons, and after her sister's death, Pauline was assigned to take over as a professional singer. Her vocal range was from F3 to C6.
In 1837, 16 year-old Pauline García gave her first concert performance in Brussels and in 1839, made her opera debut as Desdemona in Rossini's Otello in London. This proved to be the surprise of the season. Despite her flaws, she had an exquisite technique combined with an astonishing degree of passion.
In 1840, she married Louis Viardot, an author and the director of the Théatre Italien in Paris, who would eventually manage her career. Twenty one years her senior, her marriage did not stop the steady stream of infatuated men.
Russian novelist *Ivan Turgenev in particular was a gifted aristocrat who fell passionately in love with her after hearing her rendition of The Barber of Seville in Russia in 1843.
In 1845, Ivan Turgenev left Russia to follow Pauline and eventually installed himself into the Viardot household, treated her four children as his own and adored her until he died. She, in turn, critiqued his work and through her connections and social abilities, presented him in the best light whenever they were in public. The exact status of their relationship is a matter of debate.
Other men closely linked to her included composers Charles Francois Gounod and Louis Hector Berlioz.
Renowned for her wide range and her dramatic roles on stage, Viardot's performances inspired composers such as Frederic Chopin, Louis Hector Berlioz, Camille Saint Saëns, and Giacomo Meyerbeer, for whom she created Fidès in Le prophète.
While she never considered herself a composer, she in fact composed three music collections and also assisted with the writing of music for the roles that were created specifically for her.
She spoke fluent Spanish, French, Italian, English, German and Russian, and composed songs in a variety of national techniques. Her career took her to the best music halls across Europe, and from 1843 to 1846 she was permanently attached to the Opera in Saint Petersburg, Russia.
Such was her popularity that writer George Sand made her into the heroine of her 1843 novel Consuelo.
She was the mezzo soprano in the Tuba mirum movement of Mozart's Requiem at Frederic Chopin's funeral at Église de la Madeleine in Paris on 30 October 1849, which she performed together with the soprano incognito behind a black curtain.
She sang the title role of Gluck's opera Orphée et Eurydice at Théâtre Lyrique in Paris in November 1859, directed by Louis Hector Berlioz. She was well acquainted with Jenny Lind, the Swedish soprano and philanthropist, as well as with George Sand, the French novelist.
A notable remark of hers was made to the English soprano Adelaide Kemble when they attended the late concert in London by the great Italian soprano Giuditta Pasta, who was clearly past her prime. Asked by Adelaide Kemble what she thought of the voice she replied 'Ah! It is a ruin, but then so is Leonardo's Last Supper'.
In 1863, Pauline Viardot García retired from the stage. She and her family left France due to her husband's public opposition to Napoleon Bonaparte and settled in Baden Baden, Germany. After the fall of Napoleon III, they returned to France, where she taught at the Paris Conservatory and, until the time of her husband's passing in 1883, also presided over a music salon in the Boulevard Saint Germain.
In 1910, Pauline Viardot died at age eighty nine. Her body is interred in the Cimetière de Montmartre, Paris, France.
---