The Rowntree Surname and Homeopathy
December 02, 2008
The Rowntree surname contributed many advocates and sponsors of homeopathy, and Joseph Rowntree and his famous Cocoa Company funded the Homeopathic Hospital (Peter Morrell, A History of Homeopathy in Britain, (Staffordshire University)) built in York.
As well as the famous Rowntree Cocoa Company, there were several Rowntrees who were homeopaths and sponsors of homeopathy.

A Rowntree is listed as a sponsor in Pamphlets - Homeopathic in 1848.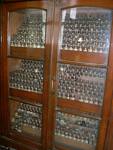 John Rowntree was mentioned in the Homeopathic Medical Directory of Great Britain and Ireland in 1871.

Joseph Rowntree 1836 - 1925 developed Homeopathic Cocoa* in 1876 and developed the famous confectionery company and the Joseph Rowntree Trusts:
From http://www.rowntreesociety.org.uk/rowntree-family/joseph/ Joseph Rowntree was born in 1836 into a Quaker family in York. A grocer's son, he left the family business to run a small and struggling cocoa factory with his brother, Henry Isaac Rowntree. Just as they had begun to turn the business round, Henry Isaac Rowntree died.
So Joseph carried on as sole proprietor, until, in time, he was joined by his sons and nephews. From its early days with just twelve men, the factory grew fast and by 1906 it employed over 4,000 workers.
Joseph was always determined to produce top quality cocoa, chocolate and confectionery. But he was equally determined to ensure that fair wages were paid and a high level of welfare achieved for the workforce.
A lifelong Quaker, Joseph seldom spoke about his religious beliefs. But they informed his life at all levels, from his home life to his commitment to social reform to his business practice. Joseph was an active philanthropist. He worked to improve adult literacy, and to safeguard democracy and political fair play.
Acutely aware of the social conditions many of his factory workers lived in, he was keen to improve the quality of civil life for all through the provision of affordable, decent housing, recreational facilities and opportunities for self-improvement.
In 1904, aged 68, Joseph Rowntree endowed the three Joseph Rowntree Trusts, giving "about one half of my property to [their] establishment."
He believed the way to remedy the injustices of the world was not to relieve their ill effects, but to strike at their roots. This would be the trusts' work.
Joseph died in 1925, aged 89, and the City of York turned out to mourn one of their great citizens. He was buried in the Quaker graveyard beneath a simple Quaker gravestone on which you can read just his name and his date. No more and no less.

Phyllis M Rowntree, later Phyllis M Speight, was a lay homeopath
Edwin D W Tomkins married the homeopath Phyllis M Rowntree in 1952. She was based at Nightingale House, Du Cane Rd, London, W12, until 1964 when she took over Noel Puddephatt's practice in Devonshire Street, W1. Phyllis then married Leslie Speight.
By 1971 she was back at Nightingale House, Du Cane Road. My assumption here is that the property was sold after Noel Puddephatt's death, which might have occurred in 1971…
She had been a student of Noel Puddephatt and his homeopathic assistant in the 1950s… She was apprenticed to Noel Puddephatt, in Brighton and Bognor, then in London.
They were also on excellent terms with all the London lay homeopaths of the 1940s and 1950s like Darnell Cooper, Frank Parker Wood, Edward W Cotter, J Ellis Barker, Edwin D W Tomkins and Arthur Jenner.
Phyllis later married Leslie J Speight.

T W Rowntree is listed as a sponsor in Pamphlets - Homeopathic in 1848.

William Rowntree was mentioned in the Homeopathic Medical Directory of Great Britain and Ireland in 1871.
*Homeopathic Cocoa was so named because it contained arrowroot, but it actually had no connection to homeopathy in essence, but 'homeopathy' was such a popular term at this time, it would sell anything! Homeopathic Cocoa was 'renowned for its supposed medicinal qualities'.
---