Antoni Gaudi 1852 - 1926
November 22, 2008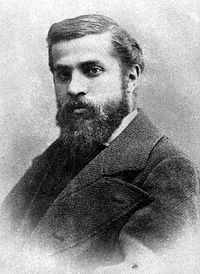 Antoni Gaudi 1852 - 1926 was a Spanish architect who belonged to the Modernist style (Art Nouveau) movement and was famous for his unique and highly individualistic designs.
He followed the Sebastian Kneipp regimen because he suffered from reuhmatism, kept a frugal, vegetarian diet, took homeopathic remedies, had various bathing procedures and walked long distances. From 1906 on, he walked 4.5 kilometers daily from the Parque Guell to the Sagrada Familia Cathedral.
Antoni Gaudí was born in the province of Tarragona in southern Catalonia in 1852. While there is some dispute as to his birthplace, official documents state that he was born in the town of Reus, whereas others claim he was born in Riudoms, a small village 3 miles (5 km) from Reus, it is certain that he was baptized in Reus a day after his birth.
The artist's parents, Francesc Gaudí Serra and Antònia Cornet Bertran, both came from families of coppersmiths. It was this exposure to nature at an early age that influenced him to incorporate natural shapes into his later work.
Gaudí, as an architecture student at the Escola Tècnica Superior d'Arquitectura in Barcelona from 1873 to 1877, was not particularly outstanding but did excellently in his "Trial drawings and projects".
After five years of work, he was awarded the title of architect in

As he signed the title, Elies Rogent declared, "Who knows if we have given this diploma to a nut or to a genius. Time will tell."
The newly named architect immediately began to plan and design and would remain affiliated with the school his entire life.
Gaudí was a devout Catholic, to the point that in his later years, he abandoned secular work and devoted his life to Catholicism and his Sagrada Familia Cathedral. He designed it to have 18 towers, 12 for the 12 apostles, 4 for the 4 evangelists, one for Mary and one for Jesus.
Soon after, his closest family and friends began to die. His works slowed to a halt, and his attitude changed. One of his closest family members – his niece Rosa Egea – died in 1912, only to be followed by a "faithful collaborator, Francesc Berenguer Mestres" two years later.
After these tragedies, Barcelona fell on hard times, economically. The construction of Sagrada Familia Cathedral slowed; the construction of La Colonia Güell ceased altogether. Four years later, Eusebi Guell, his patron, died.
Perhaps it was because of this unfortunate sequence of events that Gaudí changed. He became reluctant to talk with reporters or have his picture taken and solely concentrated on his masterpiece, Sagrada Familia Cathedral.
On 7 June 1926 Gaudí was run over by a tram. Because of his ragged attire and empty pockets, many cab drivers refused to pick him up for fear that he would be unable to pay the fare. He was eventually taken to a pauper's hospital in Barcelona.
Nobody recognized the injured artist until his friends found him the next day. When they tried to move him into a nicer hospital, Gaudí refused, reportedly saying "I belong here among the poor." He died three days later on 10 June 1926 (aged 74), half of Barcelona mourning his death. He was buried in the midst of Sagrada Familia Cathedral.
Although Gaudí was constantly changing his mind and recreating his blueprints, the only existing copy of his last recorded blue prints were destroyed by the anarchists in 1938 during the Spanish Civil War.
This has made it very difficult for his workers to complete the cathedral in the same fashion as Gaudí most likely would have wished. It is for this that Gaudí is known to many as "God's Architect".
Sagrada Familia Cathedral is now being completed but differences between his work and the new additions can be seen.
As of 2007, completion of the Sagrada Familia Cathedral is planned for 2026. However, this may prove wildly optimistic if the worst fears of many eminent engineers and architects are realized. These have pointed out the structural dangers posed by a tunnel for a TGV-style high-speed rail, which would run within feet of the church's foundations; one might note the precedent of one metro tunnel in Barcelona's Carmel district that collapsed and destroyed an entire city block on the 1st of February 2005. Others of Gaudí's works threatened by the city center route chosen by Barcelona's mayor Jordi Hereu for the new rail line include Casa Batlló and Casa Milà.
---