Edgar Degas 1834 – 1917
November 02, 2008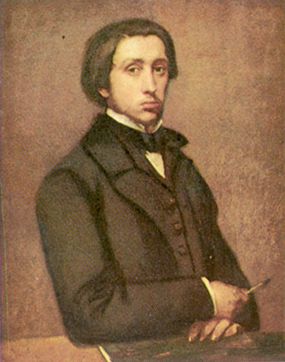 Edgar Degas 1834 – 1917 born Hilaire Germain Edgar Degas was a French artist famous for his work in painting, sculpture, printmaking and drawing.
Edgar Degas was a student of Jean Auguste Dominique Ingres, and would therefore be intimately connected to Amaury Duval, another student of Jean Auguste Dominique Ingres, who was a friend of Samuel Hahnemann and Melanie Hahnemann, and with Jean Auguste Dominique Ingres' clients, such as Guillaume Guillon Lethiere who was Melanie Hahnemann's teacher and with whom she boarded with in Paris (Rima Handley,* *A homeopathic love story: the story of Samuel and Melanie Hahnemann, (North Atlantic Books, 23 Feb 1993). Page 112).
Edgar Degas was a friend of Edouard Manet, Pierre Auguste Renoir, Stephane Mallarme and Camille Pissarro who introduced him to homeopathy (Dana Ullman, The Homeopathic Revolution: Why Famous People and Cultural Heroes Choose Homeopathy. (North Atlantic Books, 2007). Page 5), possibly for his chronic eye condition, as Camille Pissarro had such similar trouble.
From http://en.wikipedia.org/wiki/Edgar_Degas In 1855, Degas met Jean Auguste Dominique Ingres, whom he revered, and was advised by him to "draw lines, young man, many lines."
In April of that same year, Degas received admission to the Ecole des Beaux Arts, where he studied drawing with Louis Lamothe, under whose guidance he flourished, following the style of Jean Auguste Dominique Ingres.
The change in his art was influenced primarily by the example of Edouard Manet, whom Degas had met in 1864 while copying in the Louvre.
At the outbreak of the Franco Prussian War in 1870, Degas enlisted in the National Guard, where his defense of Paris left him little time for painting. During rifle training his eyesight was found to be defective, and for the rest of his life his eye problems were a constant worry to him.
After the war, in 1872, Degas began an extended stay in New Orleans, Louisiana, where his brother René and a number of other relatives lived. Staying in a house on Esplanade Avenue, Degas produced a number of works, many depicting family members. One of Degas' New Orleans works, depicting a scene at The Cotton Exchange at New Orleans, garnered favorable attention back in France, and was his only work purchased by a museum (that of Pau) during his lifetime.
Degas returned to Paris in 1873. The following year his father died, and in the subsequent settling of the estate it was discovered that Degas' brother René had amassed enormous business debts.
To preserve the family name, Degas was forced to sell his house and a collection of art he had inherited. He now found himself suddenly dependent on sales of his artwork for income.
By now thoroughly disenchanted with the Salon, Degas joined forces with a group of young artists who were intent upon organizing an independent exhibiting society. The first of their exhibitions, which were quickly dubbed Impressionist Exhibitions, was in 1874. The Impressionists subsequently held seven additional shows, the last in 1886.
Degas took a leading role in organizing the exhibitions, and showed his work in all but one of them, despite his persistent conflicts with others in the group. He had little in common with Claude Monet and the other landscape painters, whom he mocked for painting outdoors. Conservative in his social attitudes, he abhorred the scandal created by the exhibitions, as well as the publicity and advertising that his colleagues sought.
He bitterly rejected the label Impressionist that the press had created and popularized, and his insistence on including such comparatively traditional artists as Jean Louis Forain and Jean François Raffaëlli in their exhibitions created rancor within the group, contributing to their eventual disbanding in 1886.
As his financial situation improved through sales of his own work, he was able to indulge his passion for collecting works by artists he admired—old masters such as El Greco and such contemporaries as Edouard Manet, Camille Pissarro, Paul Cezanne, Paul Gauguin and Vincent van Gogh. Three artists he idolized, Jean Auguste Dominique Ingres, Ferdinand Victor Eugene Delacroix, and Daumier, were especially well represented in his collection.
In the late 1880s, Degas also developed a passion for photography. He photographed many of his friends, often by lamplight, as in his double portrait of Pierre Auguste Renoir and Stephane Mallarme. Other photographs, depicting dancers and nudes, were used for reference in some of Degas' drawings and paintings.
As the years passed, Degas became isolated, due in part to his belief that a painter could have no personal life. The Dreyfus Affair controversy brought his antisemitic leanings to the fore and he broke with all his Jewish friends. In later life, Degas regretted the loss of those friends.
While he is known to have been working in pastel as late as the end of 1907, and is believed to have continued making sculpture as late as 1910, he apparently ceased working in 1912, when the impending demolition of his longtime residence on the rue Victor Massé forced a wrenching move to quarters on the boulevard de Clichy.
He never married and spent the last years of his life, nearly blind, restlessly wandering the streets of Paris before dying in 1917. Degas' last years were sad and lonely, especially as he outlived many of his closest friends.
---