Alfred Sisley 1839 – 1899
November 02, 2008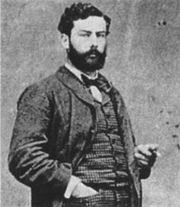 Alfred Sisley 1839 – 1899 was an English Impressionist landscape painter who was born and spent most of his life in France.
Alfred Sisley was financially supported by homeopath and art collector Georges de Bellio, and he was a regular dinner guest of homeopath Paul Ferdinand Gachet.
Alfred Sisley was a friend of Pierre Auguste Renoir, Edouard Manet and Claude Monet and many others in the Impressionist movement.
Sisley was born in Paris to affluent English parents; William Sisley was in the silk business, and his mother Felicia Sell was a cultivated music connoisseur.
At the age of 18, Sisley was sent to London to study for a career in business, but he abandoned it after four years and returned to Paris.
Beginning in 1862 he studied at the atelier of Swiss artist Marc Charles Gabriel Gleyre, where he became acquainted with Frédéric Bazille, Claude Monet, and Pierre Auguste Renoir. Together they would paint landscapes en plein air (in the open air) in order to realistically capture the transient effects of sunlight. This approach, innovative at the time, resulted in paintings more colorful and more broadly painted than the public was accustomed to seeing.
Consequently, Sisley and his friends initially had few opportunities to exhibit or sell their work. Unlike some of his fellow students who suffered financial hardships, Sisley received an allowance from his father—until 1870, after which time he became increasingly poor.
Sisley's student works are lost. His earliest known work, Lane near a Small Town is believed to have been painted around 1864. His first landscape paintings are sombre, coloured with dark browns, greens, and pale blues. They were often executed at Marly and Saint Cloud.
In 1866, he began a relationship with Eugénie Lesouezec (also known as Marie Lescouezec), a Breton living in Paris, with whom he had two children. His financial security vanished in 1870 when his father's business failed, and Sisley's sole means of support became the sale of his works.
For the remainder of his life he would live in poverty; his paintings rose significantly in monetary value only after his death.
In 1880 Sisley and his family moved to a small village near Moret-sur-Loing, close to the forest of Fontainebleau where the painters of the Barbizon school had worked earlier in the century…
Apart from the period spent in London between 1857 and 1861—and brief trips to England in 1874, 1881, and 1897—Sisley lived his entire life in France.
Little is known about his relationship with the paintings of J. M. W. Turner and John Constable, which he may possibly have seen in London, although these artists have been suggested as an influence on his development as an Impressionist painter, as have Gustave Courbet and Jean Baptiste Camille Corot…
In 1897 Sisley and his partner visited Wales and were finally married in Cardiff Register Office on 5 August. The following year he applied for French citizenship but was refused, remaining English till his death. Sisley died in Moret sur Loing at the age of 59, just a few months after the death of his wife.
---