Eugene Henri Paul Gauguin (1848-1903)
November 01, 2008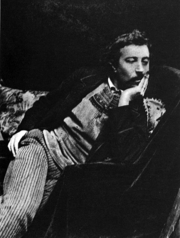 Eugene Henri Paul Gauguin (1848-1903) was a leading Post Impressionist painter.
Paul Gauguin's maternal grandmother Flora Tristan was was a patient of homeopath Jules John Mabit in 1844 (Susan Grogan, Flora Tristan: Life Stories, (Routledge, 1 Jun 2002). Page 202).
Gauguin was a friend of Vincent van Gogh and he knew Paul Ferdinand Gachet. Gauguin sent homeopathic remedies to his wife in Denmark to treat his son Paul (Paul Gaugan,Aon (Ed.), Paul Gauguin: Letter to His Wife and Friends, (World Publishing Company, 1949). Page cxvi), and he was treated with homeopathy in Tahiti (Dana Ullman, The Homeopathic Revolution: Why Famous People and Cultural Heroes Choose Homeopathy__. (North Atlantic Books, 2007). Page 176).
Paul Gauguin was a friend of Paul Cezanne, Vincent van Gogh, Camille Pissarro, Pierre Auguste Renoir and many others.
From http://www.archive.org/stream/noblesavagethell009575mbp/noblesavagethell009575mbp_djvu.txt '… When Gauguin reached home he scribbled off a note to Camille Pissarro: '… If Paul Cezanne finds the recipe for compressing the exaggerated expression of his 'sensations\ into a single, unique procedure, please try to make him talk in his sleep by administering one of those mysterious homeopathic drugs and come to Paris as soon as possible to tell us all about it…'..*.'
From http://en.wikipedia.org/wiki/Paul_Gauguin '… Paul Gauguin was born in Paris, France to journalist Clovis Gauguin and half-Peruvian Aline Maria Chazal, the daughter of proto socialist leader Flora Tristan.
In 1851 the family left Paris for Peru, motivated by the political climate of the period. Clovis died on the voyage, leaving three year old Paul, his mother and his sister to fend for themselves. They lived for four years in Lima, Peru with Paul's uncle and his family. The imagery of Peru would later influence Paul in his art.
At the age of seven, Paul and his family returned to France. They moved to Orléans, France to live with his grandfather. He soon learned French and excelled in his studies.
At seventeen, Gauguin signed on as a pilot's assistant in the merchant marine to fulfill his required military service. Three years later, he joined the navy where he stayed for two years.
In 1871, Gauguin returned to Paris where he secured a job as a stockbroker. In 1873, he married a Danish woman, Mette Sophie Gad. Over the next ten years, they would have five children.
Gauguin had been interested in art since his childhood. In his free time, he began painting. He also visited galleries frequently and purchased work by emerging artists. Gauguin formed a friendship with artist Camille Pissarro, who introduced him to various other artists.
As he progressed in his art, Gauguin rented a studio, and showed paintings in Impressionist exhibitions held in 1881 and 1882. Over two summer vacations, he painted with Camille Pissarro and occasionally Paul Cezanne.
By 1884 Gauguin had moved with his family to Copenhagen, where he pursued a business career as a stockbroker. Driven to paint full time, he returned to Paris in 1885, leaving his family in Denmark. Without adequate subsistence, his wife (Mette Sophie Gadd) and their five children returned to her family. Gauguin outlived two of his children.
Like his friend Vincent van Gogh, with whom in 1888 he spent nine weeks painting in Arles, Paul Gauguin experienced bouts of depression and at one time attempted suicide. Disappointed with Impressionism, he felt that traditional European painting had become too imitative and lacked symbolic depth. By contrast, the art of Africa and Asia seemed to him full of mystic symbolism and vigour. There was a vogue in Europe at the time for the art of other cultures, especially that of Japan (Japonism). He was invited to participate in the 1889 exhibition organized by Les XX.
Under the influence of folk art and Japanese prints, Gauguin evolved towards Cloisonnism, a style given its name by the critic Edouard Dujardin in response to Emile Bernard's cloisonne enamelling technique. Gauguin was very appreciative of Emile Bernard's art and of his daring with the employment of a style which suited Gauguin in his quest to express the essence of the objects in his art.
In The Yellow Christ (1889), often cited as a quintessential Cloisonnist work, the image was reduced to areas of pure colour separated by heavy black outlines. In such works Gauguin paid little attention to classical perspective and boldly eliminated subtle gradations of colour, thereby dispensing with the two most characteristic principles of post Renaissance painting. His painting later evolved towards Synthetism in which neither form nor colour predominate but each has an equal role.
In 1891, Gauguin, frustrated by lack of recognition at home and financially destitute, sailed to the tropics to escape European civilization and "everything that is artificial and conventional." (Before this he had made several attempts to find a tropical paradise where he could 'live on fish and fruit' and paint in his increasingly primitive style, including short stays in Martinique and as a labourer on the Panama Canal construction, however he was dismissed from his job after only two weeks).
Living in Mataiea Village in Tahiti, he painted "Fatata te Miti" ("By the Sea"), "Ia Orana Maria" (Ave Maria) and other depictions of Tahitian life. He moved to Punaauia in 1897, where he created the masterpiece painting "Where Do We Come From" and then lived the rest of his life in the Marquesas Islands, returning to France only once, when he painted at Pont Aven.
His works of that period are full of quasi-religious symbolism and an exoticized view of the inhabitants of Polynesia. In Polynesia he sided with the native peoples, clashing often with the colonial authorities and with the Catholic Church.
During this period he also wrote the book Avant et après (before and after), a fragmented collection of observations about life in Polynesia, memories from his life and comments on literature and paintings.
In 1903, due to a problem with the church and the government, he was sentenced to three months in prison, and charged a fine. At that time he was being supported by the art dealer Ambroise Vollard. He died of syphilis before he could start the prison sentence. His body had been weakened by alcohol and a dissipated life. He was 54 years old.
Gauguin died in 1903 and is buried in Calvary Cemetery (Cimetière Calvaire), Atuona, Hiva 'Oa, Marquesas Islands, French Polynesia.
---