Georges de Bellio 1828 - 1894
November 01, 2008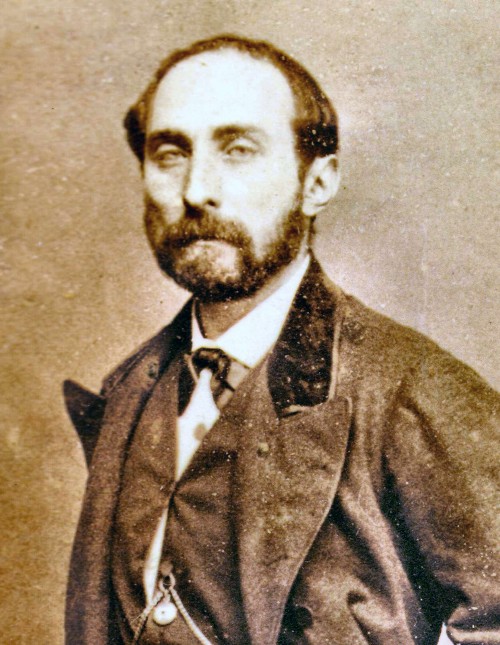 Georges de Bellio 1828 - 1894 was a Romanian aristocrat and a member of the Vacarescu family, and a homeopathic physician who worked at the Hahnemann Hospital in Paris, and who was a member of the Société Médicale Homœopathique de France.
Bellio left Roumania in 1850 and began to buy paintings by the then unknown Impressionist School, and he had paintings by Pierre Auguste Renoir, Edouard Manet, Claude Monet, Berthe Morisot, Alfred Sisley and Camille Pissarro in his collection.
Not doubt some these paintings were given in lieu of payment for his homeopathic treatment, a common practice at the time, but Bellio often paid for paintings to help out these struggling painters when they were close to destitution and he would frequently treat them as patients for no fee at all.
Giovanni Boldini painted his portrait in 1894, and Pierre Auguste Renoir painted his daughter Victorine de Bellio in 1892.
Bellio was a colleague of Paul Ferdinand Gachet,
(Translated from the French) Georges de Bellio leaves Romania shaken by internal strife. He discovers France in 1850 under the Second Republic soon replaced by the Second Empire of Napoleon III and settled there permanently.
A Physician and a homeopath, he was convinced that the family fortune as sufficient to enable him to devote his life to his passion for art. Curious about everything, Bellio showed his collection of eclectic tastes, but very quickly, the pictorial works of his contemporaries captivated him.
'… Protector years of less fortunate, he heals the sick and buys' … 'without even looking at the picture…
(Translated from the French) That same year 1874, Georges de Bellio, wealthy collector of Romanian origin, bought the first two paintings "impressionist" Rue de l'Hermitage to Camille Pissarro in Pontoise and La Seine at Argenteuil by Claude Monet.
He quickly became one of the few unwavering support of these painters whom he comes through difficult times.
In a letter dated August 1879, Claude Monet he says: "We are without any resources, I owe Ventimiglia a few paintings; take them for the amount you want, but please do not stay deaf to my call and come help us".
The exhibition pays tribute to this man who, after acquiring the buveur Franz Hals or beautiful designs by Jean Honore Fragonard, decides to devote his fortune to support quietly, without ulterior motive speculative, these artists so few important at the time.
"Every time one of us had an urgent need two hundred francs, Pierre Auguste Renoir will recall, it ran at the Cafe Riche, at lunchtime and it was certain to find Mr. de Bellio, who bought without even looking at the picture that (was) brought (to) him.
Georges de Bellio was born in Bucharest and died in Paris. He was of Vlach stock. At the time when most of the young painters struggled with poverty Bellio's acquisitions of impressionists paintings was far-sighted and crucial for this artistic survival of this group,still in its infancy.
De Bellio's collection is mostly at the Marmottan Museum in Paris, other than the oils sold by his daughter to museums in the USA.
(Translated from the French) Georges de Bellio was born in Bucharest on February 20 1828. He descended from a family of boyars from Macedonia (in Romanian, his name is Bellu, the name given to the general cemetery in Bucharest).
His grandfather Etienne came to Bucharest to the late eighteenth century. His father, Alexander, was married to the daughter of Vacarescu Barbu. His brother Barbu was married to the daughter of Barbu Stirbei, reigning prince of Wallachia.
After 1851 he gave up the administration of his fortune and won Paris. A fan of homeopathy, Georges practiced medicine in dillettante the sole benefit of his friends. Inveterate collector, it focuses on the binding of books and conservation of prints and photography. It was through him that the Impressionists were able to survive their infancy, especially Claude Monet.
Georges de Bellio died suddenly in Paris on 26 January 1894, without being able to build his gallery. He was buried in the cemetery of Pere Lachaise…
(At 16 Henner Street Montmarte) …  At the time of the fight for the Union of Romanian principalities in 1856, we found the names of two brothers Bellio alongside painters Theodor Aman and Mihail Lappaty among those emigrants who asked the French government to intervene for their homeland.
This house is also the museum memories of George Sand, who lived nearby, with Frederic Chopin at number 16 rue Pigalle… Edouard Manet and the Impressionists gathered about them to New Athens, at No. 9, Place Pigalle, where their patron Georges de Bellio (lived)…
The National Romanian painter, Nicolae Grigorescu, who was one of his friends and neighbors, rue de Clichy, the painted in 1876. The paintings Portrait of Georges de Bellio, is kept at the Marmottan Museum, alongside Portrait of Miss Victorine Bellio by Pierre Auguste Renoir. Edouard Manet painted a portrait of the daughter of his nephew Jean Câmpineanu "Lise"…
(Translated from the French) All art historians agree that Bellio's arrived in Paris with his brother Constantine, who committed suicide in a hotel room in 1875… The brothers live first rue de la Grange Batelière, not far from the galleries Lepelletier the street, the rue Laffitte and restaurants boulevards…
We know from stories reported that Bellio met Pierre Auguste Renoir from 1871. It was during the Paris Commune that he asked Raoul Rigault … to obtain a pass to go to Versailles for family affair…
At Versailles, he won from Prince Bibesco … another pass to cross the drawbridge to revenirr in Paris. His friends say that when Pierre Auguste Renoir had pressing needs for money, he took a canvas under his arm and would roam the streets where he was to meet a certain Dr. Bellio at the  Rich coffee or at the Golden House. Bellio was a homeopath like Paul Ferdinand Gachet… and he treated his friends for free, and was called at the bedside of many painters or their families.
He attended Edouard Manet during his last illness… It was like Paul Ferdinand Gachet, the doctor of Pierre Auguste Renoir, Camille Pissarro and of his mother.
… the first sale at Hoschédé Bellio marked his taste for toiles and Claude Monet encouraged it. He attended the Merchant Paul Durand Ruel, Latouche at the corner of the rue Laffitte and the rue de Provence, a shop in a small merchant color of the street Clauzel, and Julien Tanguy, Alphonse Portier who was both Merchant color and then paint broker and manager of an impressionist exhibition.
(there was also) a gallery client formerly Goupil 19 boulevard Montmartre, held by a man named Theo van Gogh, the brother of Vincent van Gogh.
Regular coffee mornings at "New Athens", Bellio became a neighbor by moving to 66 rue des Martyrs, then to 2 rue Alfred Stevens where he gave his last breath. (remember that) Samuel Hahnemann lived and gave consultations 4 rue de Parma… where in consultation by Victor Schoelcher to treat the dying daughter of his friend Ernest Legouve, he performed "the miracle that gave him fame…
In 1957 Mme Victorine Donop de Monchy (Victorine de Bellio) presented the Marmottan Museum with part of the collection she had inherited from her father, Doctor Georges de Bellio. Physician and friend to the Impressionist painters, Georges de Bellio was the owner of works by Claude Monet, Camille Pissarro, Pierre Auguste Renoir and Alfred Sisley

and notably of Claude Monet's Impression Sunrise, from which the Impressionist movement took its name.
---