Thomas Skinner 1825 - 1906
October 21, 2008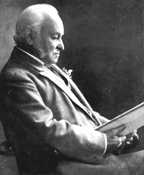 Thomas Skinner (1825 - 1906) (MD St. Andrews 1853) was an allopathic physician and a strident opponent of homeopathy, who had worked very closely with James Young Simpson as his private assistant in Edinburgh. James Young Simpson regarded Thomas Skinner as his star pupil.
Thomas Skinner subsequently became so ill he had to give up his medical practice, and he travelled to America, and worked on transatlantic liners as a medical officer, until he was finally completely cured of his ailments by Edward William Berridge - Thomas Skinner stayed with Edward William Berridge at  Thomas Lake Harris's Fountain Grove commune, where Thomas Skinner offered a commendation for the wine served there '… Mountain Zinfandel is, in my opinion, first class from a medical, dietic, or epicurean point of view. I for one honestly and cordially recommend it…(advertising flyer from the commune ?dated 1870s)…')
After his conversion to homeopathy Thomas Skinner became one of the greatest homeopaths of his time. Thomas Skinner was a high potency prescriber, and he invented the Skinner Centesimal Fluxion Potentiser to make these remedies. Thomas Skinner was awarded an Honorary Degree from the New York Homeopathic Medical College in 1877.
Thomas Skinner was the maternal grandfather of Rupert Thomas Gould.
Thomas Skinner was a devotee of James Tyler Kent and he studied with John Henry Clarke, Robert Gibson Miller and James Compton Burnett. Thomas Skinner was a colleague of Edward William Berridge, John Henry Clarke, John James Drysdale, William Henderson, Adolph Lippe, Robert Gibson Miller, Henry Shackleton and Samuel Swan.
Thomas Skinner was also very influential in India.
Thomas Skinner was a member of The British Homeopathic Society.
ThomasSkinner lived in Kent, at Waylands, in a large house called The Knoll. Thomas Skinner had a large homeopathic practice in the West End of London, at 25 Somerset Street, 6 York Place, Portman Square and various addresses, for twenty five years. He loved fishing and shooting, and leased a moor in Scotland for this purpose.
'It was through correspondence about some matter apart from medicine that Dr. Skinner in 1873 became acquainted with Edward William Berridge [in Liverpool]; but the acquaintance led to a desire on Skinner's part to know something about homeopathy, as he had heard of some good cures when over in America.
The upshot of it all was that Edward William Berridge prescribed Sulphur for our patient in the MM potency, prepared by William Boericke of Philadelphia. When Skinner felt the homeopathic remedy at work inside him it was a revelation indeed.
'I shall never forget the marvellous change which the first dose effected in a few weeks, especially the rolling away, as it were, of a dense and heavy cloud from my mind.'
He was cured of the constipation, the acid dyspepsia [which he had had all his life], sleeplessness, deficient assimilation and general debility, and restored to a life of usefulness and vigour…'
Educated in medicine at Edinburgh University, Thomas Skinner was an outspoken critic of homeopathy. After becoming ill and having to give up his practice to preserve his health, he was treated by Edward William Berridge who had trained in the USA at Hahnemann Medical College. Skinner was given an MM dose of Sulphur, and had a complete recovery.
He dove into homeopathy whole heartedly. He studied homeopathy under Edward William Berridge, and read Hahnemann's three major works— The Organon, The Materia Medica Pura, and The Chronic Diseases.
When he felt secure in his homeopathic practice he announced his changed practice and resigned from the Liverpool Medical Institute— which prohibited the membership of homeopaths through a law put into place years earlier by Skinner himself.
Skinner attended the International Exposition in Philadelphia in 1876, and upon his return to England he founded (with Edward William Berridge in the UK and Adolph Lippe and Samuel Swan in the USA) The Organon— "An Anglo-American Journal of Homeopathic Medicine and Progressive Collateral Science."
Although it ceased publication after the first issue of Volume 4 in 1881, it became the pace setter for journals devoted to pure Hahnemannian homeopathy that followed— _The Homeopathic Physician_ and The Medical Advance.
Skinner practiced in Liverpool, England. He was, in the words of Henry Clay Allen, "probably the best prescriber in Britain."
He died two weeks after injuring himself in a fall when he slipped on a banana peel.
The "Skinner Centesimal Fluxion Potentiser" was first described in an article by Thomas Skinner, MD in The Organon (Vol. I, p. 45).
Very early on, Skinner was unsure if it was the dilution or the succussion which was the deciding factor in preparing remedies.
He conducted an experiment in which he took a two dram vial, and placed in it one drop of Sulphur tincture. He then filled the vial slowly. He then emptied it and repeated the process a thousand times.
When the next patient arrived that needed Sulphur, he gave a dose of the potency he had prepared. The patient had such a strong reaction that it had to be antidoted.
This was the starting point of developing a machine that would prepare remedies by a similar process.
The machine was designed to be used over a wash-basin in a doctor's office. The water supply from the faucet was attached to the machine and provided the motive power through the "water wheel."
The machine held two potentizing vials. The vials had a spherical bottom and each held just 100 minims of liquid.
The water supply was adjusted (with the stop-cocks) so that the vial was filled with 100 minims of water before overturning quickly and forcibly ejecting the contents into the sink and down the drain.
In theory, one drop was left adhering to the wall of the vial.
The vial what then returned to the upright position, and the process repeated.
Dr. Skinner wrote that because of all the ways of adjusting the water flow of the machine, that there was "no difficulty obtaining mathematical certainty" in the potencies. The machine could make 50 potencies a minute, 8,000 an hour, 72,000 per day, and a 100,000 (CM) in about 33 hours. An MM (a 1,000,000) could be made in 330 hours or 14 days.
He said that his "fluxion centesimal" (F.C.) potencies are made "by a process such as Hahnemann himself, if he could witness them, would highly approve, because all the essential points are most scrupulously observed and greatly improved upon, whilst time is enormously economized, and error is next to an impossibility, so perfect are the methods used."
Skinner's original machine is on display at the Faculty of Homeopathy Library in London. In about 1900, Boericke & Tafel installed a Skinner Machine in their pharmacy.
Thomas Skinner was born and educated in Edinburgh. Before becoming a homeopath he was a respected gynaecologist and obstetrician who had worked very closely with James Young Simpson, Professor of Midwifery at Edinburgh and pioneer of the use of Chloroform anaesthesia.
'Eventually James Young Simpson of Edinburgh himself inhaled a number of vapours, and in 1847 he found that chloroform was the most useful… it soon came into general use as the first anaesthetic.'
Skinner maintained to the end that chloroform is 'as safe as milk'. He also developed the Skinner mask for the administration of chloroform during anaesthesia.
Skinner began his medical studies in 1849, graduating MD 1853 at St Andrews. Skinner took Simpson's Gold Medal in Gynaecology and Obstetrics in 1855-6, after being about 3 years in practice in Dumfriesshire.
He became James Young Simpson's private assistant at his residence in Edinburgh and could scarcely have avoided taking on James Young Simpson views and bias as regards the great contest between the old school of medicine and homeopathy.
He went to Liverpool in 1859 and here he enjoyed a busy consulting practice [allopathic] for a number of years. He became converted to homeopathy in 1875 in Liverpool (or was this in America?), through treatment for his own health problems, by Edward William Berridge.
Having been cured with a single dose of high potency Sulphur [MM powder], the Dramatic effect this dose had upon him was so profound and so unexpected on his part, that it is hardly surprising that Skinner became such a thoroughgoing high-potency advocate [Blackie, The Patient Not the Cure, 1976, London, p.158].
He visited the US in 1876 and developed a centesimal fluxion machine for making high potencies and named after him the Skinner Machine [see also Munz, 1997, pp.26-29; see also Bodman, 1970, p.189].
Skinner thus became a very influential figure, linking US and British homeopathy, and is often linked by name to other high-potency prescribers of that period ['high potency fanatics' as Robert Ellis Dudgeon sometimes referred to them: see his Lectures, 1853, p.143 and p.407] like Bernhardt Fincke, Samuel Swan, Adolph Lippe, Henry Newell Guernsey, William Boericke et al.
These were people who were at the forefront of the development of the higher centesimal potencies and of investigating their clinical use, mainly in the 1860-80 period.
John Henry Clarke knew him well, and wrote A Biographical Sketch of Dr. Skinner…
"There is evidence that Skinner did remarkable things with homeopathic remedies during the succeeding years of his life… the following quote from his own book is proof of how through he was in his learning.
"Let every physician and student of medicine do as I have done, carefully peruse for himself The Organon of Hahnemann, his Chronic Diseases and his Materia Medica Pura and I warrant him that he will rise from the perusal thereof a wiser man..' [Phyllis M Speight, Homeopathy, A Practical Guide to Natural Medicine].
At one period of time he took a position as a medical officer on board one of the transatlantic liners. After years of travel by land and sea, though his general health was greatly improved, he was in no sense cured.
It was just at this time that he was incidentally 'in a very remarkable way' thrown into the arms of homeopathy.
Skinner was a high potency man who went to the US and developed a high potency centesimal fluxion machine and thus became very influential as a figure linking US and British homeopathy. He was thus linked to other high potency prescribers like Bernhardt Fincke and Samuel Swan, and later William Boericke and James Tyler Kent.
Dr. Skinner introduced Melitagrinum [Allen, 1909, p.565] and has given a brief account of it in Homeopathic World xvii p.89 [Allen, 1909]; Homeopathy and Gynaecology [4th edition 1903, mentioned in Barker, 1931, p.403] and numerous articles chiefly to American homeopathic journals: Medical Advance, Homeopathic Physician and N American quarterly [see Homeopathic Medical Directory, 1895] Dynamization of Medicines, The Organon, 1, 1878 p.45, and 2, 1879 p.400, Dr. Skinner's Centesimal Fluxion Potentiser, The Organon, 1, 1878, p.53 [see Winston, 1989; also Munz, 1997, pp.26-29], Homeopathy in Relation to The Diseases of Females [1875], Melitagrinum, Homeopathic World XVII, 1882, p.89, Nectrianinum, Homeopathic World XXXV, 1900, p.533.
Thomas Skinner was the son of Edinburgh Solicitor John Robert Skinner, and he married Hannah and had two children, Hilton Skinner and Agnes Hilton Skinner (born using chloroform as an anaesthetic), the mother of Rupert Thomas Gould.
Thomas Skinner's Obituary is in The Medical Forum, The Indian Homeopathic Review and The Clinique in 1906.
Thomas Skinner wrote Homeopathy: In Its Relation to the Diseases of Females, Dr. Skinner's Grand Characteristics of the Materia Medica with John Henry Clarke, and he edited the Organon Journal with Adolph Lippe, Samuel Swan and Edward William Berridge in 1878- 1881, and many articles for The British Journal of Homeopathy, The Homeopathic Physician and The British Homeopathic Review.
Of interest:
Richard Skinner Homeopathic Chemist at 138 High Street, Bromley, Kent is listed in The British, Colonial, and Continental Homeopathic Medical Directory in 1899, Chemist to the Bromley Homeopathic Dispensary,
---