Bram Stoker 1847 - 1912
October 18, 2008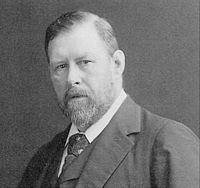 Abraham "Bram" Stoker 1847 – 1912 was an Irish writer of novels and short stories, who is best known today for his 1897 horror novel Dracula.
Bram Stoker was a sickly child, and the family lived in Clontarf, near to the practice of the famous homeopath Arthur Guinness, the Physician to the Raheny and Clontarf Dispensary in Dublin.
After the 1832 cholera outbreak, homeopathy was extremely popular in Ireland, after Charles W Luther introduced the system in 1839.
The Stoker family moved to Sligo and returned to Ballyshannon in 1832 to escape from the cholera plague, which killed five eighths of the population of Sligo. (see below)
All along the way large crowds angrily tried to repel travelers from Sligo but the Thornleys managed to smuggle into their cousins' house on the Mall. After a medical examination, they were allowed to stay but were kept in quarantine for a while.
Stoker was a delicate child and said of himself, "In my babyhood I used, I understand, to be often at the point of death. Certainly till I was about seven years old I never knew what it was to stand upright. I was naturally thoughtful, and the leisure of long illness gave opportunity for many thoughts which were fruitful according to their kind in later years."
An unknown illness kept him almost bed bound until age seven. Although he remained recluse and bookish, in his teenage years Bram Stoker was anything but unhealthy.
Perhaps to make amends for his earlier weakness, he was by this time developing into a fine athlete. At Trinity College, Dublin, he would defeat his wariness and be named University Athlete.
Bram Stoker was born in 1847 at 15 Marino Crescent – then as now called "The Crescent" – today in Fairview, but then in Clontarf.
His parents were Abraham Stoker and the feminist Charlotte Mathilda Blake Thornely. Stoker was the third of seven children. Abraham and Charlotte were members of the Clontarf Church of Ireland parish and attended the parish church (St. John the Baptist located on Seafield Road West) with their children, who were both baptised there.
Stoker was bed-ridden until he started school at the age of seven, when he made a complete recovery. Of this time, Stoker wrote, "I was naturally thoughtful, and the leisure of long illness gave opportunity for many thoughts which were fruitful according to their kind in later years."
After his recovery, he became a normal young man, even excelling as an athlete (he was named University Athlete) at Trinity College, Dublin (1864 – 1870), from which he graduated with honours in mathematics.
He was auditor of the College Historical Society and president of the University Philosophical Society, where his first paper was on "Sensationalism in Fiction and Society".
In 1876, while employed as a civil servant in Dublin, Stoker wrote a non-fiction book (The Duties of Clerks of Petty Sessions in Ireland, published 1879) and became the theatre critic for the newspaper Dublin Evening Mail.
In December 1876, he gave a favourable review of the actor Henry Irving's performance as Hamlet at the Theatre Royal in Dublin. Irving read the review and invited Stoker for dinner at the Shelbourne Hotel, where he was staying. After that they became friends.
Bram Stoker also wrote stories, and in 1872 "The Crystal Cup" was published by the London Society, followed by The Chain of Destiny in four parts in The Shamrock.
In 1878 Stoker married Florence Balcombe, a celebrated beauty whose former suitor was Oscar Wilde. The couple moved to London, where Stoker became business manager (at first as acting-manager) of Irving's Lyceum Theatre, a post he held for 27 years.
On 31st December 1879, Bram and Florence's only child was born, a son that they christened Irving Noel Thornley Stoker. The collaboration with Irving was very important for Stoker and through him he became involved in London's high society, where he met, among other notables, James McNeil Whistler, and Arthur Conan Doyle.
In the course of Irving's tours, Stoker got the chance to travel around the world. In the mid 1890s, Stoker is rumored to have become a member of The Golden Dawn… 
Although there is no evidence that Stoker was actually a member of the order, one of his closest friends was J.W. Brodie Innis, a major figure in the Order, and Stoker himself hired Pamela Coleman Smith, the artist who created the Rider Waite Tarot deck, a major instrument in the Order, as an artist at the Lyceum Theatre.
Stoker supplemented his income by writing novels; the best known being the vampire tale Dracula which was published in 1897. Before writing Dracula, Stoker spent eight years researching European folklore and stories of vampires. Dracula is an epistolary novel, written as collection of diary entries, telegrams, and letters from the characters, as well as fictional clippings from the Whitby and London newspapers.
Stoker's inspirations for the story were a visit to Slains Castle in Aberdeenshire, and a visit to the crypts under the church St. John the Baptist where Stoker was baptised.
Bram Stoker died in 1912, and was cremated and his ashes placed in a display urn at Golders Green Crematorium. After Irving Noel Stoker's death in 1961, his ashes were added to that urn. The original plan had been to keep his parents' ashes together, but after Florence Stoker's death her ashes were scattered at the Gardens of Rest.
Of interest:
The 1830 - 1832 Cholera Epidemic
Hahnemann was in tune with the thinking of his times by attributing cholera to infection. He also supported the contagion-miasma theory, the direct transfer of infection by contact of person to person. The anti-contagionists however ascribed epidemics to atmospheric factors, diet, miasma generated by decaying matter, and other environmental causes. They also objected to quarantines as causing more social harm than medical good.
The Golden Dawn included amongst its members homeopaths Edward William Berridge, Robert Masters Theobald and Charles Lloyd Tuckey, and homeopathic supporters Edward Bulwer Lytton and William Butler Yeats.
---