Arthur Conan Doyle 1859 – 1930
October 18, 2008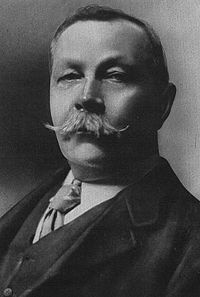 Arthur Ignatius Conan Doyle DL 1859 – 1930 was an author most noted for his stories about the detective Sherlock Holmes, which are generally considered a major innovation in the field of crime fiction, and for the adventures of Professor Challenger.
Arthur Conan Doyle, was a medical student at Edinburgh University under the physician and instructor Joseph Bell, a long time supporter of homeopathy who caused outrage when he converted to homeopathy.
Conan Doyle worked for a time with George Turnavine Budd, the son of William Budd and Richard Budd (both of whom had converted to homeopathy), ** **
Conan Doyle wrote about the homeopathic remedy arnica in The Doings of Raffle Haw, and The Lost World,
Arthur Conan Doyle was a friend of Rudyard Kipling, Theodore Roosevelt, George Bernard Shaw, William Thomas Stead, Robert Masters Theobald, Pelham Grenville Wodehouse, George Wyld and many others.
Arthur Conan Doyle is famous for his statement, in the voice of Sherlock Holmes, '… How often have I said to you that when you have eliminated the impossible, whatever remains, however improbable, must be the truth?'
Arthur Conan Doyle was a defender of Albert Abrams and his percussion technique which he believed could help to determine the correct treatment for disease. Little did he realise the wrath this would bring down on him, or on anybody who tried to defend him:
From http://homeoinfo.com/08_non-classical_topics/dowsing/abrams_boyd_emanometer.php  In the early 1920's a physician at Stanford University, Albert Abrams, noted a unique quality to the sound he got when the abdomen of a patient was percussed.
After much experimentation he found that a healthy person would percuss with the same "dullness" when a sample of diseased tissue was held against them. Albert Abrams concluded that there was some kind of "radiation" from the tissue to which the healthy body reacted.
He believed that if the phenomenon were electronic in nature (as he thought it was) it should be possible to measure the frequency of the disease by placing a potentiometer between the pathological sample and the percussed patient and observing at which frequency the note of percussion changed.
Albert Abrams also experimented with determining the vibratory rate of drugs. When he attempted to show his students the worthlessness of potentized remedies, he found, to his surprise, that the 3X potency showed greater strength than a tincture, and the higher the potency (he tried a 6X and a 30) the stronger the reaction.
As it was reported in the January 1923 Jottings: "Albert Abrams published the results of his experiments and acknowledged his belief in the homeopathic law of cure, then and not until then the wrath of the dominant school enveloped him. He has been denounced as a charlatan and fakir."
Arthur Conan Doyle was interested in Emanuel Swedenborg, and he began writing at a time when homeopathy was the most popular medical therapy in the World.
His writings therefore contain references to all of the most important developments in philosophy, medicine and science of his time. His stories reflect characters that flow with the spirit of the age and those who do not, as in Round the Red Lamp, and as part of his charactor descriptions as in The Duet.
In a rich, active life, Sir Arthur Conan Doyle came to know many prominent people, including George Bernard Shaw, Theodore Roosevelt, Noel Coward and Rudyard Kipling. Late in his life he was described as "the most prominent living Englishman."
In 2004, the lost collection of Arthur Conan Doyle fetched £948,546 at auction, most are still unpublished, but they included letters from public figures, including Winston Churchill, Oscar Wilde, George Bernard Shaw, Pelham Grenville Wodehouse and the US president Theodore Roosevelt.
Arthur Conan Doyle was born to a family of artists, his grandfather John Doyle and his uncle Richard Doyle were famous cartoonists.
From http://en.wikipedia.org/wiki/Arthur_Conan_Doyle From 1876 to 1881 he studied medicine at the University of Edinburgh, including a period working in the town of Aston (now a district of Birmingham).
While studying, he also began writing short stories; his first published story appeared in Chambers's Edinburgh Journal before he was 20. Following his term at university, he served as a ship's doctor on a voyage to the West African coast. He completed his doctorate on the subject of tabes dorsalis in 1885.
In 1882, he joined former classmate George Turnavine Budd as his partner at a medical practice in Plymouth, but their relationship proved difficult, and Conan Doyle soon left to set up an independent practice.
Arriving in Portsmouth in June of that year with less than £10 to his name, he set up a medical practice at 1 Bush Villas in Elm Grove, Southsea.
The practice was initially not very successful; while waiting for patients, he again began writing stories. His first significant work was A Study in Scarlet, which appeared in Beeton's Christmas Annual for 1887 and featured the first appearance of Sherlock Holmes, who was partially modelled after his former university professor, Joseph Bell.
Future short stories featuring Sherlock Holmes were published in the English Strand Magazine. Interestingly, Rudyard Kipling congratulated Conan Doyle on his success, asking "Could this be my old friend, Dr. Joe?" Sherlock Holmes, however, was even more closely modelled after the famous Edgar Allan Poe character, C. Auguste Dupin.
While living in Southsea he played football for an amateur side, Portsmouth Association Football Club, as a goalkeeper. (This club disbanded in 1894 and had no connection with the Portsmouth F.C. of today, which was founded in 1898.)
Conan Doyle was also a keen cricketer, and between 1900 and 1907 he played 10 first-class matches for the MCC. His highest score was 43 against London County in 1902. He was an occasional bowler who took just one first-class wicket. Also a keen golfer, Conan Doyle was elected Captain of Crowborough Beacon Golf Club, East Sussex, for the year 1910.
In 1885, he married Louisa (or Louise) Hawkins, known as "Touie", who suffered from tuberculosis and died on 4 July 1906. He married Jean Elizabeth Leckie in 1907, whom he had first met and fallen in love with in 1897 but had maintained a platonic relationship with her out of loyalty to his first wife. Jean died in London on 27 June 1940…
In 1890, Conan Doyle studied the eye in Vienna; he moved to London in 1891 to set up a practice as an ophthalmologist.
He wrote in his autobiography that not a single patient crossed his door. This gave him more time for writing, and in November 1891 he wrote to his mother: "I think of slaying Holmes… and winding him up for good and all. He takes my mind from better things." His mother responded, saying, "You may do what you deem fit, but the crowds will not take this lightheartedly." In December 1893, he did so in order to dedicate more of his time to more "important" works (his historical novels).
Holmes and Moriarty apparently plunged to their deaths together down a waterfall in the story, The Final Problem. Public outcry led him to bring the character back; Conan Doyle returned to the story in The Adventure of the Empty House, with the explanation that only Moriarty had fallen but, since Holmes had other dangerous enemies, he had arranged to be temporarily "dead" also. Holmes ultimately appeared in a total of 56 short stories and four Conan Doyle novels (he has since appeared in many novels and stories by other authors).
Following the Boer War in South Africa at the turn of the 20th century and the condemnation from around the world over the United Kingdom's conduct, Conan Doyle wrote a short pamphlet titled, The War in South Africa: Its Cause and Conduct, which justified the UK's role in the Boer war, and was widely translated.
Conan Doyle believed that it was this pamphlet that resulted in 1902 in his being knighted and appointed Deputy-Lieutenant of Surrey. He also in 1900 wrote the longer book, The Great Boer War.
During the early years of the 20th century, Sir Arthur twice ran for Parliament as a Liberal Unionist, once in Edinburgh and once in the Hawick Burghs, but although he received a respectable vote he was not elected.
Conan Doyle was involved in the campaign for the reform of the Congo Free State, led by the journalist E. D. Morel and the diplomat Roger Casement. He wrote The Crime of the Congo in 1909, a long pamphlet in which he denounced the horrors in that country. He became acquainted with E. D. Morel and Roger Casement, taking inspiration from them for two of the main characters in the novel, The Lost World (1912).
He broke with both when E. D. Morel became one of the leaders of the pacifist movement during the First World War, and when Roger Casement was convicted of treason against the UK during the Easter Rising. Conan Doyle tried, unsuccessfully, to save Roger Casement from the death penalty, arguing that he had been driven mad and was not responsible for his actions.
Conan Doyle was also a fervent advocate of justice, and personally investigated two closed cases, which led to two men being exonerated of the crimes that they were accused of. The first case, in 1906, involved a shy half-British, half-Indian lawyer named George Edalji, who had allegedly penned threatening letters and mutilated animals. Police were set on George Edalji's conviction, even though the mutilations continued after their suspect was jailed.
It was partially as a result of this case that the Court of Criminal Appeal was established in 1907, so not only did Conan Doyle help George Edalji, his work helped establish a way to correct other miscarriages of justice…
The second case, that of Oscar Slater, a German Jew and gambling-den operator convicted of bludgeoning an 82-year-old woman in Glasgow in 1908, excited Conan Doyle's curiosity because of inconsistencies in the prosecution case and a general sense that Slater was framed.
After the death of his wife Louisa in 1906, and the deaths of his son Kingsley, his brother Innes, his two brothers-in-law (one of whom was E W Hornung, the creator of the literary character Raffles), and his two nephews shortly after World War I, Conan Doyle sank into depression. He found solace supporting Spiritualism and its alleged scientific proof of existence beyond the grave.
… Conan Doyle became involved with Spiritualism after the deaths of his son and his brother. Kingsley Doyle died from pneumonia on 28 October 1918, which he contracted during his convalescence after being seriously wounded during the 1916 Battle of the Somme. Brigadier-General Innes Doyle died in February 1919, also from pneumonia. Sir Arthur became involved with Spiritualism to the extent that he wrote a Professor Challenger novel on the subject, The Land of Mist.
His book, The Coming of the Fairies (1921) shows he was apparently convinced of the veracity of the Cottingley Fairies photographs, which he reproduced in the book, together with theories about the nature and existence of fairies and spirits.
In his The History of Spiritualism (1926) Conan Doyle praised the psychic phenomena and spirit materialisations produced by Eusapia Palladino and Mina "Margery" Crandon.
His work on this topic was one of the reasons that one of his short story collections, The Adventures of Sherlock Holmes, was banned in the Soviet Union in 1929 for supposed occultism. This ban was later lifted. Russian actor Vasily Livanov later received an Order of the British Empire for his portrayal of Sherlock Holmes.
Conan Doyle was friends for a time with the American magician Harry Houdini, who himself became a prominent opponent of the Spiritualist movement in the 1920s following the death of his beloved mother. Although Houdini insisted that Spiritualist mediums employed trickery (and consistently attempted to expose them as frauds), Conan Doyle became convinced that Houdini himself possessed supernatural powers, a view expressed in Conan Doyle's The Edge of the Unknown. Houdini was apparently unable to convince Conan Doyle that his feats were simply magic tricks, leading to a bitter public falling out between the two…
Conan Doyle was found clutching his chest in the family garden at "Windlesham", Crowborough, on 7 July 1930. He soon died of his heart attack, aged 71, and is buried in the Church Yard at Minstead in the New Forest, Hampshire, England. His last words were directed toward his wife: "You are wonderful."
On 2nd September, 1914, soon after the outbreak of the First World War, Charles Masterman, the head of the War Propaganda Bureau, organised a secret meeting of Britain's leading writers, to discuss ways of best promoting the country's interests during the war.
Those who attended the meeting included Arthur Conan Doyle, Arnold Bennett, John Masefield, Ford Madox Ford, William Archer, G K Chesterton, Henry Newbolt, John Galsworthy, Thomas Hardy, Rudyard Kipling, Gilbert Parker, G. M. Trevelyan and Herbert George Wells. George Bernard Shaw was the only leading writer not invited - they felt he could not be trusted.
All the writers present at the conference agreed to the utmost secrecy, and it was not until 1935 that the activities of the War Propaganda Bureau became known to the general public. Several of the men who attending the meeting agreed to write pamphlets and books that would promote the government's view of the war.
In 1914 Conan Doyle wrote the recruiting pamphlet, To Arms!. The WPB arranged for Conan Doyle to go the Western Front and his pamphlet, A Visit to the Three Fronts was published in 1916.
During the war Doyle also wrote his six volume history, The British Campaign in France and Flanders. Conan Doyle also wrote on the war for the Daily Chronicle. The propaganda produced by these men resulted in hundreds of thousands of men joining the British Army. Large numbers of these men were killed, including Conan Doyle's son, Kingsley Conan Doyle. Rudyard Kipling also lost his only son as a result of this propaganda. His response was to write two poems about the War Propaganda Bureau.
---