Virginia Woolf 1882 - 1941
October 14, 2008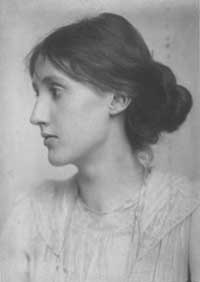 Virginia Woolf 1882 – 1941 was an English novelist and essayist, regarded as one of the foremost modernist literary figures of the twentieth century.
Virginia Woolf 's servants Nellie Boxall and Lottie Hope were patients of James Johnstone, surgeon at the London Homeopathic Hospital, and Virginia Woolf wrote to Lotte when she was at the London Homeopathic Hospital.
Virginia Woolf was also acquainted with Ivy Compton Burnett, the daughter of the famous homeopath James Compton Burnett.
Virginia and Leonard Woolf were patients of Maurice Craig, the son of homeopath William Simpson Craig.
Virginia Woolf's father, Leslie Stephen was first married to Harriet, the daughter of William Makepeace Thackeray. William Makepeace Thackeray and his family were patients of homeopath Frederick Hervey Foster Quin, and his mother was also an advocate of homeopathy.
Leslie Stephen had a daughter with Harriet, Laura Makepeace Stephen (1870 - 1945); after her death he married Julia Prinsep Jackson (1846 - 1895), widow of Herbert Duckworth. By her, he was the father of Virginia Woolf and Vanessa Bell.
Leslie Stephen was a close friend of James Russell Lowell (Virginia Woolf's Godfather) who was actively involved in publications concerning homeopathy, Thomas Hardy who was given homeopathic remedies as a child, and Henry James whose brother William James was a passionate defender of homeopath.
Thus it would appear that Virginia Woolf was surrounded by homeopathy throughout her life.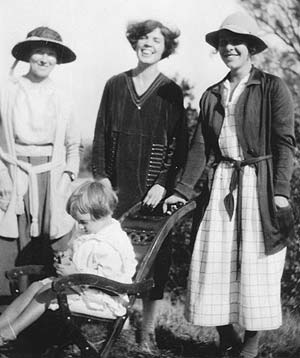 Virginia Woolf's servant Nellie Boxall with a foundling, nursemaid Lottie Hope, Nelly Brittain, and Virginia's niece, Angelica Bell. Photographed by Vanessa Bell in 1922
In 1916 Nellie Boxall came to work as a live-in cook for Virginia and Leonard Woolf, and stayed until 1934. Those 18 years proved a constant battle between Nellie and Virginia, in which the running of the house became a struggle for control and mutual understanding.
Nellie was a "mongrel", Virginia wrote after one of their many rows, with her "timid spiteful servant mind", exhibiting "human nature undressed". Yet she was also "poor dear Nelly" of whom her mistress was very fond.
In turn, according to Virginia, Nellie exasperated her by wielding whatever weapons she had: she constantly threatened to leave, then withdrew her notice; she resorted to emotional blackmail, begging to be kept on when Virginia tried to sack her; worst of all, Nellie seemed to relish the endless tearful "scenes", which left them locked in an exhausted stalemate.
It was "sordid", wrote Virginia, "degrading" and a "confounded bore". But for all the dramas, Nellie stayed with the Woolfs, and Virginia could hardly bear to part with her. After all those years of living together, they were like a husband and wife who ought to divorce but can't.
Virginia wrote obsessively about Nellie in her diaries and letters; she felt sick after their arguments, furious, guilty, bewildered and disgusted by it all; sometimes she anxiously sought to appease Nellie, sometimes she burst out violently and defensively.
Among the mountain of material about Virginia and Leonard Woolf in the archives, there's almost nothing on the servants. Yet there are innumerable passages about the servants in the diaries and letters of Virginia Woolf, her husband and their circle; so many, in fact, that editors have been embarrassed by their superfluity - at one point in the 1910s Virginia and her sister, Vanessa Bell, write every day about their servants.
"I am about to pass sentence of death on Lottie [her parlour maid] and Nelly," Virginia proclaimed early in 1924.
Virginia Woolf's Hogarth Press rejected Ivy Compton Burnett's third novel Brothers and Sisters, which was later published to great acclaim by Heath Cranton in 1929.
Although Woolf later admitted that Hogarth should have published Brothers and Sisters, she said of Ivy Compton Burnett, "There is something bleached about Ivy Compton Burnett: like hair that has never had any colour in it."
Ivy Compton Burnett's growing fame gave Virginia some sleepless nights: "Dead and disappointing … No life in it," she wrote in her diary in 1937, contrasting her own reviews for The Years unfavourably with Ivy's for Daughters and Sons: "Much inferior to the bitter truth and intense originality of Ivy Compton Burnett. Now this pain woke me at 4 a.m. and I suffered acutely." For her part, Ivy Compton Burnett thought Virginia "a terrible snob" and expressed strong reservations about her novels.
Born Adeline Virginia Stephen in London to Leslie Stephen, considered the father of the Bloomsbury Group, and Julia Prinsep Stephen (born Jackson) (1846–1895), she was educated by her parents in their literate and well-connected household at 22 Hyde Park Gate, Kensington.
Virginia's parents had each been married previously, and their spouses had died. Consequently, the household contained the children of three marriages: Julia's children with her first husband Herbert Duckworth: George Duckworth (1868–1934), Stella Duckworth (1869–1897), and Gerald Duckworth (1870–1937).
Laura Makepeace Stephen (1870–1945) (Leslie's daughter with Minny Thackeray) was declared mentally disabled and lived with them until she was institutionalised in 1891. Laura remained there for the rest of her life. Leslie and Julia's children comprised the third subset of children: Vanessa Stephen (1879–1961), Thoby Stephen (1880–1906), Virginia, and Adrian Stephen (1883–1948).
Leslie Stephen's eminence as an editor, critic, and biographer, and his connection to William Makepeace Thackeray (he was the widower of William Makepeace Thackeray's eldest daughter) meant that Woolf was raised in an environment filled with the influences of Victorian literary society.
Henry James, T. S. Eliot, George Henry Lewes, Julia Margaret Cameron (an aunt of Julia Stephen), and James Russell Lowell, who was made Virginia's godfather, were among the visitors to the house.
Julia Stephen was equally well connected. Descended from an attendant of Marie Antoinette, she came from a family of renowned beauties who left their mark on Victorian society as models for Pre-Raphaelite artists and early photographers. Supplementing these influences was the immense library at 22 Hyde Park Gate, from which Virginia (unlike her brothers, who were formally educated) was taught the classics and English literature.
According to her memoirs, her most vivid childhood memories, however, were not of London but of St Ives in Cornwall, where the family spent every summer until 1895. The family stayed in their home called the Talland House, which looked out over the Porthminster Bay.
Memories of the family holidays and impressions of the landscape, especially the Godrevy Lighthouse, informed the fiction she wrote in later years, notably To the Lighthouse. She also based the summer home in Scotland after the Talland House and the Ramsay family after her own family.
The sudden death of her mother in 1895, when Virginia was 13, and that of her half sister Stella two years later, led to the first of Virginia's several nervous breakdowns. The death of her father in 1904 provoked her most alarming collapse and she was briefly institutionalized.
Her breakdowns and subsequent recurring depressive periods, modern scholars (including her nephew and biographer, Quentin Bell) have claimed, were also induced by the sexual abuse she and Vanessa were subject to by their half brothers George and Gerald (which Woolf recalls in her autobiographical essays A Sketch of the Past and 22 Hyde Park Gate).
Throughout her life, Woolf was plagued by drastic mood swings. Though these recurring mental breakdowns greatly affected her social functioning, her literary abilities remained intact. Modern diagnostic techniques have led to a posthumous diagnosis of bipolar disorder, an illness which coloured her work, relationships, and life, and eventually led to her suicide.
Following the death of her father in 1904 and her second serious nervous breakdown, Virginia, Vanessa, and Adrian sold 22 Hyde Park Gate, and bought a house at 46 Gordon Square in Bloomsbury.
Following studies at King's College London, Woolf came to know Lytton Strachey, Clive Bell, Saxon Sydney Turner, Duncan Grant, and Leonard Woolf, who together formed the nucleus of the intellectual circle known as the Bloomsbury Group which came to notorious fame in 1910 with the Dreadnought hoax Virginia Woolf participated in, dressed as a male Abyssinian royal.
Virginia Stephen married writer Leonard Woolf in 1912, referring to him during their engagement as a "penniless Jew." The couple shared a close bond, and in 1937 Woolf wrote in her diary "Love making — after 25 years can't be attained by my unattractive countenance … you see it is enormous pleasure being wanted, a pleasure that I have never felt."
They also collaborated professionally, in 1917 founding the Hogarth Press, which subsequently published most of Woolf's work.
The ethos of Bloomsbury discouraged sexual exclusivity, and in 1922, Woolf met Vita Sackville West, wife of Harold Nicolson. After a tentative start, they began a relationship that lasted through most of the 1920s.
In 1928, Woolf presented Vita Sackville West with Orlando, a fantastical biography in which the eponymous hero's life spans three centuries and both genders. It has been called by Nigel Nicolson, Vita Sackville West's son, "the longest and most charming love letter in literature."
After their affair ended, the two women remained friends until Woolf's death in 1941. Virginia Woolf was also very close to her family, including her sister, Vanessa Bell and Vanessa's husband Clive Bell.
After completing the manuscript of her last (posthumously published) novel Between the Acts, Woolf fell victim to a depression similar to that which she had earlier experienced. The war, the Luftwaffe's destruction of her London homes, as well as the cool reception given to her biography of her late friend Roger Fry, worsened her condition until she was unable to work.
On March 28, 1941, after having a nervous breakdown, Woolf drowned herself by weighing her pockets with stones and walking into the River Ouse near her home. Her body was not found until 18 April. Her husband buried her cremated remains under a tree in the garden of their house in Rodmell, Sussex.

Leonard Sidney Woolf 1880 – 1969 was a noted British political theorist, author, publisher, and civil servant, but perhaps now best known as the widower of author Virginia Woolf.
Leonard Woolf joined the Labour Party and Fabian Society and became a regular contributor to the New Statesman. In 1916 he wrote International Government, proposing an international agency to enforce world peace…
As his wife began to suffer greatly from mental illness, Woolf devoted much of his time to caring for her. In 1917 the Woolfs bought a small, hand operated printing press; with it they founded the famous Hogarth Press.
Their first project was a pamphlet, hand printed and bound by themselves. Within ten years, the Press had become a full scale publishing house with a highly distinguished authors list. Woolf continued as its director until his death. His wife's mental problems continued, however, until her suicide in 1941. After Virginia Woolf's suicide, Leonard fell in love with a married artist, Trekkie Parsons.
Through the Fabian Society, Leonard and Virginia Woolf would have known Havelock Ellis who was an advocate of homeopathy, and who with his wife Edith Lees Ellis, were profoundly influenced by James Hinton who studied homeopathy, as Havelock Ellis explains in his book Three Modern Seers.
Leonard and Virginia Woolf would also have known George Bernard Shaw, a staunch defender of homeopathy, and Herbert George Wells who was a friend of Mary Everest Boole, the daughter of homeopath Thomas Roupell Everest, the Vice President of the Hahnemann Hospital at 39 Bloomsbury Square.
Leonard and Virginia Woolf also knew Sidney and Beatrice Webb and homeopathic supporter Annie Wood Besant.
---