Amos Henriques 1812 - 1880
October 10, 2008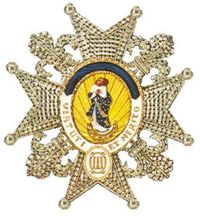 Amos Henriques MD (BSL Paris 1833 MRCS Eng. 1832) 1812 - 1880 was a British Jewish orthodox physician who converted to homeopathy.
Amos Henriques was a relative of Mary Jane Seacole,
Knight of the Order of Charles III of Spain, Honorary Physician to the Spanish Embassy in 1848, member of the Philosophical Society of Jamaica, Fellow of the Medico Chirurgical Society, member of the Hahnemann Medical Society, member of the Homeopathic Academy of Rio Janeiro, member of the Homeopathic Institute of Turin, Physician Accoucheur to the Hahnemann Medical Insitution and Dispensary, Surgeon to the Hahnemann Hospital at 39 Bloomsbury Square.
Amos Henriques was the homeopath of Amelia Taylor (nee Ringrose), a friend of Charlotte Bronte,
Amos Henriques practiced at 67 Upper Berkeley Street, Portman Square in 1849.
Amos Henriques knew the Staff of the Hahnemann Hospital at 39 Bloomsbury Square which included John Anderson, James Chapman, Edward Charles Chepmell, Paul Francois Curie, Robert Ellis Dudgeon, Thomas Engall, Joseph Hands, Robert Hamilton, Charles Hunt, Henry Kelsall, Joseph Laurie, Henry Victor Malan, James John Garth Wilkinson, David Wilson, William Leaf, George Wyld, Christian Karl Josias Bunsen, Thomas Egerton 2nd Earl of Wilton, Robert Grosvenor, Thomas Roupell Everest, Charles Powell Leslie, James More Molyneux, David Wilson, William Henry Ashurst, William Thomas Berger, W A Case, J M Douglas, G H Flatcher, John Fowler, Joseph Glover, Sydney Hanson, Thomas Higgs, T H Johnstone, John Miller, Chas Pasley, Mathias Roth, Frederick Sandoz, W Stephenson, Samuel Sugden, Allan Templeton, Major Tyndale, William Warne, A Wilkinson, S Wilson and many others.
Amos Henriques and James Manby Gully drew fire from the Allopathic doctors because of their conversion to homeopathy, which provoked moves to have their names removed from the list of Fellows of the Royal Medical and Chirurgical Society in 1851.
Amos Henriques was of the Jewish faith, and his only daughter Josephine's marriage is recorded in The Jewish Year Book in 1878. Amos Henriques was born in Jamaica and educated in England and France.
Amos Henriques' Obituary is recorded in The British Homeopathic Review in 1880.
Amos Henriques wrote Art Versus Nature in Disease, Letters on Mesmerism, Practice of Medicine in Constantinople, Etiological, Pathological and Therapeutic Reflections on Asiatic Cholera, The Homeopathic Medical Dictionary and Home Guide, Lectures on Anthropology, The Probable Cause, Nature, and Mode of Treatment, of the Prevailing Disease Termed Cholera Morbus, and articles to the British Journal of Homeopathy.
Of interest:
English physician; born in Jamaica 1812; died June 5, 1880. He went to England in 1830 to study medicine, entered St. Thomas' Hospital, and in due course obtained his diploma as surgeon. In 1833 he went to France and graduated in medicine at the University of Paris. At this time he took part in some of the émeutes against King Louis Philippe. In 1834 Henriques went to Italy, and obtained also there degrees in medicine. He began practise in Athens, and shortly afterward went to Constantinople. Here he obtained government employment and received a commission to organize a medical staff for the Turkish army.
The defeat of the Turks at the battle of Nezid in 1839 put an end to Henriques' career in Turkey. Hewas taken prisoner, but, escaping from his captors, became a wanderer without any means of support. He made his way to Egypt, where he formed the acquaintance of Marquis Litta, with whom he traveled as medical attendant through northern Europe.
Genealogical Tree of the Henriques Family.

In 1840 he returned to England, but soon afterward emigrated to Jamaica, and practised there successfully for seven years. He then returned to England and engaged in general practise in London, obtaining also there considerable success.
Henriques published a few medical essays which attracted some notice. During the outbreak of cholera in 1849 he issued several pamphlets on the nature of that disease. He also replied to Sir John Forbes's work "Nature and Art in the Cure of Disease" attempting to refute the doctrine that nature is more important than science in the treatment of disease.
Henriques was decorated with the Turkish Order of the Medjidie of the second class, and with the Order of King Charles III. of Spain.
Bibliography:
Jew. Chron. June 18, 1880.
---