Paul Cezanne 1839 – 1906
September 23, 2008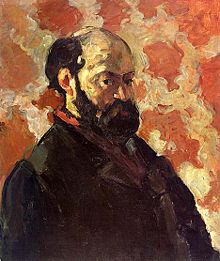 Paul Cezanne 1839 – 1906 was a French artist and Post Impressionist painter.
Cezanne lived in Auvers sur Oise from 1872 to 1874 in a house rented through Paul Ferdinand Gachet, a homeopathic doctor, amateur artist and collector.
Many artists at this time paid their medical bills by handing over their paintings, which may account for the very large collection handed to the Musée d'Orsay by Paul Ferdinand Gachet's children. Cezanne also brought his wife and children to Paul Ferdinand Gachet for homeopathic treatment.
Paul Cezanne worked with Camille Pissarro in the studio of Dr. Gachet, a homeopathic physician and amateur artist who had settled at Auvers the previous year.
The Cezannes came from the small town of Cesana now in West Piedmont, and it has been assumed that they were ultimately of Italian origin.[]](http://en.wikipedia.org/wiki/Paul_C%C3%A9zanne#cite_note-Lindsay3-0) Paul Cezanne was born on 19 January 1839 in Aix en Provence, one of the southernmost regions of France. On 22 February, Paul was baptized in the parish church, with his grandmother and uncle Louis as godparents.
His father, Louis Auguste Cezanne was the cofounder of a banking firm that prospered throughout the artist's life, affording him financial security that was unavailable to most of his contemporaries and eventually resulting in a large inheritance… his mother was Anne Elisabeth Honorine Aubert… He also had two sisters, Marie… and Rose.
At the age of ten, Paul entered the Saint Joseph boarding school, where he studied drawing under Joseph Gibert, a Spanish monk, in Aix. In 1852 Cezanne entered the Collège Bourbon (now Collège Mignet), where he met and became friends with Emile Zola…
From 1859 to 1861, complying with his father's wishes, Cezanne attended the law school of the University of Aix, while also receiving drawing lessons. Going against the objections of his banker father, he committed himself to pursuing his artistic development and left Aix for Paris in 1861.
He was strongly encouraged to make this decision by Emile Zola, who was already living in the capital at the time. Eventually, his father reconciled with Cezanne and supported his choice of career. Cezanne later received an inheritance of 400,000 francs from his father, which rid him of all money fears.
In Paris, Cezanne met the Impressionists, including Camille Pissarro. Initially the friendship formed in the mid-1860s between Camille Pissarro and Cezanne was that of master and mentoree, with Camille Pissarro exerting a formative influence on the younger artist. Over the course of the following decade their landscape painting excursions together, in Louveciennes and Pontoise, led to a collaborative working relationship…
His statement "I want to make of impressionism something solid and lasting like the art in the museums", and his contention that he was recreating Poussin "after nature" underscored his desire to unite observation of nature with the permanence of classical composition…
One day, Cezanne was caught in a storm while working in the field. Only after working for two hours under a downpour did he decide to go home; but on the way he collapsed. He was taken home by a passing driver. His old housekeeper rubbed his arms and legs to restore the circulation; as a result, he regained consciousness. On the following day, he intended to continue working, but later on he fainted; the model with whom he was working called for help; he was put to bed, and he never left it again. He died a few days later, on 22 October 1906.
He died of pneumonia and was buried at the old cemetery in his beloved hometown of Aix en Provence.
---