Fanny Mendelssohn 1805 – 1847
September 22, 2008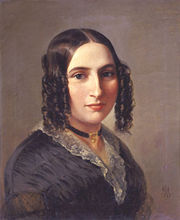 Fanny Cacilie Mendelssohn 1805 – 1847, later Fanny Hensel, was a German pianist and composer, and was the sister of Felix Mendelssohn; they were both the grandchildren of the philosopher Moses Mendelssohn.
Fanny took homeopathic remedies, consulting a Dr. Stuler, who practiced homeopathy in Berlin and who was a student of Samuel Hahnemann, and writing to her brother Felix Mendelssohn to tell him all about it.
Fanny Mendelssohn was born in Hamburg, the oldest of four children. She was descended on both sides from distinguished Jewish families; her parents were Abraham Mendelssohn, (who was the son of Moses Mendelssohn and later changed the family surname to Mendelssohn Bartholdy), and Lea, née Salomon, a granddaughter of the entrepreneur Daniel Itzig.
Fanny benefited from the same musical education and upbringing as her brother Felix Mendelssohn, sharing a number of his music tutors, including Zelter. Like Felix Mendelssohn (who was born in 1809), Fanny showed prodigious musical ability as a child and began to write music.
Visitors to the Mendelssohn household in the early 1820s, including Ignaz Moscheles and George Smart, were equally impressed by both siblings.
However, she was limited by prevailing attitudes of the time toward women, attitudes apparently shared by her father, who was tolerant, rather than supportive, of her activities as a composer. Her father wrote to her in 1820 'Music will perhaps become his [i.e. Felix Mendelssohn's] profession, while for you it can and must be only an ornament'.
On the other hand, Felix Mendelssohn was supportive of her, as a composer and a performer, although cautious (professedly for family reasons) of her publishing her works under her own name. He did however arrange with her for a number of her songs to be published under his own name. In turn Fanny helped Felix Mendelssohn by constructive criticism of pieces, which he always considered very carefully.
In 1829, after a courtship of several years, Fanny married the painter Wilhelm Hensel who was supportive of her composing. Subsequently, her works were often played alongside her brother's at the family home in Berlin in the concerts which were held there.
Her public debut at the piano (and only known public performance) came in 1838, when she played her brother's Piano Concerto No. 1.
Fanny Hensel died in Berlin in 1847 of complications from a stroke suffered while rehearsing one of her brother's oratorios, 'The First Walpurgis Night'. Felix Mendelssohn himself died less than six months later.
In recent years, her music has become better known thanks to concert performances and a number of CDs being released on labels such as Hyperion and CPO. Her reputation has also been advanced by those researching female musical creativity, of which she is one of the relatively few exemplars in the early 19th century.
Felix Mendelssohn was a friend of Louis Hector Berlioz, Frederick Chopin, Gustav Theodor Fechner, Franz Liszt and Robert Alexander Schumann.
Abraham Mendelssohn Bartholdy, father of Felix and Fanny, was a close friend of David Ferdinand Koreff.
---