Johannes Brahms 1833 – 1897
September 21, 2008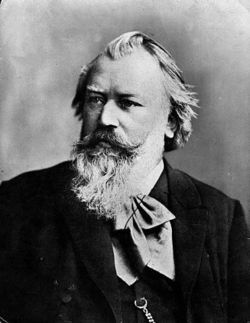 Johannes Brahms 1833 – 1897 was a German composer of the Romantic period.
Johannes Brahms was a friend of Robert Alexander Schumann, and Brahms traveled to Kennenberg to find a homeopath for him (Johannes Brahms, Styra Avins, Josef Eisinger (Eds.), Johannes Brahms, (Oxford University Press, 1997). Page 126).
Brahms wrote to Clara Schumann that _'…I implore you most solemnly, if I should ever fall ill and you are close at hand, to send me at once to a homeopath…' _(Clara Schumann, Johannes Brahms, Berthold Litzmann (Ed.), Letters of Clara Schumann and Johannes Brahms, 1853-1896, Volume 1, (Longmans, Green and Co., 1927). Page 65).
Brahms was also a friend of Georg Friedrich Daumer, a homeopath and Rosicrucian who wrote many verses for Brahms _Liebeslieder _waltzes.
Brahms's father, Johann Jakob Brahms, came to Hamburg from Schleswig-Holstein, seeking a career as a town musician. He was proficient on several instruments, but found employment mostly playing the horn and double bass. He married Johanna Henrika Christiane Nissen, a seamstress, who was seventeen years older than he was. Initially, they lived near the city docks, in the Gängeviertel quarter of Hamburg, for six months before moving to a small house on the Dammtorwall, located on the northern perimeter of Hamburg in the Inner Alster.
Johann Jakob gave his son his first musical training. He studied piano from the age of seven with Otto Friedrich Willibald Cossel. It is a long told tale that Brahms was forced in his early teens to play the piano in bars that doubled as brothels…
For a time, Brahms also learned the cello, although his progress was cut short when his teacher absconded with Brahms' instrument. After his early piano lessons with Otto Cossel, Brahms studied piano with Eduard Marxsen, who had studied in Vienna with Ignaz von Seyfried (a pupil of Mozart) and Carl Maria von Bocklet (a close friend of Franz Schubert).
The young Brahms gave a few public concerts in Hamburg, but did not become well known as a pianist until he made a concert tour at the age of nineteen. In later life, he frequently took part in the performance of his own works, whether as soloist, accompanist, or participant in chamber music…
His compositions did not receive public acclaim until he went on a concert tour as accompanist to the Hungarian violinist Eduard Reményi in April and May 1853. On this tour he met Joseph Joachim at Hanover, and went on to the Court of Weimar where he met Franz Liszt, Peter Cornelius, and Joachim Raff…
Joachim Raff had given Brahms a letter of introduction to Robert Alexander Schumann, and after a walking tour in the Rhineland Brahms took the train to Düsseldorf, and was welcomed into the Schumann family on arrival there. Robert Alexander Schumann, amazed by the 20 year-old's talent, published an article entitled "Neue Bahnen" (New Paths) in the October 28, 1853 issue of the journal Neue Zeitschrift für Musik alerting the public to the young man who he claimed was "destined to give ideal expression to the times"…
While he was in Düsseldorf, Brahms participated with Robert Alexander Schumann and Albert Dietrich in writing a sonata for Joachim; this is known as the F-A-E Sonata. He became very attached to Robert Alexander Schumann's wife, the composer and pianist Clara, fourteen years his senior, with whom he would carry on a lifelong, emotionally passionate, but probably platonic, relationship.
Brahms never married, despite strong feelings for several women and despite entering into an engagement, soon broken off, with Agathe von Siebold in Göttingen in 1859. After Robert Alexander Schumann's attempted suicide and subsequent confinement in a mental sanatorium near Bonn in February 1854, Brahms was the main intercessor between Clara and her husband, and found himself virtually head of the household.
After Robert Alexander Schumann's death at the sanatorium in 1856, Brahms divided his time between Hamburg, where he formed and conducted a ladies' choir, and the principality of Detmold, where he was court music-teacher and conductor.
He first visited Vienna in 1862, staying there over the winter, and in 1863 was appointed conductor of the Vienna Singakademie. Though he resigned the position the following year and entertained the idea of taking up conducting posts elsewhere, he based himself increasingly in Vienna and soon made his home there.
From 1872 to 1875 he was director of the concerts of the Vienna Gesellschaft der Musikfreunde; afterwards he accepted no formal position. He declined an honorary doctorate of music from University of Cambridge in 1877, but accepted one from the University of Breslau in 1879, and composed the Academic Festival Overture as a gesture of appreciation.
He had been composing steadily throughout the 1850s and 60s, but his music had evoked divided critical responses and the Piano Concerto No. 1 had been badly received in some of its early performances. His works were labelled old fashioned by the 'New German School' whose principal figures included Franz Liszt and Wilhem Richard Wagner. Brahms admired some of Wagner's music and admired Franz Liszt as a great pianist, but the conflict between the two schools, known as the War of the Romantics, soon embroiled all of musical Europe…
It was the premiere of Ein deutsches Requiem, his largest choral work, in Bremen in 1868 that confirmed Brahms' European reputation and led many to accept that he had fulfilled Robert Alexander Schumann's prophecy. This may have given him the confidence finally to complete a number of works that he had wrestled with over many years, such as the cantata Rinaldo, his first string quartet, third piano quartet, and most notably his first symphony. This appeared in 1876, though it had been begun (and a version of the first movement seen by some of his friends) in the early 1860s. The other three symphonies then followed in 1877, 1883, and 1885. From 1881 he was able to try out his new orchestral works with the court orchestra of the Duke of Meiningen, whose conductor was Hans von Bülow.
Brahms frequently traveled, for both business (concert tours) and pleasure. From 1878 onwards he often visited Italy in the springtime, and usually sought out a pleasant rural location in which to compose during the summer. He was a great walker and especially enjoyed spending time in the open air, where he felt that he could think more clearly…
While completing the Op. 121 songs, Brahms developed cancer (sources differ on whether this was of the liver or pancreas). His condition gradually worsened and he died on April 3, 1897. Brahms is buried in the Zentralfriedhof in Vienna.
---