Franz Liszt 1811 - 1886
September 20, 2008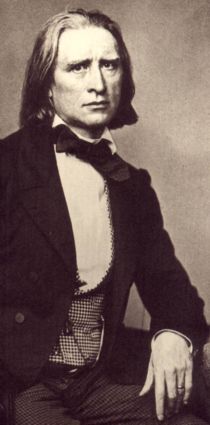 Franz Liszt 1811 – 1886 was an Austrian Hungarian composer and virtuoso pianist of the 19th century.
Franz Liszt consulted homeopath Dr. Loewe (Lowe), a correspondent of Samuel Hahnemann, and he also consulted David Ferdinand Koreff who also treated his mother Anna Liszt, and who also treated Marie, Comtesse d'Agoult and her mother.
Franz Liszt took homeopathic remedies to counteract the 'strains of public life'. Liszt reports that his homeopath ordered him to exercise to overcome his fatigue.
Franz Liszt's friend Carl Frantz von Villers became a famous homeopath in St. Petersberg (Liszt was also a close friend of Carl Frantz Domink von Viller's brother Alexander Henrich von Villers, and they travelled and took tours together). Liszt was also a close friend of Olga von Meyendorff, whose husband Peter von Meyendorff was the Russian Ambassador to Berlin, (and himself a patient of Martin Wilhelm von Mandt).
Liszt's friend's Marie, Comtesse d'Agoult, Frederic Chopin, Heinrich Heine, Felix Mendelssohn, Ignaz Moscheles, George Sand, Robert Alexander Schumann, and Wilhelm Richard Wagner were also advocates of homeopathy.
Unfortunately, as with Ludwig von Beethoven and Robert Alexander Schumann, questions have been posed as to whether allopathic medical malpractice played a direct part in Franz Liszt's demise.
Franz Liszt was born on October 22, 1811, in the village of Raiding (Hungarian: Doborján) in the Kingdom of Hungary, then part of the Habsburg Empire (and today also part of Austria), in the comitat Oedenburg. The main language in that region was German, while only a small minority could speak and understand Hungarian. For official purposes Latin was used. Children had only had lessons in Hungarian since 1835.
Liszt himself became fluent in German, French and Italian. He also had some knowledge of English, but his knowledge of Hungarian was very poor. In the early 1870s, when all people living in Hungary were forced to learn Hungarian, Liszt also tried to learn it, but after some lessons he gave up.
The issue of Liszt's nationality has triggered many interpretations. The question is considered by some to be controversial to this day, since important sources are missing… In the vast majority of Liszt literature he is regarded as either Hungarian or German… Liszt, since 1838 at least, claimed that he was Hungarian, and it was important for him. Liszt and his father Adam had both solely Hungarian passports for their entire life. Furthermore his children bore Hungarian citizenship as well…
Every attempt to describe Liszt's development during his childhood and early youth has met with the difficulties of terribly sparse information. It had been Adam Liszt's own dream to become a musician. He played piano, violin, violoncello, and guitar, was in the services of Prince Nikolaus II Esterhazy and knew Haydn, Hummel and Ludwig von Beethoven personally.
Franz Liszt, as a mature artist, frequently said himself that the most important musical impressions of his childhood had been the playing of Gypsy artists. However, the repertoire he had to study as a boy at the piano had been different. According to Adam Liszt's letter to Prince Esterhazy of April 13, 1820, he had bought 1,100 "Bogen", i.e. 8,800 pages, of music of the best masters. During the previous 22 months, his son already had worked through the complete works of Bach, Mozart, Ludwig von Beethoven, Clementi, Hummel, Cramer, and further composers besides.
In October 1820, at the old casino of Ödenburg, he took part in a concert of the violinist (alleged) Baron von Praun, who was a child prodigy himself. In the second part of the concert, Liszt played a concerto in E flat major by Ferdinand Ries with much success and an improvisation of his own.
In November 1820 Adam Liszt took up an even better opportunity to present his son's playing to the public. In Pressburg, the Diet met for the first time after a break of 13 years. On November 26, at Count Michael Esterhazy's palace in Pressburg, Liszt gave a concert in front of an audience of aristocrats and members of the society. A group of magnates secured for a duration of six years to pay an annual sum of 600 Gulden (Viennese Currency), so that Liszt could study abroad.
In Vienna, Liszt received piano lessons from Carl Czerny, who in his own youth had been Ludwig von Beethovens student… Since July 1822, Liszt also received lessons in composition by Antonio Salieri…
Very soon Liszt was heard in private circles. His public debut in Vienna was on December 1, 1822… According to legend, he impressed Ludwig von Beethoven, although deaf, to such an extent that he congratulated Liszt on the stage, kissing him on the forehead and giving him enthusiastic praise… but Ludwig von Beethoven's conversation books show that Ludwig von Beethoven did not attend the concert…
At the end of April 1823, the family for the last time returned to Hungary. At end of May 1823, the family went to Vienna again.
On September 20, 1823, the Liszt family left Vienna for Paris. To support himself and his parents, Liszt gave concerts in Munich, Augsburg, Stuttgart and Strasbourg. In Miesich he was regarded as an equal to the child Mozart. On December 11, 1823, the family arrived in Paris. The next day, Adam Liszt together with his son went to the Conservatoire, hoping the child prodigy would be accepted as a student. But Cherubini, the director, told them that according to a new rule only the French were allowed to take part in piano class…
Liszt learned French quickly and it became his main language. He made the acquaintance of the piano manufacturer Sébastien Érard, pioneer of the "double escapement" system of piano mechanics. After Liszt had played in private circles and given concerts on March 7 and April 12, 1824, at the "Theâtre Italiènne", he had become a most famous and popular artist.
In 1824, 1825 and 1827, together with his father, he visited England, where he was known as "Master Liszt"…
Since 1824, Liszt studied composition with Anton Reicha and Ferdinando Paer…
Liszt afterwards felt drawn in a different direction. He started disliking music and spent much time with religious ideas. However, he was forced by his father to continue giving concerts.In 1826 in Marseille he started composing original etudes…
In summer 1827, Liszt fell ill. Adam Liszt went with his son to Boulogne sur Mer, a spa town on the English Channel. While Liszt himself was recovering, his father fell ill with typhus… Adam Liszt was buried in Boulogne. Liszt never visited his father's grave.
In later years, Liszt himself always took a skeptical point of view regarding his career as child prodigy. While he had earned much money and gained a prominent name, his general education had had no chance of development. He made up for this lack by intense reading. Starting in the early 1830s, he read huge amounts of books, and when he died in 1886, he left behind many thousands of volumes…
After his father's death Liszt returned to Paris. For the next five years he was to live with his mother in a small apartment…
At occasions, Liszt performed at private soirées, typically organized by Rossini, who would invite other artists as well…
At the end of December 1830 or at the beginning of January 1831, Liszt left Paris, traveling to Geneva. The voyage led to severe problems in his private life. For those reasons there was a gap of nearly two years in Liszt's concert activities…
During winter 1831-32, Liszt made the acquaintance of Felix Mendelssohn and Frederic Chopin. Both of them arrived in Paris with a suitcase full of masterworks…
Important influence on Liszt also came from the sect of the religiously oriented Père Enfantin fraction of the Saint-Simonists. As part of their ideology, contemporary forms of marriage were regarded as prison for women and in this sense as kind of crime…
Since 1833, Liszt's relation with Marie, Comtesse d'Agoult was developing. In addition to this, at end of April 1834 he made the acquaintance of Felicité de Lamennais. Under the influence of both, Liszt's creative output exploded…
As an integral part of the usual Liszt biography, a love affair with his pupil Caroline de Saint Cricq must be mentioned, although the source situation is not only poor but desperate. Following a traditional line, Caroline must be described as to have been nothing less than a holy angel living on earth, without worldly desires of whatsoever kind. Besides, she was very beautiful and very rich.
Liszt, who had not the least interest in those qualities, became her piano teacher in spring 1828 when he was 16 and she was 17. While exclusively talking about holy things, they very soon fell in love. Supported by Caroline's mother, they wanted to marry. Shortly afterwards, on June 30 or July 1, 1828, the mother died. Caroline's father, French Minister of Commerce in the government of King Charles X, then acted as antagonist, showing Liszt the door. Caroline fell ill, and Liszt suffered a nervous breakdown…
A further love affair, as reported by Liszt's biographers, sounds even more adventurous… after the revolution of 1830 a total change of Liszt's personality must have occurred. His nervous breakdown was forgotten, all holy ideas besides, and he was now hungry for whatever experiences life proffered. Together with Adele de Laprunarede, very beautiful and very rich, although married, he enjoyed his first long love affair…
In addition to this, there was still another lady, also very beautiful, together with whom Liszt went to the Savoy. Her name was "Mlle de Barré"…
Liszt's letters of spring and summer 1834 are full of complaints about his illness and depressiveness…
In autumn and winter 1834-35, Liszt made the acquaintance of George Sand…
From 1876 until his death he also taught for several months every year at the Hungarian Conservatoire at Budapest. On July 2, 1881, Liszt fell down the stairs of the Hofgärtnerei in Weimar.
Though friends and colleagues had noted swelling in Liszt's feet and legs when he had arrived in Weimar the previous month, Liszt had up to this point been in reasonably good health, his body retained the slimness and suppleness of earlier years. The accident, which immobilized him eight weeks, changed all this.
A number of ailments manifested—dropsy, asthma, insomnia, a cataract of the left eye and chronic heart disease. The last mentioned would eventually contribute to Liszt's death. He would become increasingly plagued with feelings of desolation, despair and death—feelings he would continue to express nakedly in his works from this period.
As he told Lina Ramann, "I carry a deep sadness of the heart which must now and then break out in sound."
He died in Bayreuth on July 31, 1886, officially as a result of pneumonia which he may have contracted during the Bayreuth Festival hosted by his daughter Cosima.
At first, he was surrounded by some of his more adoring pupils, including Arthur Friedheim, Siloti and Bernhard Stavenhagen, but they were denied access to his room by Cosima shortly before his death at 11:30 p.m. He is buried in the Bayreuth cemetery.
Questions have been posed as to whether medical malpractice played a direct part in Liszt's demise. At 11:30 Liszt was given two injections in the area of the heart. Some sources have claimed these were injections of morphine. Others have claimed the injections were of camphor, shallow injections of which, followed by massage, would warm the body. An accidental injection of camphor into the heart itself would result in a swift infarction and death…
Of interest:
Olivier Emile Ollivier 1825 – 1913 (Ollivier was the son in law of Marie, Comtesse d'Agoult, and he was also her son, reputedly the son of Marie, Comtesse d'Agoult and Franz Liszt) was a French statesman and the 30th Prime Minister of France. Although a republican, he served as a cabinet minister under Napoleon III and led the process of turning his regime into a "liberal Empire". Emilie Ollivier was a staunch defender of homeopathy, and he publicly promoted his defense (see the article in Harper's Magazine, Volume 18 in 1859), when he is reported as representing the Central Homeopathic Association of Paris in a libel case, which was brought against a Dr. Gallard for defaming homeopathy. Ollivier acted for the defense, and he delivered an impassioned presentation of the benefits of homeopathy, including a full history, ranking Samuel Hahnemann alongside Isaac Newton and Gottfried Leibniz,
---