Samuel Courtauld 1793 - 1881
September 14, 2008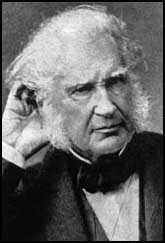 Samuel Courtauld 1793 - 1881 was an American born industrialist and Unitarian, chiefly remembered as the driving force behind the early 19th century growth of the Courtauld textile business in England.
Samuel Courtauld was a major financial contributor to John Chapman's Westminster Review.
The Courtauld family were descendants of Huguenots (French Protestant) refugees who ran a successful business in London as gold and silversmiths, before moving to America in the late 18th century.
Courtauld was the eldest son of Unitarian George Courtauld. Soon after Samuel's birth in Albany, New York, the family moved to England in 1794 and George established a textile business in north Essex at Pebmarsh – George Courtauld & Co – with his cousin Peter Taylor (1790-1850). By the time he was 17, Samuel Courtauld was managing his own silk mill in Braintree, Essex.
In 1818, George Courtauld returned to America, leaving Samuel Courtauld and Taylor to expand the business – now known as Courtauld & Taylor – by building further mills in Halstead and Bocking. In 1825 Courtauld and Taylor installed a steam engine at the Bocking mill, and then installed power looms at Halstead. The mills, however, remained heavily dependent on young female workers – in 1838, over 92% of his workforce was female.
Courtauld was strongly interested in politics. A supporter of the Whigs, he supported the 1832Reform Act, was involved in the Nonconformist campaign against the paying of church rates, and was an active supporter (particularly financially) of the Anti Corn Law League.
By 1850, Courtauld employed over 2,000 people in his three silk mills, and he had recruited partners including (in 1828) his brother, George Courtauld II (1802-1861) and – in 1849 - fellow Unitarian social reformer Peter Alfred Taylor (1819-1891 – son of Peter Taylor who died the following year).
By this time, Courtauld was, by any estimate, a very wealthy man but was also suffering from deafness. He planned to spend more time on his country estate Gosfield Hall near Halstead, but could not convince himself to retire, and continued to play an active role in the company until just before he died in March 1881.
His great nephew Samuel Courtauld (1876-1947) became chairman of the Courtauld company in 1921 but is chiefly remembered today as the founder of the Courtauld Institute of Art in London. Another great nephew, Stephen Courtauld, was also an arts patron and restored Eltham Palace in south east London.
Of interest:
'… A wide range of interests was shared by the core of vaccinationist authors and activists. William White, Garth Wilkinson *[James John Garth Wilkinson], and Isaac Pitman [Isaac Pitman] were already co-believers in the Swedenborgian New Church. White also shared the Pitman brothers' preoccupation with phonetic English and a universal language. Garth Wilkinson was the leading homoeopath of his day, and Charles Pearce [Charles Thomas Pearce - also a homeopath], too, was a renowned member of the English Association. F. W. Newman [Francis William Newman], Peter Alfred Taylor *{::}[Peter Alfred Taylor - nephew of Samuel Courtauld],* Jacob Bright__ [Jacob Bright], and G. Shaw Lefevre [[George John Shaw Lefevre 1st Baron Eversley](http://en.wikipedia.org/wiki/George_Shaw-Lefevre,1st_Baron_Eversley)]* were sympathizers with the feminist movement, the last three speaking with J. S. Mill [[John Stuart Mill](/archives/2008/08/19/john-stuart-mill-and-homeopathy/)] in the debate on the bill to reform married women's property rights in
Jacob Bright and F. W. Newman both took a stand against the Contagious Diseases Acts, and must have been gratified that Josephine Butler [[Josephine Elizabeth Butler](/archives/2008/11/07/josephine-elizabeth-butler/)] joined the Committee of the Mothers' Anti-Compulsory Vaccination League….' (Dorothy Porter and Roy Porter (1988). [_The politics of prevention: Anti­vaccinationism and public health in nineteenth__ __­century England](http://journals.cambridge.org/download.php?file=%2F17921764CA3008E9622439BCDBAB52D7B3F13journals_MDHMDH3203S0025727300048225a.pdf&cover=Y&code=b3428f2d37c33e833395fd739ff44a29). Medical History, 32, Pages 231­-252, and page 240. See also Benn Pitman, Sir Isaac Pitman: His Life And Labors, (reprinted by Kessinger Publishing, 1 Dec 2004). Page 89.)
---