The Mueller Surname and Homeopathy
September 07, 2008

The Mueller (Muller) surname was instrumental in supporting Samuel Hahnemann in the early days of homeopathy, and the Mueller name is intrinsically connected to the success of the establishment of homeopathy Worldwide.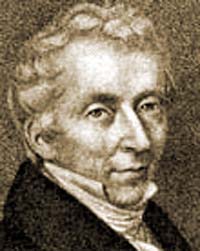 **Adam Heinrich Muller **1779 - 1829 was an influential theologian who was part of Emperor Francis I of Austria's entourage.
Adam Heinrich Muller was an enthusiastic advocate of homeopathy, and he did much to publicise it widely.
Adam Heinrich Muller was a German publicist, literary critic, political economist, theorist of the state and forerunner of economic romanticism. Muller was born in Berlin.
It was intended that he should study Protestant theology, but from 1798 he devoted himself in Göttingen to the study of law, philosophy, and natural science. Returning to Berlin, he was persuaded by his friend Friedrich Gentz to take up political science. After working for some time as referendary in the Kurmärkische Kammer in Berlin, he travelled in Sweden and Denmark, spent about two years in Poland, and then went to Vienna, where he was converted to the Catholic faith on April 30, 1805.
From 1806 to 1809, he lived at Dresden as tutor of a prince of the Saxe-Weimar family and lecturer on German literature, dramatic art, and political science. In 1808 he edited with Heinrich von Kleist the periodical Phoebus. In 1809, he returned to Berlin, and in 1811 to Vienna, where he lived in the house of Archduke Maximilian of Austria-Este and became the friend of Clemens Maria Hofbauer.
In 1813 he was appointed imperial commissioner and major of the rifle-corps in Tyrol, and took part in the wars for liberty and later on, as counsellor of the government, in the reorganization of the country. In 1815 he was called to Vienna, and went to Paris with the imperial staff.
On the conclusion of peace, he became Austrian consul general for Saxony at Leipzig, and agent for Anhalt and Schwarzburg. He edited here the periodicals Deutscher Staatsanzeiger (1816-1818) and Unparteiischer Literatur - und Kirchenkorrespondent, and attended the ministerial conferences at Carlsbad and Vienna (1819-1820).
In 1826, at the instance of Klemens Wenzel Prince von Metternich, he was ennobled as Ritter von Nittersdorf, was recalled to Vienna (1827), appointed imperial counsellor, and employed in the service of the chancellery.
He died in Vienna in 1829, aged 49…
In the field of literature and aesthetics, Muller belongs to the Romantic school. He is a Romanticist even in his specialty, politics and political economy. As Eichendorff says in his Geschichte der poetischen Literatur Deutschlands, Muller "mapped out a domain of his own, the application of Romanticism to the social and political conditions of life." Muller himself declares: "The reconciliation of science and art and of their noblest ideas with serious political life was the purpose of my larger works".
His chief work is the Elemente der Staatskunst, originating in lectures delivered before Prince Bernhard of Saxe Weimar and an assembly of politicians and diplomats at Dresden in the winter, 1808-09. It treats in six books of the state, of right, of the spirit of legislation in antiquity and in the Middle Ages, of money and national wealth, of the economical factors of the state and trade, of the relation between the state and religion.
Muller endeavoured to comprehend the connexion between political and social science, and, while using the historical method, to base them upon philosophy and religion. (Cf. the preface to the first volume of the Elemente, where he treats exhaustively the differences between his work and Montesquieu's De l'esprit des lois; cf. also the sixth book of this work, and the above-mentioned work of 1820.) With Edmund Burke, Friedrich von Gentz, Joseph de Maistre, and Karl Ludwig von Haller, he must be reckoned among the chief opponents of revolutionary ideas in politics.
In his work, Von der Notwendigkeit einer theologischen Grundlage der gesamten Staatswissenschaften (1820), Müller rejects, like Haller (Restauration der Staatswissenschaften, 1816), the distinction between constitutional and civil law (common law), which rests entirely on the false idea of the state's omnipotence. His ideal is medieval feudalism, on which the reorganization of modern political institutions should be modelled.
His position in political economy is defined by his strong opposition to Adam Smith's system of materialistic liberal (so called classical) political economy, or the so called industry system. He is thus also an adversary of free trade. In contrast with the economical individualism of Adam Smith, he emphasizes the ethical element in national economy, the duty of the state toward the individual, and the religious basis which is also necessary in this field.
Muller's importance in the history of political economy is acknowledged even by the opponents of his religious and political point of view. His reaction against Adam Smith, says Roscher (Geschichte der National-Ökonomik, p. 763), "is not blind or hostile, but is important, and often truly helpful."
The reactionary and feudalistic thought in Muller's writings, which agreed so little with the spirit of the times, prevented his political ideas from exerting a more notable and lasting influence on his age, while their religious character prevented them from being justly appreciated. However, Muller's teachings had long term effects in that they were taken up again by 20th century theorists of corporatism and the corporate state, for example Othmar Spann…
Augustus Muller 1784 - 1849 was the grandson of Johann Augustine Muller, who was a teacher of Samuel Hahnemann.
Augustus Muller was also a trained homeopath, having studied the subject under two of the most eminent doctors in Paris, and he is the founder of the Fr. Muller Medical College in Mangalore. (see 8th October 2011 A two-day conference on homeopathy was inaugurated at Father Muller Homeopathic Medical College… Presiding over the inaugural session Fr Patrick Rodrigues, director, FMCI said that every year there has been a 25 percent increase in the number of students opting for homoeopathy… http://www.daijiworld.com/news/news_disp.asp?n_id=118446)
Pope Pius IX postumously bestowed upon him the Apolistic Benediction in 1905,
Fr. Muller Medical College, located about a kilometre from the National Highway-17 (the Mumbai - Mangalore highway) at Kankanady in Mangalore, is a religious minority educational institution forming a part of Fr. Muller's Charitable Institutions. It is famous for being one of the oldest hospitals in Mangalore, a coastal town on the west coast of India with five other medical colleges to its credit.
Fr. Muller's Hospital, a well known household name, opened its doors to the people of South Canara in 1880. It started when Fr Augustus Muller S.J., a German Jesuit priest dispensed homeopathic medicines under a Banyan tree.
It then went on to become a Leprosy Hospital (now known as the St Joseph's Leprosy Hospital) and then into a fully fledged hospital. Its started the School of Nursing which offered Diploma in General Nursing and Midwifery (GNM) and later College Of Nursing which offered degree in Bachelor of Nursing Science.
The medical college started in 1991 with postgraduate courses and then went on to include other courses under its banner, including the Bachelors in Physiotherapy (1994-95) and then Bachelor of Medicine and Surgery (MBBS) course in 1999. Fr Mullers also boasts of a beautiful chapel - The St. Joseph's Chapel, inaugurated in 2005 - the Post-Centennial Silver Jubilee Year of Fr. Muller Charitable Institutions.

Clotar Moriz Mueller 1818 - 1877 was the son of Moritz Wilhelm Mueller and he was an early advocate of homeopathy, and an editor of a German homeopathic Periodical.
Clotar also submitted case histories to The British Journal of Homoeopathy in 1854, and to the Session of the American Institute of Homœopathy published in 1906, and many more papers and articles on homeopathy.
Clotar Mueller was active in proving remedies and his writings were influential in the spread of homeopathy.
Clotar Mueller helped Frantz Hartmann run the dispensary clinic at the homeopathic Leipsig hospital and present at the Liga World Homeopathic Convention:
Volume II, The History of Homeopathy, contains contributions both foreign and domestic. Appropriately enough, the first section is a 90 page history of homeopathy in Germany 1794-1875, including statistics about certain hospitals and dispensaries, written by Carl Gustav Puhlmann and Clotar Mueller.
Clotar Mueller wrote Der homöopathische Haus- und Familienarzt… _](http://books.google.com/books?id=rh84AAAAMAAJ&q=clotar+Muller&dq=clotar+Muller&lr=&ei=IEOwSKmlCpzayAS2tpGVBw&pgis=1), [_Kortfattet homøopathisk laegemiddellaere… , Die Quellen der Arzneimittellehre, Charakteristik von dreissig der wichtigsten homöopatischen Heilmittel behufs, and many articles and papers.

Gustav Adolph Mueller 1863 -
Gustav Adolph Mueller was born in Pittsburgh, Pennsylvania, was born November 10, 1863, in Cresline, Ohio, and was educated for the practice of medicine at Hahnemann Medical College of Chicago, receiving from that institution in 1885 the degree of M. D.
He is connected with the staff of the Pittsburgh Homeopathic Hospital, and is a member of the American Institute of Homeopathy, the Homeopathic Medical Society of the State of Pennsylvania and the Allegheny County Homeopathic Medical Society.

Hugbald Volker Muller 1921 - 2000
Hugbold Volker Muller discovered the significance of colour preferences. He worked from 1985 in order to adapt and perfect the idea of colour correspondence for our homeopathic art and science.
Ulrich Welte and colleagues have developed this work. He writes, "Case taking can acquire a new dimension, in a relaxed state the patient should look at the colour circle or spectrum, scan all the colours and then tell spontaneously in which area he feels best"
Explaining how disease corresponds to colour preference, Ulrich Welte states that "These vibrations 'dye' in the mind… Colour preference is of course not a disease but it may be connected to a diseases like a particular soil favouring growth of a particular weed".
According to Jan Scholten, Hugbold Volker Muller "discovered that not only has Conium a desire for darkness but also for the colour black. His intuition led him to the idea that every remedy will have its preference. He checked it and it turned out to be correct"…
The remedy lists do have some names which are unfamiliar, such as the Epstein Barr Virus Nosode (EBV-Nos). I asked the publisher and was told that Hugbold Volker Muller had developed some knowledge of new remedies, especially unusual nosodes, and that this information will be published in due course…
Hugbold Volker Muller began to assess cured patients for colour preferences nearly 20 years ago, using an existing colour reference book. He was able to confirm 26 remedies in his first publication. By the time he began to pass his information on to Ulrich Welte, he had confirmed 90 remedies.
Ulrich Welte worked for 13 years with colleagues like Herbert Sigwart to develop this system, and a retrospective study has been published.
Incidentally Hugbold Volker Muller also worked on styles of handwriting. The next step for Ulrich Welte will be to build upon more of Hugbold Volker Muller's work and relate colour preference to handwriting and then to relate handwriting to remedy selection…
Hugbold Volker Mueller from Cologne discovered a unique method for the use of color in homeopathy. He is the first homeopath to attribute many remedies to a specific color.
The "color of a remedy" was established purely clinical, i.e. from good cases and not from provings. The first hypothesis was that a favorite color represents an individual basic feeling. The second hypothesis was that the handwriting is another unique and direct expression of the individual, but a symptom of quite another kind (unfortunately not to be standardized so easily), and that these two together can be sufficient to determine a deep-acting remedy, if the remedy also covers the main directions of the pathology.
Detailed standardized color tests plus the handwritings of thousands of patients were collected (written on unlined paper, A4 size in Germany), and very good or deeply improved cases were compared.
Now these cases showed that people cured by the same remedy often revealed the same color and similar handwritings.
The specific colors were then taken as new repertory rubrics, and today, if a new patient gives one or two favorite colors, we can use these rubrics and look at all the remedies indicated by them.
If there is a remedy suggested, which could match the case, we can also look at the handwritings of all patients cured by this remedy. If they are of similar features, it is another strong pointer for this remedy.
All in all, including our cases, an estimated number of 50.000 or more homeopathic color tests have been performed, of which perhaps 10.000 cases have become relevant for the extraction of the remedy-colors. The definite choice was made only by the best cases of similar color and handwriting, and about 3000 cured or deeply improved patients contributed to this sifting process.
Up to now, about 280 remedies are well defined with a preferred color, and about 170 are under further testing. In our experience, we have verified Hugbold Volker Muller's hypotheses many times by fine cures. We have built on his experience and invented new tools to make the choice of the color easier and more reliable. Of course in the mentioned Indian cases the handwriting was not used. Here only the favorite color was applied as a symptom.
Josef Mueller 1773-1852 influenced Joseph Attomyr to become a homeopath when they met in the Curassier Regiment. Joseph Attomyr became a student of Josef Muller in Budapest after their military service.
Joseph Attomyr wrote: "Josef Mueller was born of poor parents on 22.12 1773, in Altenburg near Reinan in the Grand Duchy of Baden; he received his first instructions at Appenzell with the Benedictine monks, over whom the uncle of Mueller was placed as Abbott; this uncle must, however, have been a rough man, as Mueller could never forget his harshness.
His medical education Mueller received in Vienna in the Josephs Academy, and he graduated there as Doctor Chirurgiae under the chief army surgeon, Reinl. Among the professors of Mueller were several of the celebrities of the time as Adam Schmidt, Jos. Schmitt, Zimmermann (later converted to Homeopathy), also Castelliz and Zang.
After his graduation, Zang in his rough way came to Josef Mueller and said: "You have graduated as Doctor in an academy in which many an ass has received the same honor. I feel urged, to prevent your being mixed up with these fellows, to give you a special testimonial, which may be of use to you in your military career.
This testimonial was found among Josef Mueller's papers and was couched in the following terms: "This document testifies that Dr. J. Mueller, surgeon, during his years of study at the Josephs Academy, not only exhibited an exemplary moral deportment, but also distinguished himself through his geniality, industry, application and the abundance of his knowledges in the healing art. Prof. Zang.
Another testimonial given him by Prof. Castelliz seems to show that Josef Mueller was the first and most distinguished among his fellow pupils, for this testimonial contains the following highly laudatory passage: "Ut propter insignia scientiarum suarum specimitum ad lectos aegrotorum, turn in examinibus privatis, quaro omnibus tribus rigorosis non moss singularem eminentiae notam verum stiam primos ac egregios condiscripulos sil vindicasset locum, fateor lubens "
So well educated a young physician could not fail to find many occasions to distinguish himself in the French war, that he was decorated with two medals, with the Royal Bavarian Sanitary Silver Medal and with the Austrian Golden Medal of Sonor. The latter was given to Josef Mueller as an acknowledgment of the excellent manner in which he conducted the hospital in Troyes, where he remained behind with his patients after the retreat of the Austrian troops.
After his return from France, Josef Mueller came to Bohemia where he heard much talk of cures effected by Matthias Marenzeller, according to an entirely new method of cure. Josef Mueller sent to Prague for books concerning Homeopathy, and was quite taken back when he only received three books, the Organon and two volumes of Samuel Hahnemann's _Materia Medica _Pura. Thus Josef Mueller in 1817 began his homeopathic studies, which he prosecuted with love and perseverance till his death.
Soon after this Josef Mueller came with his regiment to Vienna, where he drew much attention to himself through his homeopathic cures, and was fully occupied, especially among the higher classes. This brought Josef Mueller much money, but also a good deal of annoyance, for the police was frequently after him, as it is always dreadfully afraid of everything new.
From Vienna, Josef Mueller came to Hungary, being not a little troubled by the interdict of Homeopathy that it had been pronounced in the meantime (1818), nevertheless, he was not thereby deterred from continuing his homeopathic experiments in his hospital. Soon Josef Mueller's name became known also in Hungary to the physicians and patients, and several of the oldest homeopathic physicians of Hungary owe to him their first impulse to the study of Homeopathy.
The district physician, Gyorgy Forgo in Pesth, commenced about the year 1820 to make experiments according to the directions of Samuel Hahnemann, an undertaking at that time fraught with much danger for a public official, when, two years before, Homeopathy had been prohibited in the Austrian States. Gyorgy Forgo entered into correspondence with Josef Mueller and frequently consulted him about his patients.
The interdict against Homeopathy could be easily ignored or circumvented by Josef Mueller in his private practice, but this was not so easy in the regimental hospital on account of the inspection by the staff surgeons. During such inspections, Josef Mueller had to pass through numerous conflicts. In the beginning he would help himself by putting a little flask of water colored with some harmless vegetable juice by the side of every patient. Since at these visitations of the hospitals more weight is usually laid on everything else than on therapeutics, so for sheer reports, proceedings, statistics of the patients and lists of conducts there was not enough time to inquire into the contents of the colored water-bottles.
In the year 1824 Staff Surgeon Braun came to Dotis to inspect the hospital of Josef Mueller. Braun take the liberty of telling Josef Mueller that he had heard that Josef Mueller treated all his patients with one and the same kind of drops, an he threatened to institute a complaint against him. This was too much for Josef Mueller's patience. A violent scene follows, Josef Mueller explained to Braun the uniformity of his drops, an while enumerating the leading tenets of Homeopathy he drew autithetically a very glaring silhouette of allopathy. The unexpected result of this controversy was that Braun, who then was 72 years old, began the study of Homeopathy and practiced the same with affectionate zeal till his life terminated some 15 years later.
When I had finished my course for medical practitioners in the Josephs Academy, having heard Homeopathy well abused all the while, and having abused it myself, I was not a little afraid when I heard that I was appointed as Assistant Surgeon in a regiment in which the noted homeopath Josef Mueller was Chief Surgeon. In quite a desperate state of mind I entered on my journey to Josef Mueller; but now I should be in a state of desperation if I has not made this journey.
Of such a nature are the notions which met with respect to that which they call fortune! Josef Mueller received me pretty coldly, for he was a strict officer, much feared by those under him. On the same day I visited the hospital with Josef Mueller I had not then seen many hospitals, nevertheless, I noticed many points at once by which Josef Mueller's hospital differed from those in Vienna. Here and there I saw very small powders lying by the side of the patients, and these powders made me quake. During the examination of the patients Josef Mueller dictated to me several prescriptions which I entered into the blank for the examination of patients.
After the termination of the visitation, Josef Mueller told me that the prescribed mixtures need not be made, he would instead of them give me medicines which I should give to the patients. After half an hour I got quite a number of powders from Josef Mueller's residence, opened several and found one looking just like the other, while all strongly smelled of alcohol. I shook my head, which I supposed to be a very wise one, and distributed the powders according to Josef Mueller's directions.
In the course of several months I saw cases of pneumonia, of Hungarian malarial fever, of bullular erysipelas with delirium, chancre, etc., cured with these powders, and scales fell from my eyes. I had to confess that Josef Mueller's hospital was at least as good as those of Vienna. But this did not console me, for a fact does not satisfy us unless we also understand the reason why. I came to the idea that the alcohol effected the cure, and liked to have suffered shipwreck on the cliff of a universal panacea. I was beginning to doubt and to he sorry that I had chosen the study of medicine.
I must have looked very ill humored and sad during this state of mind, for Josef Mueller told me one day that I looked as if I was sick or in love. I drew frightened as if caught in an evil act, and confessed to him frankly my mental torture. After this day Josef Mueller entered on medical explications after every medical visit; I opposed him as well as I knew how, but soon found out that I was no match to Josef Mueller's sharp dialectic.
I now began to study with burning zeal the homeopathic writings, I experimented with medicines on myself, commenced to treat patients homeopathically, and to look at the results in Josef Mueller's hospital, with other eyes. Just as I had become fully convinced, I received order to return to Vienna to enter on the higher medical course in the Josephs Academy. Josef Mueller advised me not to talk about Homeopathy in Vienna. The advice was good, but my youthful mind, glowing with enthusiasm for my conviction acquired after so much striving, did not follow it, as many of my readers may know. I acknowledge this without feeling sorry for it. It caused me a good deal of suffering, but I am contented and would again in the same way in a similar case.
Thus I was introduced by our deceased friend Josef Mueller and by the aid of practice into Homeopathy. Few homeopathic physicians have been so much favored on entering on their homeopathic studies. Almost of them at first gave on their own responsibility - with hesitation and trembling Aconite in inflammation, and spent many a night without sleep from anxiety, or dreamed of venesection during their uneasy sleep. I was brought to my conviction without such mental torture through Josef Mueller's hospital, which contained on an average 40 patients. My convictions were, therefore, established more quickly and lastingly, and I may thus have developed my determination, yea, obstinacy, in defending the doctrines of Samuel Hahnemann.
Josef Mueller's health had been very frail from his childhood. While a child he suffered of rhachitis and his spine ever retained a leaning to the right. In latter years Josef Mueller suffered from a very painful sciatica, from which he freed himself, as he supposed, by tokay wine. Nine years ago, while playing cards in my house, he had an apopletic stroke, from which he, however, perfectly recovered a few days later. I was afraid the stroke might return and entreated him to leave off wine, strong cigars and coffee after dinner. This he did for a time, but soon he returned to his old customs. The wine he especially claimed for himself as the Lac senum (old men's milk), but he always partook of it in great moderation and mixed with water.
In the beginning of this year Josef Mueller fell down in his room and broke his upper arm; he himself did not know what had caused this fall, for he said that he neither became dizzy nor did he perceive any obstruction on the floor. The broken bone healed, and no fever nor any ill symptoms about the broken place manifested themselves, and yet his vital force continually diminished and an obstinate hiccough appeared (Josef Mueller called it the language of death) and some sopor and a gentle sleep terminated his life in February, 1852, in the 79th year of his life.
Josef Mueller was of a middle stature, his manners ever those of the higher circles, to which in the last years his intercourse was almost confined; in his person and his surroundingness there was ever a sphere of neatness and cleanliness, even in his advanced age. Strict probity was a predominant trait in his character. In the choice of his friends he was particular and in the defense of his views somewhat obstinate. There was besides this a certain indolence in his character, which became annoying to himself in his advanced age and about which he oft lamented; he perceived the ill consequences of it and yet he could not overcome it.
He disliked living in Pesth and in Hungary as a whole, yet he lived there for thirty two years, and although he wrote to me every year that he would come over to me to Pressburg yet he never did so owing to his indolence. Josef Mueller left behind him a considerable fortune, which would have been much larger if he had not allowed it to lie idle for years, - also from indolence.
Homeopathy was the joy of his life and he reverenced Samuel Hahnemann as one of the few benefactors of the human race. As a physician he remained absolutely faithful to the first teachings of Samuel Hahnemann, and he bitterly inveighed against the schism that arose. As a physician he had remarkable success and he succeeded in cures which surprised himself, especially in the first years of his thirty five years of homeopathic practice.
Many thousands will bless the memory of Josef Mueller, but no one with more love and gratitude than myself. Joseph Attomyr (Allg. hom. Zeit., vol. 44, p. 6. Pierre Augustus Rapou, vol. 1, pp. 246-9.)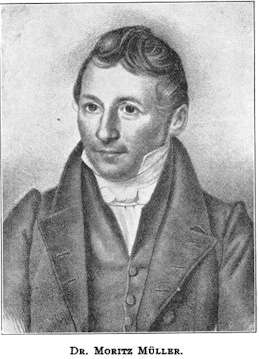 Moritz Wilhelm Mueller (Muller) 1784
Samuel Hahnemann said that the epidemic was not scarlet fever, and independently, so did Moritz Wilhelm Mueller, thus dissolving the attack on homeopathy.
Ironically, it was through belladonna and the homeopathic treatment of scarlet fever that first converted Moritz Wilhelm Mueller, a general practitioner in Voigtland, to homeopathy in the first instance.
Characteristically, Samuel Hahnemann attacked Moritz Wilhelm Mueller, though he does refer to him in his letters as 'my colleague'.
The writings of Moritz Wilhelm Mueller and others spread homeopathy across Europe and beyond.
Moritz Wilhem Mueller was active in the Homeopathic Society in 1832 and became a director of the Leipsig Society in 1833, and he treated the famous publisher Carl Heinrich Reclam 1776 - 1844, thus even more books on homeopathy were published.
Moritz Wilhelm Mueller was instrumental in the opening of the homeopathic Leipsig hospital in 1833, and he wrote to Samuel Hahnemann to inform him of developments concerning this hospital. However, he resigned as Director of the Leipsig Hospital shortly thereafter.
Mortiz Wilhem Mueller and Samuel Hahnemann had a final falling out in 1834 when Samuel Hahnemann visited Leipsig Hospital, and Moritz Wilhelm Mueller attacked Samuel Hahnemann in his writings.
The earliest followers of homeopathy were attracted by Samuel Hahnemann since 1812, when he started delivering lectures at the Leipzig University. From the very beginning it became evident that no unity amongst homeopaths was possible.
Samuel Hahnemann and an insignificant part of his followers insisted that only pure homeopathy should be applied, whilst most new converts, headed by the future Director of the Leipzig homeopathic hospital, Moritz Wilhelm Mueller did not wish to give up allopathy altogether.
To avoid the split, both camps signed on August 2nd, 1833 the document proposed by Samuel Hahnemann, which established the main principles of homeopathy and its application:
Strict and unqualified adherence to the principle of the Similia similibus and consequently
Avoidance of all antipathetic methods of treatment [in which symptoms are confronted with their opposites in order to suppress them, according to 23 of the Organon of Medicine], wherever it is possible to attain the objective by homeopathic remedies; and therefore the greatest possible
Avoidance of all positive remedies [i.e., having a certain effect] and those weakening by their after-effect, consequently the avoidance of all bleeding, of all evacuation upwards and downwards, of all remedies causing pain, inflammation or blisters, of burning, of punctures, etc.
Avoidance of all remedies selected and destined only to stimulate, whose after-effect is weakening in every case. […]
By the inclusion of the words "wherever it is possible" and "greatest possible", the "free" Leipzig members, were enabled to sign the agreement, which Samuel Hahnemann signed first.
Moritz Wilhelm Mueller […], in order not to be regarded as the inciter or seducer of others, […] signed last of all.
Of interest:
Originating from the Muller Göppingen company (founded in 1921), Staufen Pharma has been producing homeopathic (and spagiric) simplexes and complexes since 1956…
With the establishment of the "Homòopatische Zentral Apotheke (Central Homeopathic Pharmacy)" in Göppingen around 1865, the foundations for one of the first homeopathic pharmacies in Württemberg were laid. It was from this location that pharmacist Carl Müller founded the "Müller Göppingen chemical–pharmaceutical factory" in 1921.
In 1956, the preparation of homeopathic and spagiric medicinal products passed into the hands of Staufen Pharma.
---