Ludwig van Beethoven 1770 - 1827
September 06, 2008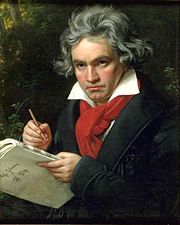 Ludwig van Beethoven 1770 - 1827 was a patient of homeopath Anton Georg Braunhofer, for whom he wrote Canon in four parts in C Major Doktor, sperrt dad Tor dem Tod and Cannon in two parts in C Major Ich war hier, Doktor _and Abendlied unterm gestirnten Himmel_.
Towards the end of Beethoven's life, homeopathy was growing in popularity, especially in Vienna. Though prohibited for a while in Austria, this prohibition was widely ignored, and by 1849, over 50 homeopaths practiced in Vienna alone.
By 1846, in spite of (or because of) every sort of persecution, homeopathy had spread far and wide, and the Sisters of Charity hospital, built by Beethoven's patron Maximilian Franz, was under the control of homeopaths who were treating many thousands of patients there, and in their sister hospitals all across Austria.
Beethoven was recommended to homeopath Anton Georg Braunhofer by his friend Ignaz Schuppanzigh, because their mutual friend Nikolaus Zmeskall had been cured of his gout by homeopathy.
In 1823, Beethoven's music publisher Tobias Haslinger also recommended homeopathy to Beethoven, a recommendation backed up by Beethoven's nephew Karl, who comments 'Homeopathy is now fashionable. Braunhofer prescribed homeopathic doses because he follows fashions in medicine'.
Beethoven consulted Obersicht der Heilquellen Teutschlands (Hufeland's Art of Prolonging Life) by Christoph Wilhelm von Hufeland, and there are unconfirmed claims that Beethoven was a patient of Samuel Hahnemann. Beethoven certainly knew about Samuel Hahnemann from his friend Johann Gottlob Friedrich Wieck who was a patient of Samuel Hahnemann.
Beethoven also attended many spas and natural medical centres in Teplitz, Marienberg and Driburg.
Beethoven was a friend of Johann Wolfgang von Goethe, who was an ardent admirer of Samuel Hahnemann.
Beethoven knew many people who were interested in, advocates of, patients of, or who would go onto become associated with homeopathy, including Tsar Alexander I, Henry William Paget Marquess of Anglesey (British Ambassador to Vienna), Bettina von Arnim, Francis I of Austria, Jerome Bonaparte, The  Brentano Family, Domenico Carlo Maria Dragonetti, Prince Nikolaus II Miklos Ferdinand Esterhazy, the family Clam Gallas, Ernst Theodor Wilhelm Hoffmann, Franz Liszt, Ignaz Moscheles, Louis Spohr,
However, Beethoven, like Robert Alexander Schumann and Franz Liszt, was possibly killed by his allopathic doctor's lead based medicaments. Beethoven also consulted many allopaths over his lifetime, and he was known to refer to them as 'medical asses'.
Beethoven was a German composer and pianist. He was a crucial figure in the transitional period between the Classical and Romantic eras in Western classical music, and remains one of the most respected and influential composers of all time.
Born in Bonn, then in the Electorate of Cologne (now in modern-day Germany), he moved to Vienna in his early twenties and settled there, studying with Joseph Haydn and quickly gaining a reputation as a virtuoso pianist. Beethoven's hearing gradually deteriorated beginning in his twenties, yet he continued to compose masterpieces, and to conduct and perform, even after he was completely deaf…
Beethoven was attracted to the ideals of the Enlightenment and by the growing Romanticism in Europe. He initially dedicated his third symphony, the Eroica (Italian for "heroic"), to Napoleon, believing that the general intended to sustain the democratic and republican ideals of the French Revolution.
But in 1804, when Napoleon's imperial ambitions became clear, Beethoven took hold of the title-page and scratched the name Bonaparte out so violently that he made a hole in the paper. He later changed the work's title to "Sinfonia Eroica, composta per festeggiare il sovvenire d'un grand'uom" ("Heroic Symphony, composed to celebrate the memory of a great man"), and he rededicated it to his patron, Prince Joseph Franz von Lobkowitz, at whose palace it was first performed.
The fourth movement of his Ninth Symphony features an elaborate choral setting of Johann Christoph Friedrich von Schiller's Ode An die Freude ("Ode to Joy"), an optimistic hymn championing the brotherhood of humanity. Since 1972, an orchestral version of this part of the fourth movement, arranged by the conductor Herbert von Karajan, has been the European anthem as announced by the Council of Europe.
In 1985 it was adopted as the anthem of the European Community/European Union.
Scholars disagree about Beethoven's religious beliefs, and about the role they played in his work: see Ludwig van Beethoven's religious beliefs. It has been asserted, but not proven, that Beethoven was a Freemason.
Like the earlier composer Handel, Beethoven worked freelance—arranging subscription concerts, selling his compositions to publishers, and gaining financial support from a number of wealthy patrons—rather than seeking out permanent employment by the church or by an aristocratic court…
Beethoven is acknowledged as one of the giants of Western classical music; occasionally he is referred to as one of the "three _B_s" (along with Bach and Johannes Brahms) who epitomize that tradition. He was also a pivotal figure in the transition from 18th century musical classicism to 19th century romanticism, and his influence on subsequent generations of composers was profound…
Beethoven was reputedly a member of the Rosicrucians.
Ludwig van Beethoven died on March 26, 1827, after four months of misery on a dirty straw mattress in Vienna. What brought on that downward spiral? Lead poisoning accidentally caused by his own doctor, says a journal article published today.
The article in the Beethoven Journal, published by San Jose State University's Ira F. Brilliant Center for Beethoven Studies, lays the composer's crash at the feet of Andreas Wawruch and his bedside remedies. His demise at 56 put an end to years of depression and mysterious physical ailments, but, according to the article, it didn't have to happen when it did. For musicologists, the very idea that Beethoven's death was an accident, and that his life might possibly have been extended, is shocking…
Did someone kill Beethoven? A Viennese pathologist claims the composer's physician did - inadvertently overdosing him with lead in a case of a cure that went wrong. Other researchers are not convinced, but there is no controversy about one fact: The master had been a very sick man years before his death in 1827.
Previous research determined that Beethoven had suffered from lead poisoning, first detecting toxic levels of the metal in his hair and then, two years ago, in bone fragments. Those findings strengthened the belief that lead poisoning may have contributed - and ultimately led - to his death at age 57…
Of interest:
Beethoven also dedicated Gesänge für Singstimme und Klavier op. 75, Nr. 2 "Neue Liebe, neues Leben", Überprüfte Abschrift, Fragment to Bettina von Brentano (Bettina von Arnim).
---