Mary Wollstonecraft Shelley 1797 - 1851
August 26, 2008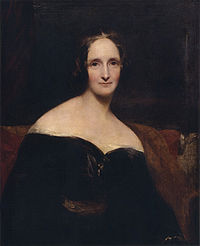 [Mary Wollstonecraft **Shelley](http://en.wikipedia.org/wiki/Mary_Shelley) 1797 - 1851 and her husband **Percy Bysshe Shelley 1792 - 1822 were amongst the influential movers and shakers of Victorian England. Their legacy for British fiction is immense.
Mary Shelley and her children used homeopathy and consulted homeopathic physicians.
Percy and Mary Shelley's son Percy and his wife Jane, were 'true believers in homeopathy', and they called in a homeopathic physician, Thomas Southwood Smith, (who Mary Shelley had recommended to her friend Emily Dunstan in 1847) to see Mary Shelley just before her death.
However, Mary Shelley was curious to try homeopathic remedies and the water cure, and she had also taken homeopathic remedies in the winter of 1849-50, which eased her convulsions and rheumatic attacks.
Mary Shelley declared:
I ought to ascribe the _very _much better that I am than last year, to homeopathic medicine…
Both Percy Bysshe and Mary Shelley were strong advocates of vegetarianism. Shelley wrote several essays on the subject, the most prominent of which being "A Vindication of Natural Diet" and "On the Vegetable System of Diet".
Mary Shelley 1797 – 1851 was a British novelist, short story writer, dramatist, essayist, biographer, and travel writer, best known for her Gothic novel Frankenstein: or, The Modern Prometheus (1818).
She also edited and promoted the works of her husband, the Romantic poet and philosopher Percy Bysshe Shelley.
Her father was the political philosopher William Godwin, and her mother was the philosopher and feminist Mary Wollstonecraft.
After Mary Godwin's mother died giving birth to her, she and her older half-sister, Fanny Imlay, were raised by her father. When Mary was three, William Godwin married his neighbour, Mary Jane Clairmont.
William Godwin provided his daughter with a rich, if informal, education, encouraging her to adhere to his liberal political theories.
In 1814, Mary Godwin fell in love with one of her father's political followers, the married Percy Bysshe Shelley. Together with Mary's stepsister, Claire Clairmont, they left for France and travelled through Europe; upon their return to England, Mary was pregnant. Over the next two years, she and Percy faced ostracism, constant debt, and the death of their prematurely born daughter. They married in late 1816 after the suicide of Percy Shelley's first wife, Harriet.
In 1817, the couple famously spent a summer with Lord Byron, John William Polidori, and Claire Clairmont near Geneva, Switzerland, where Mary conceived the idea for her novel Frankenstein.
The Shelleys left Britain in 1818 for Italy, where their second and third children died before Mary Shelley gave birth to her last and only surviving child, Percy Florence.
In 1822, her husband drowned when his sailing boat sank during a storm in the Bay of La Spezia. A year later, Mary Shelley returned to England and from then on devoted herself to the upbringing of her son and a career as a professional author.
The last decade of her life was dogged by illness, probably caused by the brain tumour that was to kill her at the age of 53.
Mary Shelley was married to Percy Bysshe Shelley 1792 – 1822 who was one of the major English Romantic poets and is widely considered to be among the finest lyric poets of the English language.
He is perhaps most famous for such anthology pieces as Ozymandias, Ode to the West Wind, To a Skylark, and The Masque of Anarchy.
However, his major works were long visionary poems including Alastor, Adonais, The Revolt of Islam, Prometheus Unbound and the unfinished The Triumph of Life.
Shelley's unconventional life and uncompromising idealism, combined with his strong skeptical voice, made him an authoritative and much denigrated figure during his life and afterward.
He became the idol of the next two or three generations of poets, including the major Victorian and pre-Raphaelites poets Robert Browning, Alfred Lord Tennyson, Dante Gabriel Rossetti, Algernon Charles Swinburne, as well as William Butler Yeats and poets in other languages such as Jibanananda Das and Subramanya Bharathy.
He was also admired by Karl Marx, Henry Stephens Salt, and Bertrand Russell. Famous for his association with his contemporaries John Keats and Lord Byron, he was also married to novelist Mary Shelley…
Distracted by political events, he visited Ireland shortly afterward in order to engage in radical pamphleteering. Here he wrote his Address to the Irish People and was seen at several nationalist rallies. His activities earned him the unfavourable attention of the British government…
On July 8, 1822, less than a month before his 30th birthday, Percy Bysshe Shelley drowned in a sudden storm while sailing back from Livorno to Lerici in his schooner, Don Juan. Percy Bysshe Shelley claimed to have met his Doppelgänger, foreboding his own death…
There is a mass of evidence, though scattered and contradictory, that Shelley may have been murdered for political reasons. Previously, at his cottage in Tann-yr-allt in Wales, he had been surprised and apparently attacked by a man who may have been an intelligence agent…
Shelley's mainstream following did not develop until a generation after his passing. This differed from Lord Byron, who was popular among all classes during his lifetime despite his radical views.
For decades after his death, Shelley was mainly only appreciated by the major Victorian poets, the pre-Raphaelites, the socialists and the labour movement. One reason for this was the extreme discomfort with Shelley's political radicalism which led popular anthologists to confine Shelley's reputation to the relatively sanitised 'magazine' pieces such as Ozymandias or Lines to an Indian Air.
---