Edmund William Gosse 1849 - 1928
August 24, 2008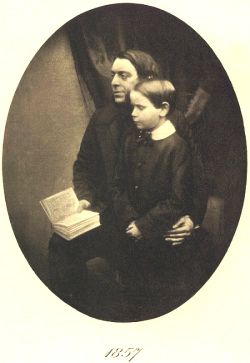 Edmund William Gosse 1849 – 1928 was an English poet, author and critic, the son of Philip Henry Gosse and Emily Bowes.
Edmund William Gosse was married to Ellen Nellie Epps (a close friend of Siegfried Sassoon's mother) whose brother Washington Epps was a famous homeopath.
Ellen Nellie Epps was the daughter of George Napoleon Epps. John Epps, Ellen Nellie Epps's uncle in law, was a famous homeopath, and James Epps, and another of Ellen Nellie Epps's uncle in law's was the famous homeopathic chemist.
Edward William Gosse was a friend of Aubrey Vincent Beardsley, Henry James junior, Dante Gabriel Rossetti and many others.
Edmund Gosse, poet and man of letters, was introduced to the Rossettis by William Bell Scott in 1870 (William Michael Rossetti, Roger W. Peattie (Ed.), Selected letters of William Michael Rossetti, (Pennsylvania State University Press, 1990). Page 333).
Ellen Elliott Epps was a school friend of William Bell Scott's wife. William Bell Scott introduced the Epps family to William Michael Rossetti. Ellen Elliott Epps was the wife of John Epps (uncle and aunt in laws to Edmund and Ellen Nellie Epps Gosse).
Edmund Gosse's father was Philip Henry Gosse placed his wife Emily under the care of John Epps for her breast cancer after previously following the treatment plan of a mysterious Dr. F.
Dr. F was later identified as Jesse Weldon Fell, an allopath who was one of the founders of the New York Academy of Medicine. Jesse Weldon Fell was dismissed from his profession for association with a Dr. Gilbert and his new cancer cure (L R Croft, Edmund Gosse and the "new and fantastic cure" for breast cancer. Med Hist. 1994 April; 38(2): 143–159, (Department of Biological Science, University of Salford, 1994). Page 149).
This debacle resulted in Jesse Weldon Fell moving to England. In England, the allopaths rapidly took up with Jesse Weldon Fell's cancer cure, incorporating it into The Middlesex Hospital where the allopaths experimented on the poor.
Jesse Weldon Fell's American associates remarked how startled they were that Jesse William Fell managed to work 'some hocus pocus' over the authorities at The Middlesex Hospital in order to gain access to their patients, ably abetted by The Times, which published an article extolling Jesse Weldon Fell's new cancer treatment, and of course The Lancet which praised the Consultants at The Middlesex Hospital for their initiative.
The Lancet had to retract this praise when it became clear that Jesse Weldon Fell's patients were dying from his 'cure'. Emily Gosse died one month after her treatment by Jesse Weldon Fell.
The resultant storm which descended on Jesse Weldon Fell's head as a result, caused The Lancet to turn a full circle in its attack, closely followed by the British Medical Journal. However, the staff at The Middlesex Hospital continued to defend Jesse Weldon Fell who rose to pre-eminence and fortune as a result.
Jesse Weldon Fell returned to America a wealthy man, a friend to Abraham Lincoln.
Emily underwent this radical alternative treatment for breast cancer, and was brought to homeopath John Epps only at the end, so his homeopathic treatment eased her pain, but the end was by then inevitable and Emily infortunately died. She is buried in Abney Park Cemetary in Stoke Newington.
Edmund Gosse worked as assistant librarian at the British Museum from 1867, and in 1875 became a translator at the Board of Trade, a post which he held until 1904.
In the meantime, he published his first volume of poetry, On Viol and Flute (1873) and a work of criticism, (Studies in the Literature of Northern Europe (1879).
Edmund Gosse and Robert Louis Balfour Stevenson first met while teenagers, and after 1879 when Robert Louis Balfour Stevenson came to London on occasion he would stay with Edmund Gosse and his family. Edmund Gosse became acquainted with the pre-Raphaelites and Algernon Charles Swinburne.
Edmund Gosse became, in the 1880s, one of the most important art critics dealing with sculpture (writing mainly for the Saturday Review) with an interest spurred on by his intimate friendship with the sculptor Hamo Thornycroft.
Edmund Gosse would eventually write the first history of the renaissance of late Victorian sculpture in 1894 in a four-part series for the Art Journal, dubbing the movement the New Sculpture.
From 1904, Edmund Gosse was librarian of the House of Lords, where he exercised considerable influence. He wrote for the Sunday Times, and was an expert on Thomas Gray, William Congreve, John Donne, Jeremy Taylor, and Coventry Kersey Dighton Patmore.
Edmund Gosse can also take credit for introducing Ibsen's work to the British public. His most famous book is the autobiographical Father and Son, about his troubled relationship with his Plymouth Brethren father, Philip, which was dramatised for television by Dennis Potter…
In later life, Edmund Gosse became a formative influence on Siegfried Sassoon, whose mother was a friend of Gosse's wife, Ellen Nellie Epps, and whose uncle, Hamo Thornycroft, was Edmund Gosse's lifelong friend.
Edmund Gosse was also closely tied to figures such as Algernon Charles Swinburne, John Addington Symonds, and Andre Gide.
Edmund Gosse noticed the talent of Sarojini Devi. However, advised her to abjure 'western feeling and imagery' and instead adopt the Indian idiom. Sarojini Devi took that advice and thenceforth wrote on the variegated sights, sounds and smells of India… Sarojini Devi's son, Jaisoorya was a M.D. in allopathy but became a nationally renowned homeopath.
Of interest: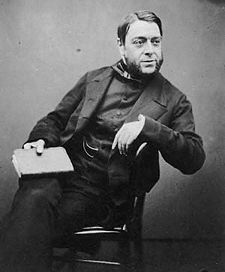 Philip Henry Gosse 1810 – 1888 was an English naturalist and popularizer of natural science, virtually the inventor of the sea-water aquarium, and a painstaking innovator in the study of marine biology.
Philip Henry Gosse is perhaps best known today as the author of Omphalos, an attempt to reconcile the immense geological ages presupposed by Charles Lyell with the biblical account of creation.
After his death, **Philip Henry Gosse** was also caricatured as a despotic and fanatically religious father in Father and Son (1907), the literary masterpiece of his son, poet and critic Edmund Gosse.
In the months following Emily's death, Philip Henry Gosse worked with remarkable diligence on a book that he may have viewed as the most important of his career.
Although a failure both financially and intellectually, it is the book by which he is best remembered. Philip Henry Gosse believed that he had discovered a theory that might neatly resolve the seeming contradiction in the age of the earth between the evidence of God's Word and the evidence of His creation as expounded by such contemporary geologists as Charles Lyell…
In 1857, two years before the publication of Charles Darwin's, Origin of Species, Philip Henry Gosse published Omphalos: an Attempt to Untie the Geological Knot and thereby created what has been called the Omphalos hypothesis.
---