Robert Graves 1895 - 1985
August 22, 2008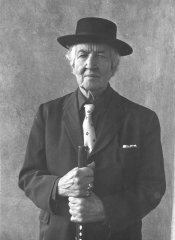 Robert **Ranke **Graves 1895 – 1985 was an English poet, translator and novelist. During his long life, he produced more than 140 works.
He was the son of the Anglo-Irish writer Alfred Perceval Graves and Amalie von Ranke, a niece of the famous German historian Leopold von Ranke. He was the brother of the author Charles Patrick Graves and half-brother of Philip Perceval Graves.
Robert Graves and his lover Laura Riding both took homeopathic remedies.
Robert Graves was also a friend of Indries Shah,
The diary of Robert Graves reveals that he purchased his homeopathic remedies from Epps Thatcher, the famous homeopathic chemists, and Robert Graves writes:
May 1 Wednesday - Rose 6.30. Letter to Gordon asking him to bring Gamage boat, cheque to Gamage for boat. Letter to Dr Brown Philadelphia about Claudius, Xenophon, homeopathy…
Sunday May 26 - Laura woke up at 5 with hugely swollen lip. Called me. Went into garden & found a spring onion. She rubbed in on, took Ledum homeopathically and recovered. Mosquito?
Sunday April 4 1937 - Am taking perloids homeopathic remedy KG again: the boil, still there, seems slightly better…
Monday Oct 5 - Head & stomach ache. Took homeopathic camphor & aconite.
July 8th Monday - To Epps Thatcher homeopathic chemist. KG for camphor.
Robert Graves was a close friend of Siegfried Sassoon and Wilfred Owen.
Robert Graves considered himself a poet first and foremost. His poems, together with his translations and innovative interpretations of the Greek Myths, his memoir of the First World war, Good-bye to All That, and his historical study of poetic inspiration, The White Goddess, have never been out of print.
He earned his living from writing, particularly popular historical novels such as I, Claudius, The Golden Fleece, and Count Belisarius. He also was a prominent translator of Classical Latin and Ancient Greek texts; his versions of The Twelve Caesars and The Golden Ass remain popular today for their clarity and entertaining style.
Graves was awarded the 1934 James Tait Black Memorial Prize for both I, Claudius and Claudius the God.
At the outbreak of World War I in August 1914, Graves enlisted almost immediately, taking a commission in the Royal Welch Fusiliers (RWF). He published his first volume of poems, Over the Brazier, in 1916.
He developed an early reputation as a war poet, and was one of the first to write realistic poems about his experience of front line conflict. In later years he omitted his war poems from his collections, on the grounds that they were too obviously 'part of the war poetry boom'.
At the Battle of the Somme he was so badly wounded he was expected to die, and indeed was officially reported as died of wounds. He gradually recovered, however, and apart from a brief spell back in France, he spent the remainder of the war in England.
One of Graves's closest friends at this time was the poet Siegfried Sassoon, who like Graves was an officer in the RWF. In 1917 Siegfried Sassoon tried to rebel against the war by making a public anti-war statement. Graves, who feared Siegfried Sassoon could face a court martial, intervened with the military authorities and persuaded them that he was suffering from shell shock, and to treat him accordingly.
As a result Siegfried Sassoon was sent to Craiglockhart, the military hospital near Edinburgh, where he was treated by W. H. R. Rivers and met fellow patient Wilfred Owen. Graves also suffered from shell shock, or neurasthenia as it is sometimes called, although he was never hospitalised for it.
Graves's biographies document the story well, and it is fictionalised in Pat Barker's novel Regeneration. The intensity of their early relationship is nowhere demonstrated more clearly than in Graves's collection Fairies and Fusiliers (1917), which contains a plethora of poems celebrating their friendship. Siegfried Sassoon himself remarked upon a "heavy sexual element" within it, an observation supported by the sentimental nature of much of the surviving correspondence between the two men.
Through Siegfried Sassoon, Graves also became friends with Wilfred Owen, whose talent he recognised. Wilfred Owen attended Graves's wedding to Nancy Nicholson in 1918, presenting him with, as Graves recalled, "a set of twelve Apostle spoons".
Following his marriage and the end of the First World War, Graves belatedly took up his place at St John's College, Oxford. He later attempted to make a living by running a small shop, but the business soon failed.
In 1926 he took up a post at Cairo University, accompanied by his wife, their children, and the poet Laura Riding. He returned to London briefly, where he split up with his wife under highly emotional circumstances (at one point Laura Riding attempted suicide) before leaving to live with Laura Riding in Deià, Majorca.
There they continued to publish letterpress books under the rubric of the Seizin Press, founded and edited the literary journal Epilogue, and wrote two successful academic books together: A Survey of Modernist Poetry (1927) and A Pamphlet Against Anthologies (1928); both had great influence on modern literary criticism, particularly new criticism.
In 1927, he also published Lawrence and the Arabs, a commercially successful biography of T. E. Lawrence. Good-bye to All That (1929, revised by him and republished in 1957) proved a success but cost him many of his friends, notably Siegfried Sassoon.
In 1934 he published his most commercially successful work, I, Claudius. Using classical sources he constructed a complex and compelling tale of the life of the Roman emperor Claudius, a tale extended in the sequel Claudius the God (1935). Another historical novel by Graves, Count Belisarius (1938), recounts the career of the Byzantine general Belisarius.
Graves and Laura Riding left Majorca in 1936 at the outbreak of the Spanish Civil War. In 1939, they moved to the United States and took lodging in New Hope, Pennsylvania. Their volatile relationship was described in non-fiction by Richard Perceval Graves in Robert Graves: 1927-1940, The Years with Laura and T.S. Matthews' book Jacks or Better (1977), and also was the basis for Miranda Seymour's novel The Summer of '39 (1998).
After returning to England, Graves began a relationship with Beryl Hodge, then the wife of Alan Hodge, his collaborator on The Long Week-End (1941) and The Reader Over Your Shoulder (1943; republished in 1947 as The Use and Abuse of the English Language). In 1946 he and his new wife Beryl re-established a home in Deià, Majorca. 1946 also saw the publication of the historical novel King Jesus.
He published the controversial The White Goddess in 1948. He turned to science fiction with Seven Days in New Crete (1949), and in 1953 he published The Nazarene Gospel Restored with Joshua Podro.
In 1955, he published The Greek Myths, containing translations and interpretations. His translations are well respected and continue to dominate the English-language market for mythography, whereas some of his unconventional interpretations and etymologies are dismissed by classicists but have provoked more research into the topics he raised.
Graves dismissed the reactions of classical scholars, arguing that by definition they lacked the poetic capacity to forensically examine mythology.
In 1956, he published a volume of short stories Catacrok! Mostly Stories, Mostly Funny. In 1961 he became Professor of Poetry at Oxford, a post he held until 1966.
From the 1960s until his death, Robert Graves frequently exchanged letters with Spike Milligan. Many of their letters to each other are collected in the book, Dear Robert, Dear Spike.
Graves died in December 1985 at the age of 90, following a long illness and gradual mental degeneration. He and Beryl are buried in the small churchyard on the hill in Deia, overlooking the sea on the northwest coast of Majorca.
Graves had eight children: Jenny, David, Catherine (who married nuclear scientist Clifford Dalton), and Sam with Nancy Nicholson; and William, Lucia (also a translator), Juan, and Tomas with Beryl Graves.
Of interest:
Robert Graves stepbrother Philip Perceval Graves 1876 – 1953 was a British journalist and writer. While working as a foreign correspondent of The Times in Constantinople, he exposed The Protocols of the Elders of Zion as an antisemitic plagiarism, fraud, and Hoax.
---