Thomas Hardy 1840 – 1928
August 21, 2008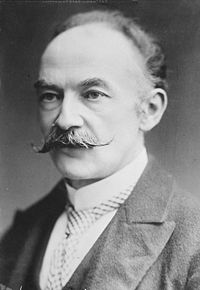 Thomas Hardy OM 1840 – 1928 was an English novelist, short story writer, and poet of the naturalist movement, though he saw himself as a poet and wrote novels mainly for financial gain only.
The bulk of his work, set mainly in the semi imaginary county of Wessex, delineates characters struggling against their passions and circumstances. Hardy's poetry, first published in his fifties, has come to be as well regarded as his novels, especially after The Movement of the 1950s and 1960s.
Thomas Hardy and his siblings were given homeopathic remedies as children.
Thomas Hardy was a friend of George Meredith, Siegfried Sassoon and Robert Graves.
Hardy was a close friend of Mary Lady Jeune and Mona Caird, whose brother in law Robert Henryson Caird was prominent on the Board of Management of the London Homeopathic Hospital in Great Ormond Street since 1904.
One of the leading hostesses of the day, just a few years older than Mona Caird, was the energetic and well connected Mary Lady Jeune, active in social issues through the Primrose League. Through Mary Lady Jeune and others, Mona Caird became a member of literary and political circles and expanded her knowledge of the humanities and science.
Thomas Hardy regularly dined at Mary Lady Jeune's (staying there when in London) and was soon an admirer of Mona Caird's work and ideas.
Thomas Hardy was born at Higher Bockhampton, a hamlet in the parish of Stinsford to the east of Dorchester in Dorset, England. His father worked as a stonemason and local builder. His mother was ambitious and well read, supplementing his formal education, which ended at the age of 16 when he became apprenticed to John Hicks, a local architect.
Hardy trained as an architect in Dorchester before moving to London in

There he enrolled as a student at King's College London. He won prizes from the Royal Institute of British Architects and the Architectural Association.
He never truly felt at home in London and when he returned five years later to Dorset he decided to dedicate himself to writing.
In 1870, while on an architectural mission to restore the parish church of St Juliot in Cornwall, Hardy met and fell in love with Emma Lavinia Gifford, whom he married in 1874. Although he later became estranged from his wife, her death in 1912 had a traumatic effect on him.
He made a trip to Cornwall to revisit places linked with their courtship; his Poems 1912-13 explore his grief. In 1914, Hardy married his secretary Florence Dugdale, 40 years his junior, whom he had met in 1905. However, Hardy remained preoccupied with Emma's sudden death, and tried to overcome his remorse by writing poetry.
Hardy fell ill with pleurisy in December 1927 and died in January 1928, having dictated his final poem to his wife on his deathbed. His funeral, on 16 January at Westminster Abbey, proved a controversial occasion: Hardy, his family and friends had wished him to be buried at Stinsford in the same grave as his first wife, Emma. However, his executor, Sydney Carlyle Cockerell, insisted he be placed in the abbey's Poets' Corner. A compromise was reached whereby his heart was buried at Stinsford with Emma, and his ashes in Poets' Corner.
Shortly after Hardy's death, the executors of his estate burnt his letters and notebooks. Twelve records survived, one of them containing notes and extracts of newspaper stories from the 1820s. Research into these provided insight into how Hardy kept track of them and how he used them in his later work.
Hardy's work was admired by many authors, amongst them D. H. Lawrence and Virginia Woolf. The writer Robert Graves, in his autobiography Goodbye to All That, recalls meeting Hardy in Dorset in the early 1920s. Hardy received Robert Graves and his newly married wife warmly, and was encouraging about the younger author's work.
In 1910, Hardy was awarded the Order of Merit.
Hardy's cottage at Bockhampton and Max Gate in Dorchester are owned by the National Trust.
---