John Gardner Wilkinson 1797 – 1875
August 18, 2008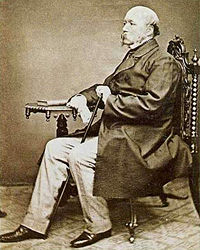 John Gardner Wilkinson 1797 – 1875 was a well-known English traveller, writer and pioneer Egyptologist of the 19th century. He is often referred to as "the Father of British Egyptology."
John Gardner Wilkinson made a study of homeopathy.
John Gardner Wilkinson was a correspondent of Charles Babbage and Ada Lovelace. John Gardner Wilkinson was also close to John Ruskin, Harriet Martineau, and Charles Lyell. In Italy, he met William Gell who was a patient of Frederick Hervey Foster Quin.
It was William Gell who influenced John Gardner Wilkinson to become n Egyptologist.
John Gardner Wilkinson was born in Little Missenden, Buckinghamshire. His father was a Westmoreland clergyman, the Reverend John Wilkinson, an amateur enthusiast for antiquities. Wilkinson inherited a modest income from his early-deceased parents.
Sent by his guardian to Harrow School in 1813, he later went up to Exeter College, Oxford in 1816. Wilkinson ultimately took no degree and, suffering from ill-health, decided to travel to Italy.
There in 1819 he met the antiquarian William Gell and resolved to study Egyptology. John Gardner Wilkinson first arrived in Egypt in October 1821 as a young man of 24 years, remaining in the country for a further 12 years continuously. During his stay, Wilkinson visited virtually every known ancient Egyptian site, skillfully recording inscriptions and paintings as a talented copyist and compiling copious notes.
Finally returning to England for his health's sake in 1833, succeeding in being elected to the Royal Society in 1834, Wilkinson went on to publish his researches in a large number of publications.
Although preceded by The Topography of Thebes and General View of Egypt in 1835, Wilkinson's most significant work was Manners and Customs of the Ancient Egyptians. First published in three volumes in 1837 and subsequently illustrated by Joseph Bonomi, this title stood as the best general treatment of ancient Egyptian culture and history for the next half century.
Acclaim for this publication brought Wilkinson a knighthood in 1839 and ensured him the title of the first distinguished British Egyptologist. John Gardner Wilkinson returned to Egypt in 1842, contributing an article entitled "Survey of the Valley of the Natron Lakes'" to the Journal of the Geographical Society in 1843. The same year witnessed his publication of a revised and enlarged edition of his _Topography _, entitled Modern Egypt and Thebes.
Wilkinson travelled in Montenegro, Bosnia and Herzegovina during 1844, an account of his observations being published in 1848 (Dalmatia and Montenegro, 2 volumes).
A third visit to Egypt in 1848-1849 was followed by a final visit to Thebes in 1855. Thereafter, Wilkinson remained in England where he investigated Cornish antiquities and studied zoology.
Wilkinson died at Llandovery in 1875, having already bequeathed to his old school, Harrow, his collections with an elaborate catalogue in 1864.
Wilkinson's papers are now held in the Bodleian Library, Oxford, and form an invaluable resource to some of the earliest recorded states (dating to 1821-1856, before the advent of widespread tourism and collection) of many Egyptian monuments. Many sites were subsequently damaged or lost altogether, making Wilkinson's work all the more important.
John Gardner Wilkinson's papers are also held in the National Archives.
Of interest:
James John Garth Wilkinson 1812 - 1899 was a famous homeopath.
---