Samuel Butler 1835 - 1902
August 14, 2008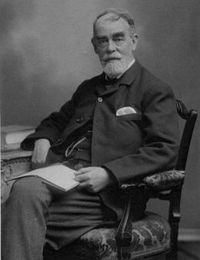 Samuel Butler 1835 - 1902 was an iconoclastic Victorian author who published a variety of works, including the Utopian satire Erewhon and the posthumous novel The Way of All Flesh, his two best-known works, but also extending to examinations of Christian orthodoxy, substantive studies of evolutionary thought, studies of Italian art, and works of literary history and criticism .
Butler also made prose translations of The Iliad and The Odyssey which remain in use to this day.
Samuel Butler was an advocate of homeopathy and a close friend and a patient of homeopath Robert Ellis Dudgeon. Butler also consulted homeopath John Moorhead Byres Moir.
His grandfather Rev. Samuel Butler was the headmaster of Shrewsbury School when Charles Darwin attended there,
Robert Ellis Dudgeon was a close friend of Samuel Butler, the author of _Erewhon, _who may have influenced Robert Ellis Dudgeon to write his novel Colymbia, a fantasy set under the sea.
It was necessary to have a horse, and he bought one for 55 pounds, which was not considered dear.
He wrote home that the horse's name was "Doctor": "I hope he is a Homoeopathist."
From this, and from the fact that he had already contemplated becoming a homeopathic doctor himself, I conclude that he had made the acquaintance of Robert Ellis Dudgeon, the eminent homeopathist, while he was doing parish work in London.
After his return to England Robert Ellis Dudgeon was his medical adviser, and remained one of his most intimate friends until the end of his life.
Doctor, the horse, is introduced into Erewhon Revisited; the shepherd in Chapter XXVI tells John Hicks that Doctor "would pick fords better than that gentleman could, I know, and if the gentleman fell off him he would just stay stock still."
Samuel Butler had a brutal relationship with his father, who prevented him from becoming a homeopath himself.
Butler's significance is difficult to pin down. He belonged to no school, and spawned no followers during his lifetime.
A serious but amateur student of the subjects he undertook, especially religious orthodoxy and evolutionary thought, his controversial assertions effectively shut him out from both of the opposing factions of Church and science which played such a large role in late Victorian cultural life: "In those days one was either a religionist or a Darwinian, but he was neither."
His influence on literature, such as it was, came through The Way of All Flesh, which Butler completed in the 1880s but left unpublished in order to protect his family. And yet the novel, "begun in 1870 and not touched after 1885, was so modern when it was published in 1903, that it may be said to have started a new school," particularly in the use of psychoanalytical modes of thought in fiction…
Whether in his satire and fiction, his studies on the evidences of Christianity, his works on evolutionary thought or in his miscellaneous other writings, however, a consistent theme runs through Butler's work, stemming largely from his personal struggle with the stifling of his own nature by his parents, which led him on to seek more general principles of growth, development and purpose…
The English novelist Aldous Huxley acknowledged the influence of Erewhon on his novel Brave New World.
---