Wilkie Collins 1824 - 1889
August 03, 2008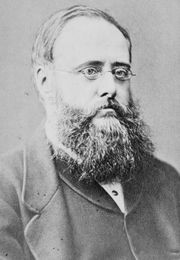 William 'Wilkie' Collins 1824 – 1889 was an English novelist, playwright, and author of short stories. He was hugely popular in his time, and wrote 27 novels, more than 50 short stories, at least 15 plays, and over 100 pieces of non-fiction work. His best-known works are The Woman in White, The Moonstone, Armadale and No Name.
Wilkie Collins was surrounded by homeopaths and homeopathic supporters. He was a patient of John Elliotson, and he was a member of  The Savage Club Masonic Lodge alongside Edward VII, Dante Gabriel Rossetti, Francis Wyatt Truscott, Mark Twain,
Wilkie Collins was a protegee of Charles Dickens and he knew George MacDonald who was acquainted with most of the literary luminaries of the day; a surviving group photograph shows him with Alfred Lord Tennyson, Anthony Trollope, John Ruskin, George Henry Lewes, and William Makepeace Thackeray. George MacDonald and Charles Dickens were close friends of homeopath James John Garth Wilkinson.
Wilkie Collins brother

Charles Allston Collins married Charles Dickens's daughter Kate. Charles Allston Collins and his wife Kate were close to Anne Thackeray Ritchie. Charles Allston Collins was a British painter and writer associated with the Pre-Raphaelite Brotherhood, and he knew Dante Gabrielle Rossetti, William Michael Rossetti, James Collinson, John Everett Millais, Frederic George Stephens, Thomas Woolner and William Holman Hunt.
Wilkie Collines was born in London, the son of a well-known Royal Academician landscape artist, William Collins. Named after his father, he swiftly became known by his second name (which honoured his godfather, David Wilkie).
From the ages of 12-15 he lived with his parents in Italy, which made a great impression on him. At the age of 17 he left school and was apprenticed as a clerk to a firm of tea merchants, but after five unhappy years, during which he wrote his first novel, Iolani, he entered Lincoln's Inn to study law. (Iolani remained unpublished for over 150 years until 1999.)
After his father's death in 1847, Collins produced his first published book, Memoirs of the Life of William Collins, Esq., R.A. (1848), and also considered a career in painting, exhibiting a picture at the Royal Academy summer exhibition in 1849, but it was with the publication of his first published novel Antonina in 1850 that his career as a writer began in earnest.
An instrumental event in Collins' career occurred in 1851 when he was introduced to Charles Dickens by a mutual friend, Augustus Egg. They became lifelong friends and collaborators; Collins became an editor of Charles Dickens' "Household Words", and several of Collins' novels were serialized in Charles Dickens' weekly publication All the Year Round, and Charles Dickens later edited and published them himself. Collins' younger brother Charles Allston Collins married Charles Dickens' younger daughter Kate.
Collins suffered from a form of arthritis known as 'rheumatic gout' and became severely addicted to the opium that he took (in the form of laudanum) to relieve the pain. As a result he experienced paranoid delusions, the most notable being his conviction that he was constantly accompanied by a subjective doppelgänger he dubbed 'Ghost Wilkie'.
His novel The Moonstone prominently features the effects of opium and opium addiction. While he was writing it, Collins' consumption of laudanum was such that he later claimed to have no memory of writing large parts of the novel.
Collins never married, but lived, on and off from 1858, with a widow, Mrs. Caroline Graves, and her daughter. He also fathered three children by another woman, Martha Rudd, whom he met after Mrs. Graves left him in 1868. Mrs. Graves returned to Collins after two years, and he continued both relationships until his death in 1889.
He is buried in Kensal Green Cemetery, West London.
His works were classified at the time as 'sensation novels', a genre seen nowadays as the precursor to detective fiction and suspense fiction. He also wrote penetratingly on the plight of women and on the social and domestic issues of his time.
Like many writers of his time, he published most of his novels as serials in magazines such as Charles Dickens's All the Year Round, and was known as a master of the form, creating just the right degree of suspense to keep his audience reading from week to week. (Sales of All the Year Round actually increased when The Woman in White followed A Tale of Two Cities.)
He enjoyed ten years of great success following publication of The Woman in White in 1859. His next novel, No Name combined social commentary - the absurdity of the law as it applied to children of unmarried parents (see illegitimacy) - with a densely-plotted revenge thriller. Armadale, the first and only of Collins' major novels of the 1860s to be serialised in a magazine other than Charles Dickens' "All the Year Round", provoked strong criticism, generally centered upon its transgressive villainess Lydia Gwilt; and provoked in part by Collins's typically confrontational preface.
The novel was simultaneously a financial coup for its author and a comparative commercial failure: the sum paid by William Makepeace Thackeray's Cornhill Magazine for the serialisation rights was exceptional, eclipsing the prices paid for the vast majority of similar novels by a substantial margin, yet the novel itself failed to recoup its publishers' investment.
The Moonstone, published in 1868, and the last novel of what is generally regarded as the most successful decade of its author's career, was, despite a somewhat cool reception from both Charles Dickens and the critics, a significant return to form and reestablished the market value of an author whose success in the competitive Victorian literary marketplace had been gradually waning in the wake of his first "masterpiece."
Viewed by many to represent the advent of the detective story within the tradition of the English novel, The Moonstone remains one of Collins's most critically acclaimed productions.
However, various factors (most often cited is the death of Charles Dickens in 1870 and thus the loss of his literary mentoring; Collins's increased dependence upon laudanum; and a somewhat ill-advised penchant for using his fiction to rail against social injustices) appear to have led to a decline in the two decades following the success of his sensation novels of the 1860s.
His novels and novellas of the '70s and '80s, whilst by no means entirely devoid of merit or literary interest, are generally regarded as inferior to his previous productions and receive comparatively little critical attention today.
The Woman in White and The Moonstone share an unusual narrative structure, somewhat resembling an epistolary novel, in which different portions of the book have different narrators, each with a distinctive narrative voice (Armadale has this to a lesser extent through the correspondence between some characters). The Moonstone, being the most popular of Collins's novels, is known as a precursor for detective fiction such as Sherlock Holmes.
---