Canon Roland Upcher 1849 - 1929
August 01, 2008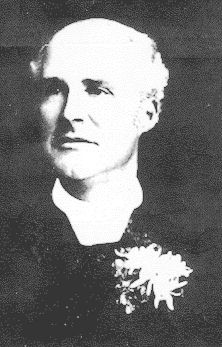 Canon Roland Upcher 1849 - 1929 was a member of the Landed Gentry and whose family owned Sheringham Hall in Norfolk.
Canon Roland Upcher was a lay homeopath, trained by John Henry Clarke alongside J Ellis Barker.
From http://www.homeoint.org/morrell/british/upcher.htm Canon Roland Upcher was the Rector of Stradbroke, near Eye in Suffolk. Canon Abbot Roland Upcher was a product of Harrow School and Trinity College, Cambridge. He came from a landed gentry family in Norfolk, where all the sons had been to Cambridge and become priests for several generations.
He was Rector of Stradbroke in Suffolk and retired in the mid 1920s. A great friend and student of John Henry Clarke and a lay prescriber. He is credited with first developing Gunpowder as a homeopathic remedy.
Sometime Rector of Stradbroke, near Eye in Suffolk was an important lay homeopath. Canon Upcher is mentioned in the Introduction to a work on homeopathic practice, The Prescriber: How to Practise Homeopathy by John Henry Clarke, and was apparently a great friend of his.
A letter from him about Consumption and Vaccination was published in The Homeopathic World in response to an article of August 1924, and in Gunpowder as a War Remedy by John Henry Clarke.
Upcher was certainly a fully fledged lay prescriber at that time, as in the article quoted by John Henry Clarke in _The Prescriber: How to Practise Homeopathy_, he mentions a case in 1924 from 'fifteen years ago' in a previous parish. He was thus practising well before 1908.
In 1908, Upcher was 59 and the Rector of Halesworth, 10 miles further east of Stradbroke, still in the county of Suffolk. He was vicar there from 1889-1913, from where he went to Stradbroke, later becoming Rural Dean. He was Rector of Stradbroke from 1913-29.
His previous incumbency was at St Mary's, Sheffield [1879-1889]. It is also of interest that his second wife [Miss Ibbotson] was from Sheffield as this reveals that he probably retained some link with Sheffield throughout his life.
It is most probable that Upcher learned homeopathy from John Henry Clarke in the 1890s, when he was in his 40s. What is of interest is that John Henry Clarke was in practice as a homeopath in nearby Ipswich for some time and probably hailed originally from that region.
Canon Upcher hailed from Kirby Cane, in Norfolk where his family had lived for many years. Both his grandfather and his father were vicars there for 54 years and 64 years respectively.
There are no records of his homeopathic activities at Stradbroke though they do have a photo of him and copies of documents with his handwriting in the Parish Registers.
The family of Upcher is now almost extinct and Sheringham Hall is a National Trust property. In its heyday [c.1800-1940] the family sent most of its many sons to Harrow School, Trinity College, Cambridge and then into the Church of England as priests.
Canon Upcher was also an athlete. He took the World Record for running the mile in 1870, 1871 and 1872 while a student at Trinity. He was also President of Trinity College Athletic Association. He later took an active interest in Bowls and was for many years President of the Norfolk and Suffolk Bowls Union. This is mentioned in an article in the Eastern Daily News after his death and burial at Kirby Cane in Nov. 1929.
Unfortunately very little is now known about his homeopathic activities, though some may come to light in due course from newspaper cuttings. John Henry Clarke also taught J Ellis Barker and Noel Puddephatt.
John Henry Clarke taught many laypersons the rudiments of homeopathy, some of whom later became important in their own right. Three such were Canon Roland Upcher, Noel Puddephatt and J Ellis Barker. Other members of the Cooper Club might also have taught laypersons.
Canon Roland Upcher contributed to the proving of gunpowder, and he contributed articles and cases to The Homeopathic World, edited by John Henry Clarke.
---