William Darwin Fox 1805 - 1880
July 28, 2008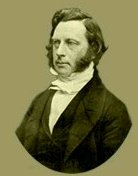 William Darwin Fox 1805 - 1880 was an English clergyman, naturalist, and a 2nd cousin of Charles Darwin.
It was William Darwin Fox who convinced Charles Darwin to try homeopathy and visit the establishment of James Manby Gully, ably abetted by Bartholomew Sulivan, who sailed with Charles Darwin on the HMS Beagle during Charles Darwin's voyage of 1836 (Ralph Colp, Darwin's illness, (University Press of Florida, 2008). Page 45. See also Dana Ullman, The Curious Case of Charles Darwin and Homeopathy, Evid Based Complement Alternat Med. 2010 March; 7(1): 33–39. (Published online 2009 October 29. doi: 10.1093/ecam/nep168). See also A. W. D. Larkum, A Natural Calling: Life, Letters and Diaries of Charles Darwin and William Darwin Fox, (Springer, 2009). Multiple pages).
From http://en.wikipedia.org/wiki/James_Manby_Gully Charles Darwin suffered repeated episodes of illness involving stomach pains from 1838 onwards, and had no success with conventional treatments. In 1849 after about four months of incessant vomiting he followed the recommendation of his friend Captain Bartholomew Sulivan and cousin William Darwin Fox, and after reading James Manby Gully's book rented a villa at Malvern for his family and started a two month trial of the treatment on 10 March.
Charles Darwin's brother Erasmus Alvey Darwin was also a supporter of homeopathy.
Charles Darwin wrote to William Darwin Fox on 4.9.1850:
You speak about Homeopathy; which is a subject which makes me more wrath, even than does Clairvoyance: clairvoyance so transcends belief, that one's ordinary faculties are put out of question, but in Homœopathy common sense and common observation come into play, and both these must go to the Dogs, if the infinetesimal doses have any effect whatever.
How true is a remark I saw the other day by Quetelet, in respect to evidence of curative processes, viz that no one knows in disease what is the simple result of nothing being done, as a standard with which to compare Homeopathy and all other such things It is a sad flaw, I cannot but think in my beloved Dr Gully, that he believes in everything - when his daughter was very ill, he had a clairvoyant girl to report on internal changes, a mesmerist to put her to sleep - an homeopathist, viz John Chapman and himself as Hydropathist and the girl recovered.
As Charles Darwin attended seances with his brother Erasmus Alvey Darwin, we can detect Charles Darwin's quirky manner here, as he often makes such quips just before he develops and interest in something.
Sure enough, Charles Darwin continued to frequent the establishment of James Manby Gully, and he had many homeopathic friends. Charles Darwin also expressed his wish to publish a book by a *German homeopath:
The letter with curious address forwarded by Mrs Hooker was from a German Homœopathic Doctor - an ardent admirer of the Origin - had himself published nearly the same sort of book, but goes much deeper - explains the origin of plants & animals on the principles of Homœopathy or by the Law of Spirality

Book fell dead in Germany - Therefore would I translate it & publish it in England &c &c?!
*Dana Ullman believes he has been able to identify the German homeopath:
After consultation with various historians, especially Robert Jutte (chief historian of the Robert Bosch Institute), we have determined that the German homeopath is probably Augustus Wilhelm Koch (1805-1886). For details, see pages 112-114 of Dana Ullman's book The Homeopathic Revolution.
William Darwin Fox was born in 1805 and initially raised at Thurleston Grange near Elvaston, Derbyshire and from 1814 at Osmaston Hall, Osmaston about 2.5 miles (4km) south of Derby.
William Darwin Fox was the son of Samuel Fox (1765-1851) and his second wife, Ann Darwin (1777-1859). Ann was the daughter of William Alvey Darwin (1726-1783) and Jane Brown (1746-1835), and niece of Erasmus Alvey Darwin.
He attended Repton School.
Like his second cousin Charles Darwin, Fox prepared for the clergy at Cambridge University. He was also a naturalist and entomologist, particularly collecting beetles. At Cambridge, Fox and Darwin became friends, and Fox tutored his younger cousin on natural history. Darwin noted in his autobiography:
I was introduced to entomology by my second cousin William Darwin Fox, a clever and most pleasant man, who was then at Christ's College, and with whom I became extremely intimate.
It was also William Darwin Fox who introduced Charles Darwin to John Stevens Henslow who held a weekly open house which undergraduates and some older members of the University, who were attached to science attended in the evenings.
Charles Darwin spent three weeks with William Darwin Fox at Osmaston Hall in the summer of 1829. Osmaston Hall and its associated 4,000 acre (16 km²) estate was owned by the Wilmot-Horten family and leased to the Fox family from 1814 to 1887 and sold subsequently in 1888 to the Midland Railway.
In 1938 Osmaston Hall was demolished and the area is now industrial, more noted for the manufacture of Rolls Royce turbo-fan engines.
Throughout his life, William Darwin Fox remained in regular contact with Charles Darwin, and many of the letters exchanged contained comments relating to Charles Darwin's work as well as family matters.
William Darwin Fox graduated from Cambridge in the winter of 1829 and took up a curacy at Epperstone, near Nottingham. He was forced to take sick leave in 1833 and convalesced at Sandown on the Isle of Wight. It was here that he met his first wife Harriet Fletcher and they were married in 1834. Fox returned to Epperstone for a short time but finally gained the living at Delamere where he remained the incumbent until 1873
A notice in the London Gazette for Friday April 6, 1838 states:
"The Queen has been pleased to present the Rev. William Darwin Fox, M.A. to the rectory of [Delamere](http://en.wikipedia.org/wiki/Delamere%2C_Cheshire) in the diocese and [county of Chester](http://en.wikipedia.org/wiki/County_of_Chester), ..."
At Delamere, William Darwin Fox was very active in the local community and especially the local school where he taught. The school is still referred to as Fox's school. He retired through ill health in 1873.
William Darwin Fox married twice and had 17 children. His first wife was Harriet Fletcher, (1799–1842), daughter of Sir Richard Fletcher and Elizabeth Mudge, whom he married in 1834 and they issued - stillborn girl, 1834, Eliza Ann (Sanders),1836 - 1874; Harriet Emma (Overton), 1837 - ; Agnes Jane, 1839 - 1906; Julia Mary Anne (Woods), 1840 - ; Samuel William Darwin, 1841 - .
His second wife was Ellen Sophia (1820–1887), daughter of Basil George Woodd and Mary Mitton of Hillfield, Hampstead and they were married in
They issued - Charles Woodd, 1847 - 1908; Frances Maria (Pearce) 1848 - 1921, Robert Gerard, 1849 - 1909; Louisa Mary, 1851 - 1853; Ellen Elizabeth (Baron Dickinson Webster - 1st cousins once removed), 1852 - ; Theodora, 1853 - 1878; Gertrude Mary (Bosanquet), 1854 - 1900; Frederick William, 1855 - ; Edith Darwin, 1857 - ; Erasmus Pullien, 1859
; Reginald Henry, 1860 - ; Gilbert Basil, 1865 - .
Following the birth of the Fox's 10th child, Charles Darwin made a tongue-in-cheek reference to the size of the Fox family and the trouble boys created compared with girls; in a letter to Fox in 1852.
The letters that Charles Darwin sent of William Darwin Fox were recognised as an important primary source of information on the life of Charles Darwin by his son Francis Darwin, and by many biographers since. Some are published in "Life and Letters of Charles Darwin" (Edited by F. Darwin, 1887). Most of these letters are at Christ's College, Cambridge. Some of the letters of Fox to Charles Darwin are extant.
Charles Darwin used much information given by William Darwin Fox in his books. William Darwin Fox also kept a diary from the age of 18 to 1878. Only one year is missing: for 1828, when he resided at Christ's College, Cambridge with Charles Darwin. A microfiche copy of the diaries are in the University Library, Cambridge.
William Darwin Fox never fully accepted Charles Darwin's explanation of evolution.
William Darwin FoxW in his own non-scientific but reasoned way contributed to the understanding of the geology of the the Solent and how the Isle of Wight became separated from the mainland when he gave a very informative opinion on this matter in a reply to a correspondent to the Geologist (Fox 1862).
When William Darwin Fox retired as Rector of Delamere in 1873, he returned to the Isle of Wight to live at "Broadlands", Sandown, until his death in 1880 and is buried on the Isle of Wight.
---