Cyril Meir Scott 1879 - 1970
July 25, 2008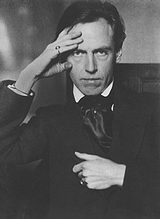 Cyril Meir Scott 1879 – 1970 was an English composer, writer, and poet.
Cyril Scott published widely on both musical and non musical subjects, including homeopathy, philosophy, occultism and theology.
Scott quoted James Ellis Barker frequently in two of his health books, Doctors Disease and Health and Health, Diet and Commonsense. He mentions a number of James Ellis Barker's books and quotes several passages from James Ellis Barker's  My Testament of Healing. The first reference to him is this: '… Ellis Barker who has cured a number of heart disease cases after specialists have pronounced them incurable, relates of several in his book 'New Lives For Old…' It's in Scott's chapter on the Folly of Specialism. Other books he quotes from are Good Health and Happiness and Cancer in which he said James Ellis Barker '… is the author of two voluminous works on Cancer, combating the orthodox standpoint…' And from the Journal Heal Thyself he reprints several bran recipes by James Ellis Barker, which are reprinted in Scott's Health, Diet and Commonsense.
Cyril Scott's own personal interests encompass several apparently unrelated disciplines, and he is perhaps the most prolific and indeed successful author of any major composer, at least in areas other than music.
He published forty books (only four of which are on music) and hundreds of other articles in no fewer than six quite different fields of inquiry, including homeopathy, occult philosophy, poetry, literary translation, theology, humour, ethics, and music…
As a deemed authority on spiritualism and homeopathy, Scott provided introductions to several books by other authors. In the case of David Anrias's Through the Eyes of the Masters: Meditations and Portraits, Scott's introduction comprises over half the volume.
From http://en.wikipedia.org/wiki/Cyril_Scott Cyril Scott was born in Oxton (Merseyside) in northern England, United Kingdom, to Henry Scott, a shipper and scholar of Greek and Hebrew, and Mary Scott (née Griffiths), an amateur pianist. He showed a talent for music from an early age and was sent to the Hoch Conservatory in Frankfurt, Germany to study piano in 1892 at age 12. He belonged to the Frankfurt Group, a circle of composers who studied at the Hoch Conservatory in the late 1890s. His first symphony was performed nine years later. In 1909 he recorded 6 of his own works for Welte-Mignon. For an up to date wiki, go to http://en.wikipedia.org/wiki/Cyril_Scott
Cyril Scott wrote Doctors, Disease, and Health: A Critical Survey of Therapeutics, Modern and Ancient, Victory Over Cancer Without Radium or Surgery, Cancer Prevention: Fallacies and Some Reassuring Facts, Healthy Diet and Commonsense, Medicine Rational and Irrational, Crude Black Molasses: Nature's Wonder Food, Cider Vinegar: Nature's Great Health Promoter and Safest Treatment of Obesity, Simpler and Safer Remedies for Grievous Ills, Sleeplessness: Its Prevention and Cure by Harmless Methods, Constipation and Common Sense, and his autobiography Bone of Contention: Life Story and Confessions. Cyril Scott also wrote the introduction to The Boy Who Saw True, and many, many books on several subjects.
---